From juicy red apples to savoury purple eggplants and everything in between.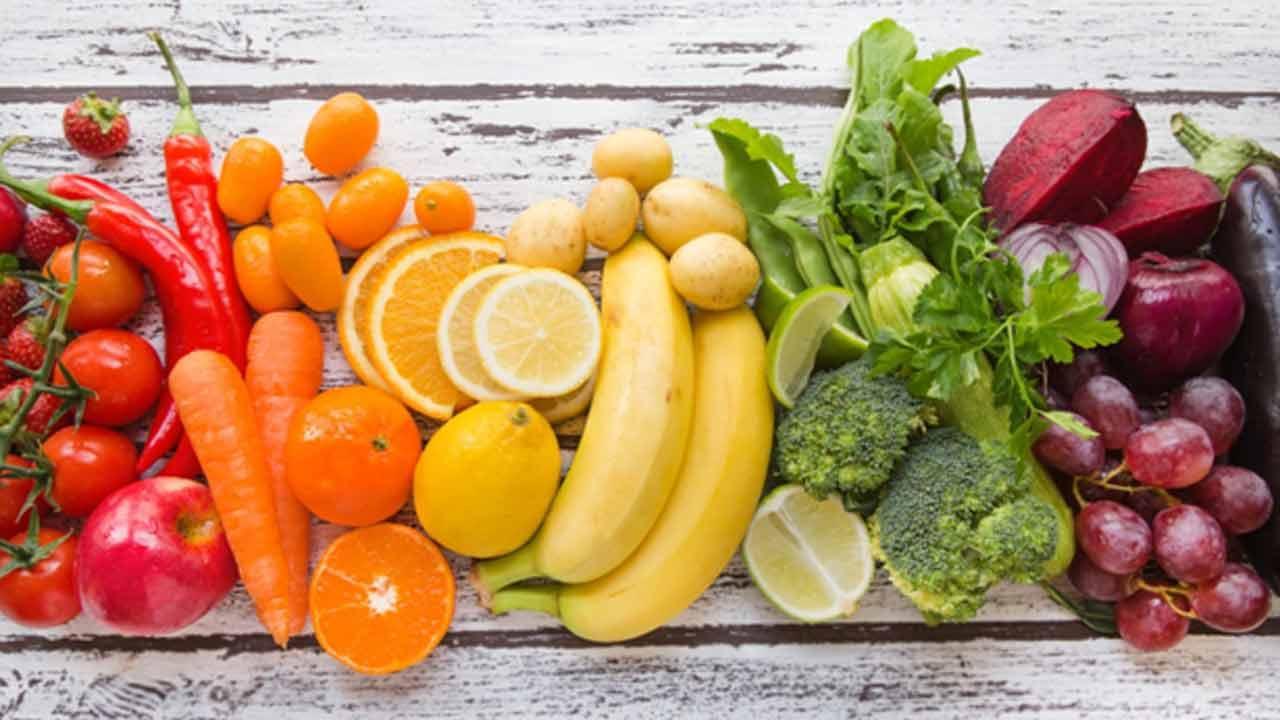 Fruits salad
Boring food got you down? Looking for a way to eat more nutritiously? One can accomplish both these goals by eating the rainbow. Meals and snacks can be made much healthier and tastier by using vegetables and fruits that match the colours of the rainbow. From juicy red apples to savoury purple eggplants and everything in between. When it comes to fruits and vegetables, eating a variety of colours red, orange, yellow, green, blue, purple, and white provides the best mix of nutrients for the body, as well as being pleasing to the eye.
Fruits and vegetables cover a diversified, flavoured, colourful, tasty, low caloric, and protective, micro-nutrient rich diet. Additionally, they supply dietary fibre, and fibre intake is linked to lower incidence of cardiovascular disease and obesity. They also furnish powerful vitamins and minerals to the diet and are sources of phytochemicals that function as antioxidants, phytoestrogens, and anti-inflammatory agents and through other protective mechanisms.
ADVERTISEMENT
But before we move on to the umpteen health benefits fruits and vegetables bring onto your platter and subsequently to your body, it is important to know how to clean them properly to reap the maximum benefits. Ditch any form of chemical cleansers for your fresh produce because of the health risks that may come along and switch to safer cleansing agents like Marico's Veggie Clean. It is a 100% naturally derived cleanser for washing fruits & vegetables and it safely removes 99%  germs, bacteria, waxes, chemicals & soil from the surface of fruits & vegetables. Fruits and vegetables are universally promoted as healthy and putting more colour in your diet comes with many health benefits. Following is a rundown of the rainbow fruits and vegetables:
Red: A carotenoid, lycopene, a predominant pigment is a powerful antioxidant that has been associated with a reduced risk of some cancers, especially prostate cancer, and protection against heart and lung disease. 
Found in: Apples, strawberries, cranberries, raspberries, tomatoes, cherries, beets, watermelon, red grapes, red peppers, red onions
Orange and yellow: Rich in Vitamin C, they provide beta cryptothanxin, which supports intracellular communication and may help prevent heart disease. 
Found in: Butternut (winter squash), pumpkin, bananas, sweet potatoes, carrot, yellow peppers, oranges, pineapple, tangerines, mango, apricots, peaches, cantaloupe, corn.
Green: Greens are one of the healthiest foods one can eat. They are high in fibre, folate and rich in lutein, isothiocyanates, isoflavones, and vitamin K essential for blood and bone health.
Found in: Kiwi fruits, kale, spinach, sprouts, broccoli, avocados, brussels sprouts
Blue and purple: The blue and purple hues in foods are due primarily to their anthocyanin content. Anthocyanins are antioxidants that particularly help to keep the heart healthy by blocking the formation of blood clots and support healthy blood pressure.  
Found in: Blackberries, eggplant, blueberries, concord grapes, raisins, plums, figs, prunes, purple cabbage. 
White and brown: White and brown produce may not be as brightly coloured as other foods, but they still are a healthy choice. They contain allicin, which has anti-tumour properties and essential quantities of vitamin B-6 and vitamin C to help support bone health and reduce inflammation. 
Found in: Button mushrooms, garlic, onions, cauliflower, leeks, parsnips, daikon radish.
It is recommended that one should eat at least 5 kinds of vegetables and 2 kinds of fruit every day. Perhaps, one can even "sip the rainbow" with a vegetable and fruit smoothie that's perfect for a healthy on-the-go snack. Berries such as blueberries, raspberries and even kale taste great when blended together. Your refreshing smoothie may not look as pretty as it would with all the vegetables and fruits arranged on a plate, but it's sure to be tasty.
Foot note 
Each and every particular colour provides various health benefits and none of the colour is superior to another, which is why a balance of all colours is most important. So, enjoy all the seasonal fruits and vegetables. A rainbow on your plate will always keep you healthy and free from diseases in a natural way.

Nmami Agarwal
Author is founder of Nmami Life, a Health & Wellness Company.
For more details logon to www.nmami.in or follow @nmamilifeon Social Media.
For more articles, kindly login to www.nmamilife.com
This story has been sourced from a third party syndicated feed, agencies. Mid-day accepts no responsibility or liability for its dependability, trustworthiness, reliability and data of the text. Mid-day management/mid-day.com reserves the sole right to alter, delete or remove (without notice) the content in its absolute discretion for any reason whatsoever