Enjoy the day by making delicious cocktails for you and your partner to celebrate your love for each other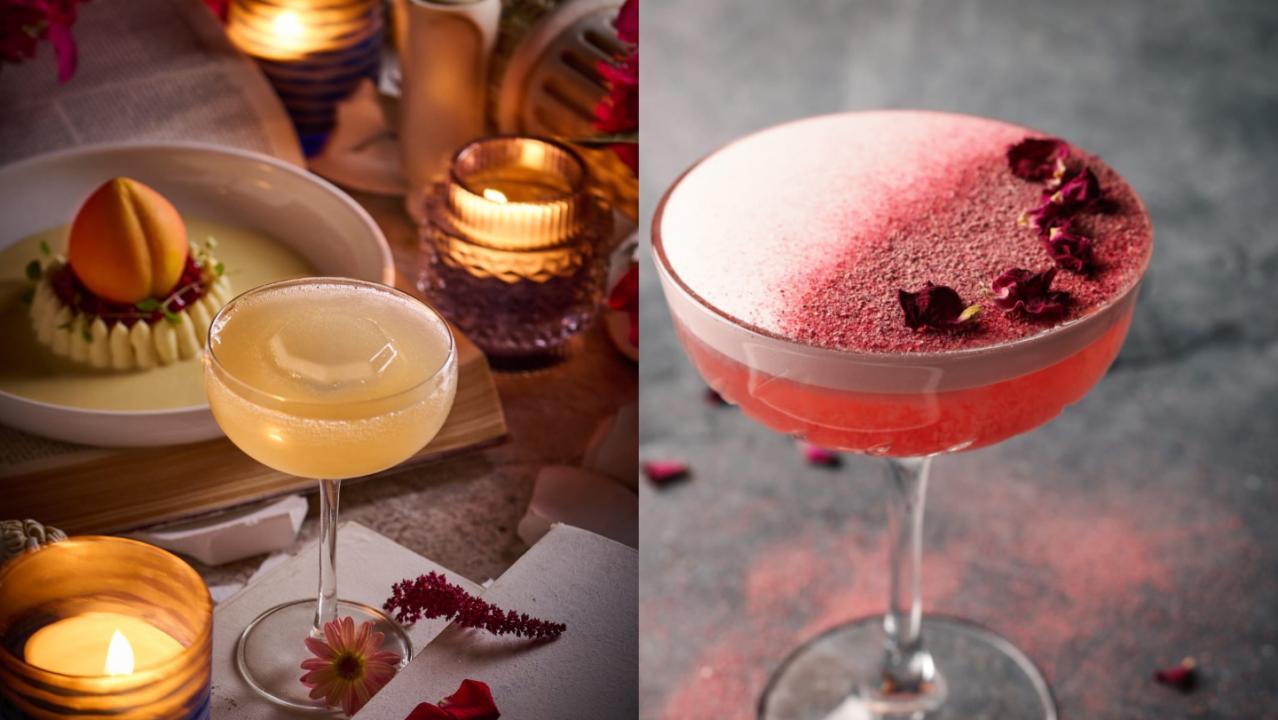 Dioni at Opa Kipos and Gin infused with dried Bulgarian rose petals at Shy Cafe are inspired by roses and are made using the flowers. Photo Courtesy: Opa Kipas/Shy Cafe
It is the season of love with Valentine's Day today, and no celebration is complete without some food and drink. However, many of you may want to opt out of going to a restaurant and instead have a nice intimate lunch or dinner at home.
Cooking for yourselves or the ones you love is the best way to celebrate any occasion. For those who love good food, drink is not far behind and that may be a mocktail or cocktail.  If you love cocktails, then like food, making a cocktail is an art but don't let that dissuade you.
ADVERTISEMENT
Mid-day Online reached out to city mixologists and bartenders to share unique cocktails to spice up your Valentine's Day experience with your partner. They have every bit of roses and strawberries with gin, rum, champagne, wine and everything fine.
Flirty Fizz by Ranjeet Singh, bartender, Balmy Mumbai, Breach Candy
If you love strawberries, then Ranjeet Singh, bartender at Balmy Mumbai suggests making a Flirty Fizz, which is a potent combination of vodka, rum and wine. He explains, "We have put together the three layers of liquor that complement each other and flavoured it with the last bit of the strawberry season that we might have left. A drink which is fizzy enough to get you flirty but not too much to throw you on board. A perfect blend for Valentine's Day."
Ingredients:
Gin 30 ml
Bacardi white 30 ml
Strawberry puree 2 tsp
Basil leaves 3-4 leaves
Sparkling wine 30 ml
Method:
1. Add Gin with a dash of Bacardi white and top it up with sparkling wine, muddle strawberry puree with some fresh basil leaves and create a layer of foam on top of the drink.
2. Serve fresh in a Martini glass.  
Gin infused with dried Bulgarian rose petals by Nilesh Kachdiya, bartender, Shy Cafe, Chembur
If you don't like strawberries, you can also experiment with rose petals to blend with the Valentine's Day theme. The idea behind the cocktail, Kachdiya says, is that it will be liked by both men and women.
Ingredients:
Gin 60ml
Rose syrup 30ml
Lemon 20ml
Saffron bitters 3 dashes
Foamer 3 drops
Campari 20ml
Method:
1. Add gin to a glass and top it up with three drops of foamer.
2. Muddle with rose syrup, some fresh saffron bitters and create a layer of foam on top of the drink.
3. Garnish with powdered rose petals from the sherbet.
4. Serve fresh in a snifter glass.
Dioni by Juliene Smet, bar supervisor, Opa Kipos, Worli
For a day represented with flowers like roses, pair it up with liquor and champagne to create a unique cocktail for you and your partner. With a touch of strawberry, cinnamon, ginger and lime, it is definitely going to be a burst of flavours on your palate.
Ingredients:
Rose infused skinos mastiha liquor 10 ml
Strawberry liquor 10 ml
Homemade cinnamon and ginger syrup 10ml
Fresh lime juice 10 ml
Top up with champagne
Method:
1. Pour Rose infused skinos mastiha liquor, strawberry liquor,  homemade cinnamon and ginger syrup, fresh lime juice in a cocktail shaker.
2. Shake it well and then double strain it into a coupette glass with a diamond shaped ice and pour the mixture.
3. Top up with champagne.
4. Garnish it with  rose petals.
White Day by Akash Singh, bar manager, Akina, Bandra West
Staying true to tradition and their Japanese influence, Akash Singh at Akina suggests making White Day, if you love tequila. Celebrated a month after Valentine's Day on March 14, White Day is one where men give more gifts to women, after they first receive it from them on Valentine's Day. He explains, "It's unique because it's a clear style cocktail with white chocolate cordial and fizzy with prosecco."
Ingredients :
Tequila blanco 30ml
Citric acid solution 15ml
White chocolate cordial 20ml
Prosecco 90ml
Garnish
Chocolate disc
Glassware
Cut Flute
Method :
1. Take a cut flute glass
2. Add Tequila blanco, citric acid solution along with white chocolate cordial
3. Top it up with Prosecco
4. Garnish it with a chocolate disc
Read More: Valentines day 2023: Best places to celebrate V-Day in Mumbai with your partner