A two-day pop-up at a Fort restaurant serves up flavours and stories from the Northeastern state through a curated food and drinks menu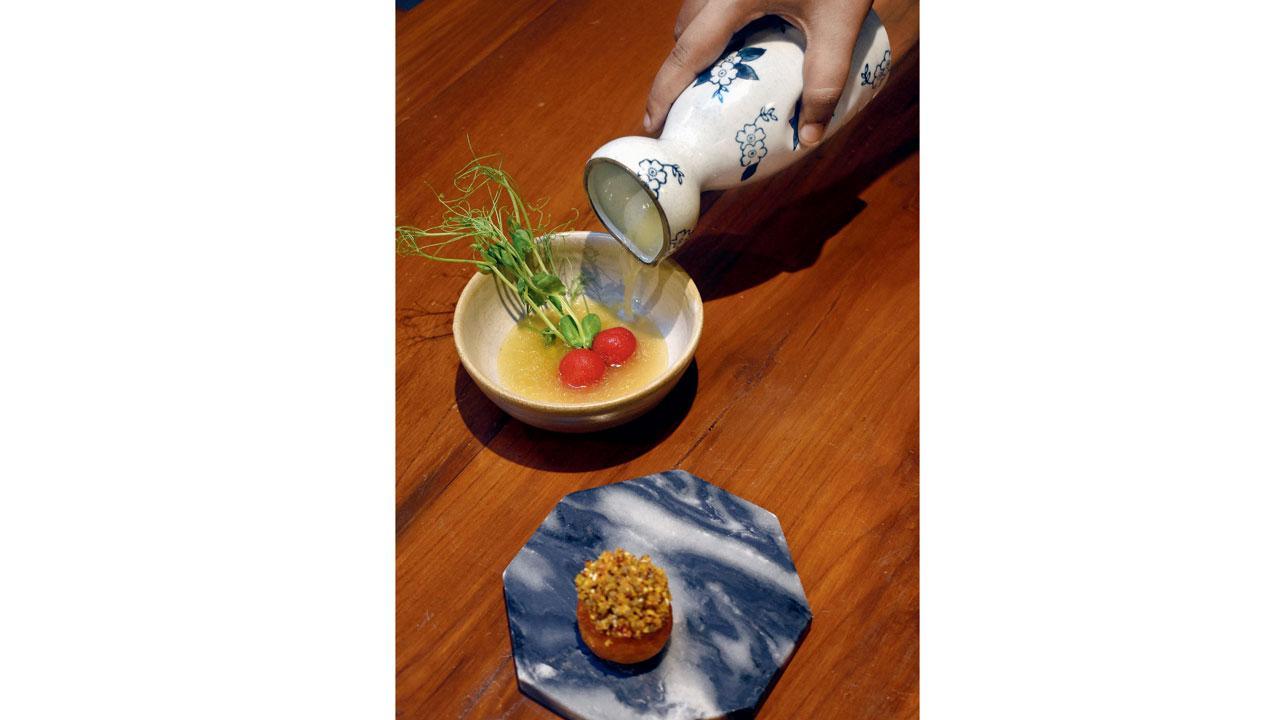 The Naga Mom
A week ago, 2015 Naga Chef winner Salangyanger Jamir, chef Niyati Rao and her team from Fort's Ekaa were in Nagaland. Guided by chef Jamir for five days, they ate their way through marketplaces, foraged down hidden trails and explored ingredients that uplift Naga cuisine. Now, they're back in the city, hungover from exquisite flavours, and ready with a collaborative menu.
We meet both chefs at Rao's dining space off DN Road. Chef Jamir shares, "Every tribe cooks its own variation of a dish. Axone tastes different when prepared by the Ao tribe, which I belong to, than when it's prepared by the Sema or Angami tribe. So I tried to ensure the team got a holistic picture of the food and the different ways in which ingredients are cooked."
ADVERTISEMENT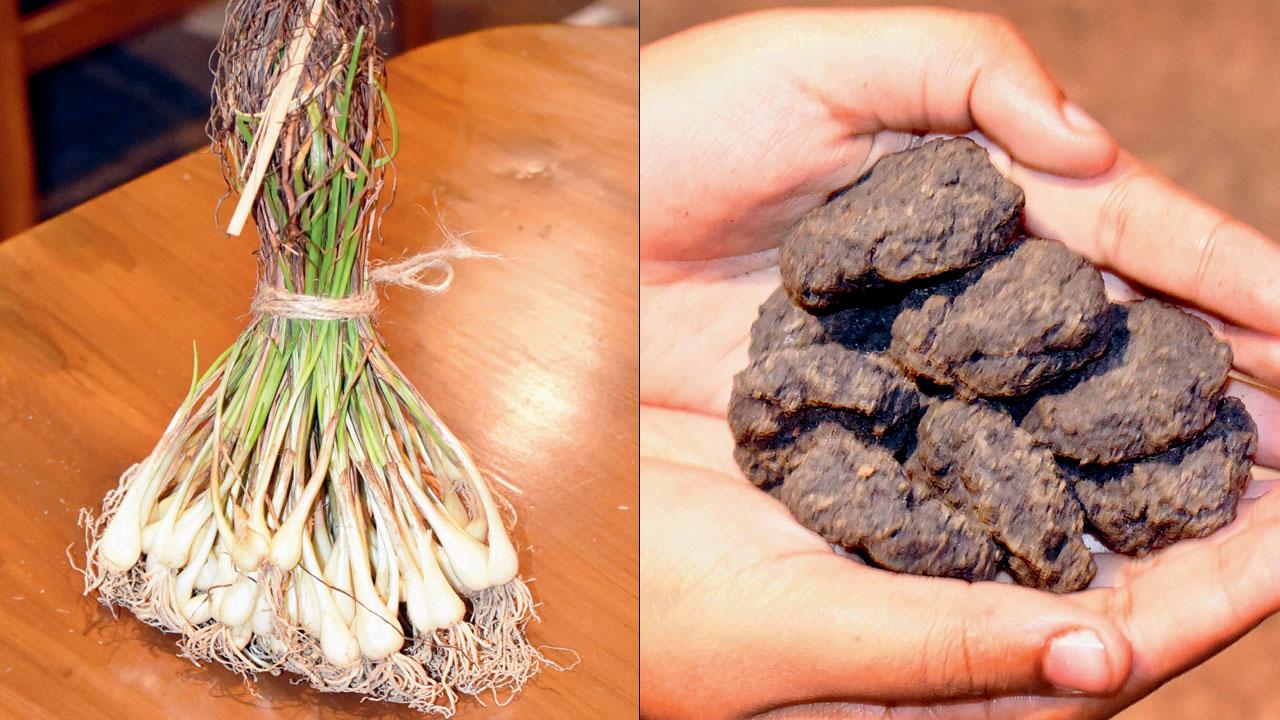 Naga lassoon and Anishi
Several key flavours dominate the trip's itinerary, including Sichuan peppercorn, mountain pepper, and bamboo shoot extract. These elements find their way into the Exploration of Nagaland menu along with other produce brought back; like the Naga lassoon displayed at the restaurant in bunches. Rao pierces a bulb to let out a fragrant aroma without the harsh hit of garlic.
We try her personal stash of yongchak, a bitter bean with earthy pungent flavours and an intense edamame taste, pickled by chef Salang. It will be used in the dish titled after chef Salang's village — Mokochung. This dish will also contain Anishi with its smokey tea aroma, made from fermented yam (taro) leaves which are turned into a paste, formed into patties and smoked over a fire till dried.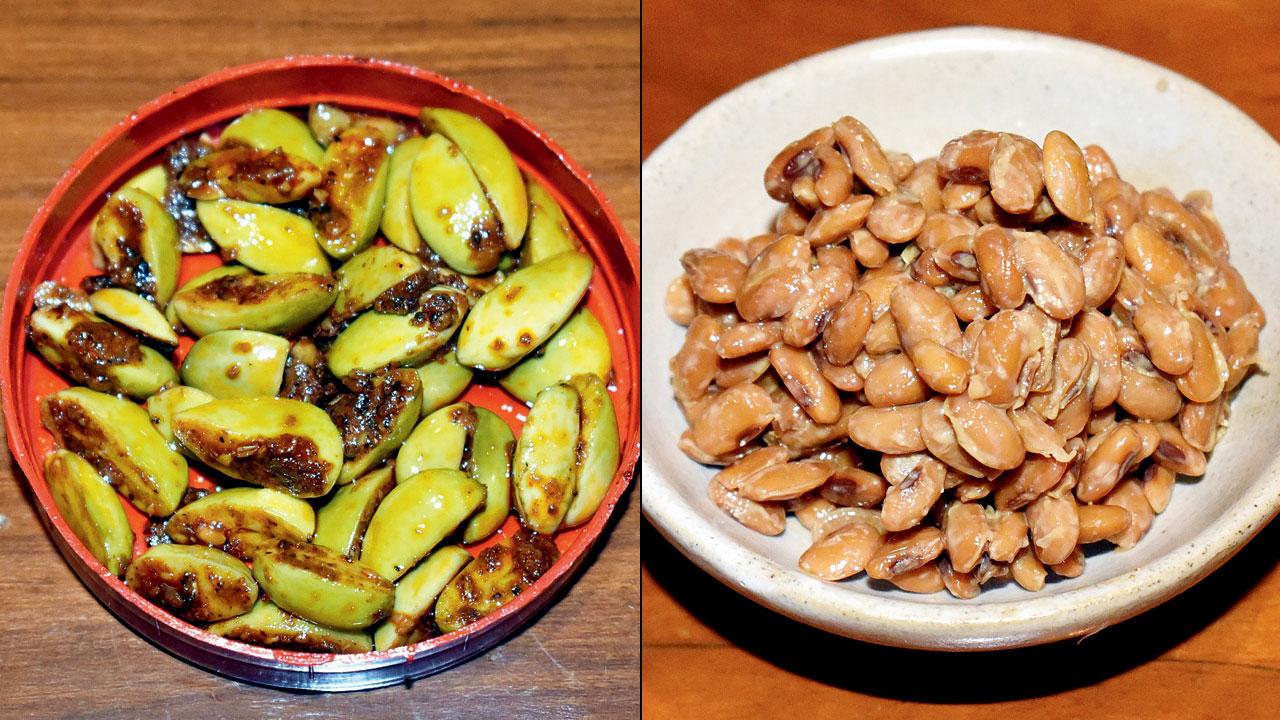 Yongchak and Axone
Next, the famous Axone — fermented soybean — is brought out. A whiff like that of dried bombil wafts across the table. The explosion of aromas is strongly similar to chocolate and hints of coffee. We imagine eating it with purple rice and fish mint, a herb that tastes like its name, in a dish called Sema.
The vegetarian dishes are suitable for vegans, while the non-vegetarian dishes use smoked pork, desi chicken, cured duck and smoked and fermented dried fish. We taste the opening dish, The Naga Mom, inspired by chef Jamir's mother's recipe of clear chicken stock soup. It comes with a mini dough ball that's slightly sweetened and topped with green mung and Naga king chili crumble. The crumble has a pleasant kick of heat and earthy mustard and ginger tones. Everything we taste is clean on the palate.
Head mixologist Jishnu AJ joins us with a vodka-based cocktail made from in-house zutho or rice beer, a traditional fermented drink. It's got Mizoram balm that lends its eucalyptus-like flavour to the drink's mildly sweet and sour yeast-like taste. Other drinks include Naga staples like spice wood, wild apple wine, and timbur pepper.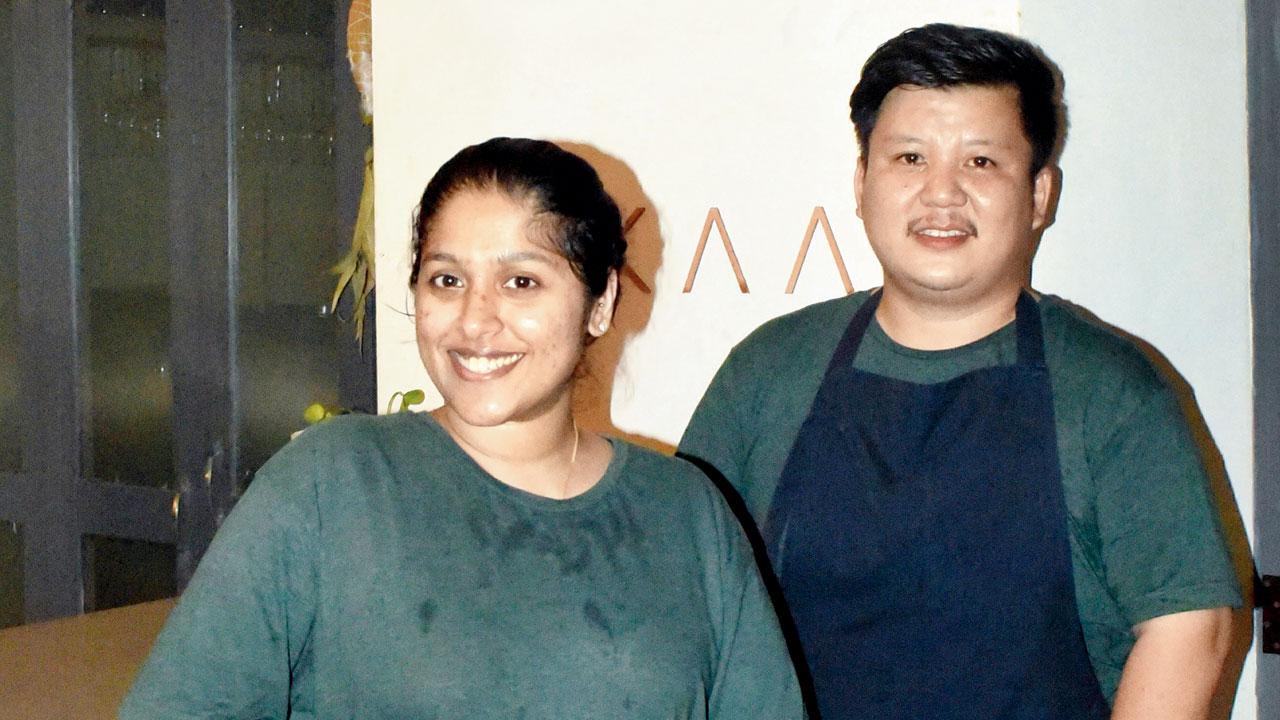 Niyati Rao and Salangyanger Jamir. Pics/Sameer Markande
The Khonoma dish is inspired by a meal prepared by 'Apeno Aunty', as Rao calls her, in Khonoma village. "Inspired by her dish, we have a hearty barley stew with yam, shredded chicken, dried lemon balm leaves, dried mustard leaves, and fresh fermented bamboo shoots topped with Auchisang leaves." As we leave, chef Rao's words ring in our ears, "Nagaland deserves our innate focus for its cuisine. Food diminishes boundaries."
On: June 2 and 3; 6.30 pm 
At: Ekaa, 1st Floor, Kitab Mahal, Azad Maidan, Fort
Log on to: insider.in
Cost: Rs 4,600 onwards
Cook the Naga way
>> Flavours from bamboo shoot extract forms the base of Naga cuisine. Made from fermented shoots, it has a pungent-sweet taste. Its sweetness increases with fermentation.
>> Food is usually prepared by stewing. Preparations begin with cooking in water to retain flavours and nutrition of ingredients.
>> Smoking and fermenting techniques are extensively used in its cuisine.