The last lap of this never-ending summer calls for an eclectic mix of refreshing, cold dishes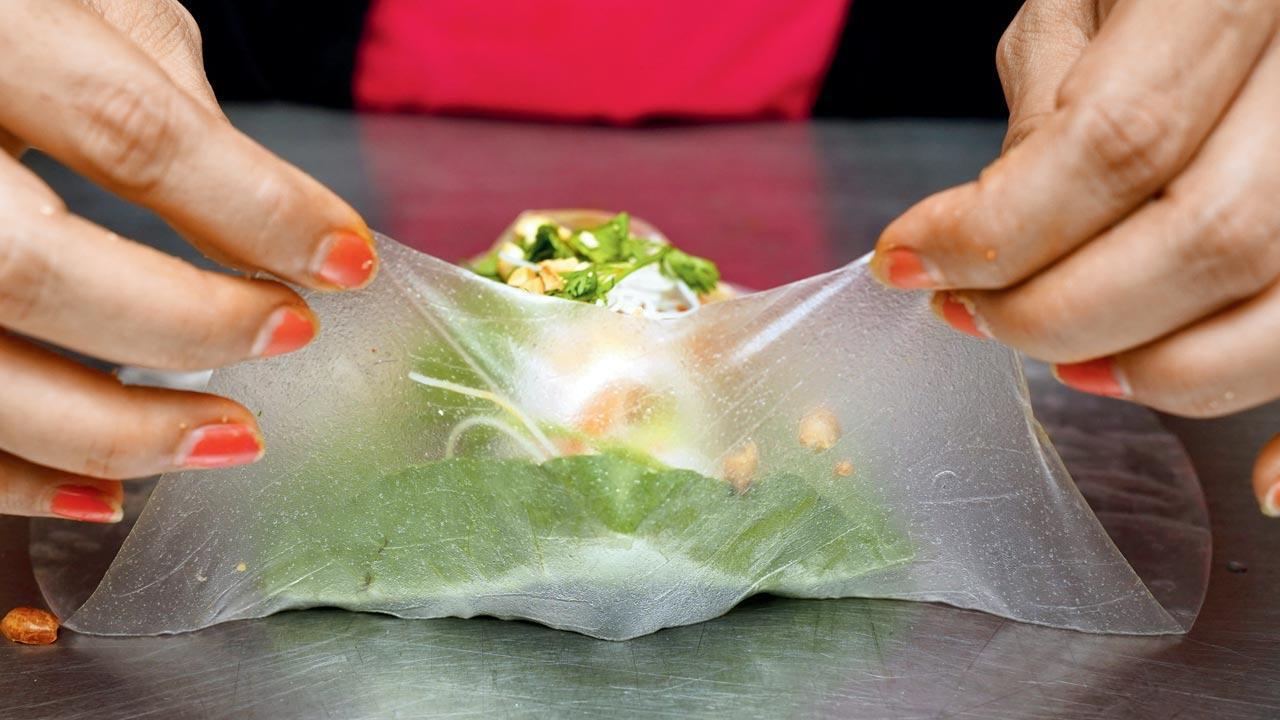 Wraps a rice roll. Pics/Aishwarya Deodhar
While we hope this period will be the last (unbearable) leg of the scorching summer, home chefs and professional chefs feel it is an ideal time to savour dishes that are cooling for the system.
Chef Bhushan Ganorkar, executive chef, Courtyard by Marriott, Navi Mumbai describes garde manger chefs as culinary artistes as it is important to handle this part of the kitchen where cold dishes are prepared and fresh ingredients are stored. "A cold dish can be an avocado on toast, millet-based salads, fruit salads and a bowlful of greens. It can be lettuce-wrapped tacos, wraps, pitas or even, meat loaves. It's very important to store the cold dishes at zero to five degree Celsius, as they have a shelf life of two days," says Ganorkar.
ADVERTISEMENT
Cold dishes work best when colours and textures are right. "The original flavours of the ingredients should stand out evenly. When you pick contrasting flavours; for example, rucola and balsamic vinegar, the rucola leaves are a bit bitter and have a peppery flavour which pairs well with the sweet and sour flavour of balsamic vinaigrette," says Ganorkar, adding that cold dishes are a treat to the eyes. Pick vibrant colours of red and purple cabbage, cherry tomatoes and fresh berries and colourful vegetables.
All at home
Chef Suresh DC, brand chef at HOSA, Goa, says one doesn't need to look too far when looking for ingredients in the pantry. "Cucumbers, onions, tomatoes, and leafy greens like baby spinach, watermelon, and pineapple can be used as main components. To add some texture and crunch, you can top them with peanuts, chana dal and rice puffs. For the dressing, you can make it spicy or creamy using vinegar, chilies, cashews, and coconut. For the final garnish, complete it with a tadka. Even bottle gourd makes for a great cold salad," says DC.
Cold dishes are meant to be refreshing and light on the tummy. "A fish mosaic is an elevated example of a cold dish that can be tried at home. We made a curry leaf cured snapper where strips of fillet are rolled in curry leaf podi and cured with sea salt. We roll this into a roulade," DC adds.
Here are a few cool ideas and recipes to execute in the kitchen:
Mango & avocado Vietnamese rice rolls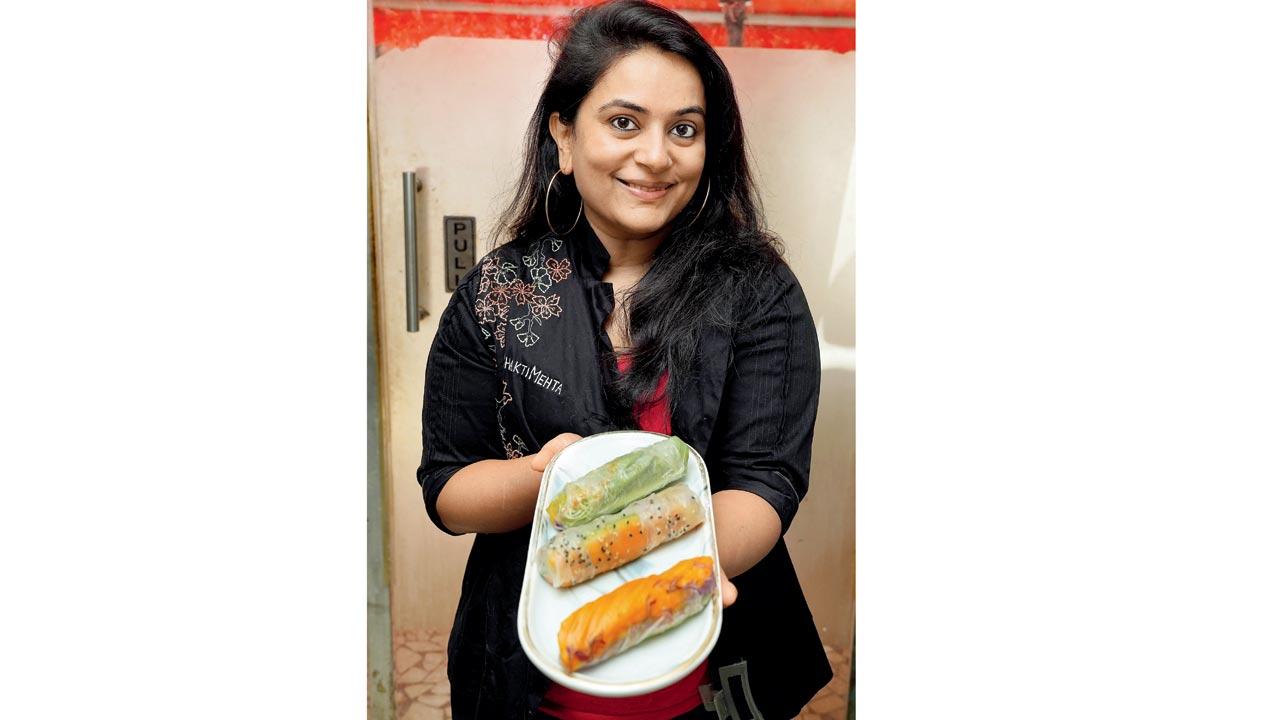 Bhakti Mehta
Bhakti Mehta, chef and founder of Little Food Co, says, "While hosting, apart from salads, cold dishes work wonderfully on a grazing table. A cold appetiser amongst hot, grill and fried items is a good break to the palate. Use seasonal ingredients, and remember to clean out your veggies."
INGREDIENTS
. 3 rice papers
. 100 gm boiled vermicelli noodles 
. 100 gm carrot, julienned
. 100 gm cucumber, julienned 
. 100 gm purple cabbage, julienned
. ½ cup or 100 gm avocado, sliced; add salt and lemon 
. 1 ripe mango, sliced
. 1 sprig of mint and coriander
. 6 pcs of crisp iceberg/romaine lettuce 
. 4 tbsp roasted peanuts, chopped
Spicy peanut sauce  
. ½ cup peanut butter 
. ¼ cup rice vinegar 
. 2 tbsp soy sauce
. 1 tsp chopped ginger 
. 1 tsp chopped bird eye chili 
. 2 green onions, thinly sliced
Soy dipping sauce
. 5 tbsp light soy 
. 1 tbsp dark soy 
. 2 tbsp rice vinegar 
. ½ tsp castor sugar 
. 3 tsp chopped coriander 
. 1 tsp chopped bird eye chili
METHOD
Blend the peanut butter sauce ingredients in a mixer. Set aside. Combine the ingredients of soy dipping sauce in a bowl and set aside. To assemble, brush the Vietnamese rice paper with water until it becomes soft to roll. Place the lettuce, apply the peanut butter sauce on the lettuce. Add the noodles, carrot, cucumber and cabbage. Top it up with avocado and mango slices with coriander, mint and spring onions. Add chopped roasted peanuts. Fold over one side of the rice paper; then fold over top and bottom. Using a rolling motion, continue to seal rice paper into a roll. Refrigerate until ready to serve with dipping sauce.
Sasranga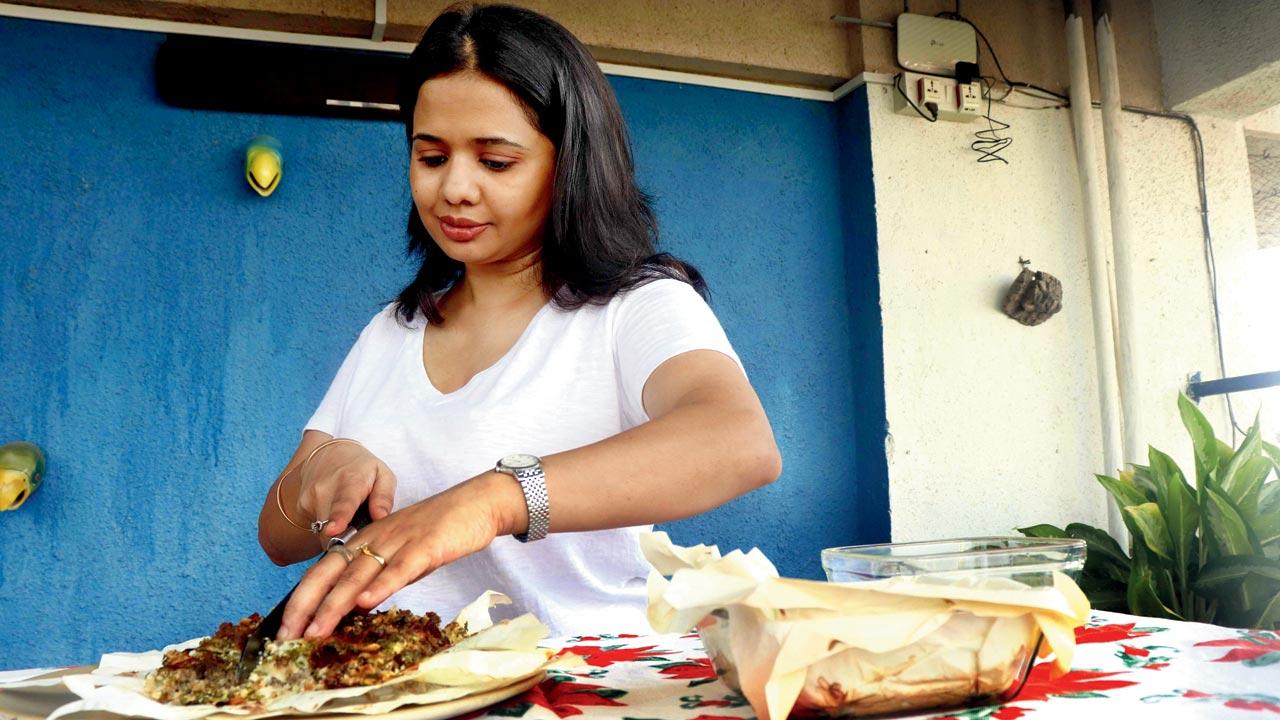 Anuradha Medhora prepares the dish. Pics/Anurag Ahire
Chef and founder of catering company Charoli, Anuradha Medhora, says, "Sasranga is a type of an Indian meat loaf from Sailana, Madhya Pradesh. At our house, we eat them as a tea-time snack or when one is going for a picnic or a long drive. You can pair it with a refreshing fruit juice or a chilled glass of shandy." 
INGREDIENTS
. ½ kg kheema 
. Salt to taste
. 2 tbsp ghee 
. ½ cup almonds, chopped 
. ½ cup raisins 
. 1 large onion, julienned 
. 15-20 chilies, finely chopped 
. 2 inch ginger, finely chopped 
. 1 lemon 
. ½ cup coriander 
. 1 cup malai . 2 eggs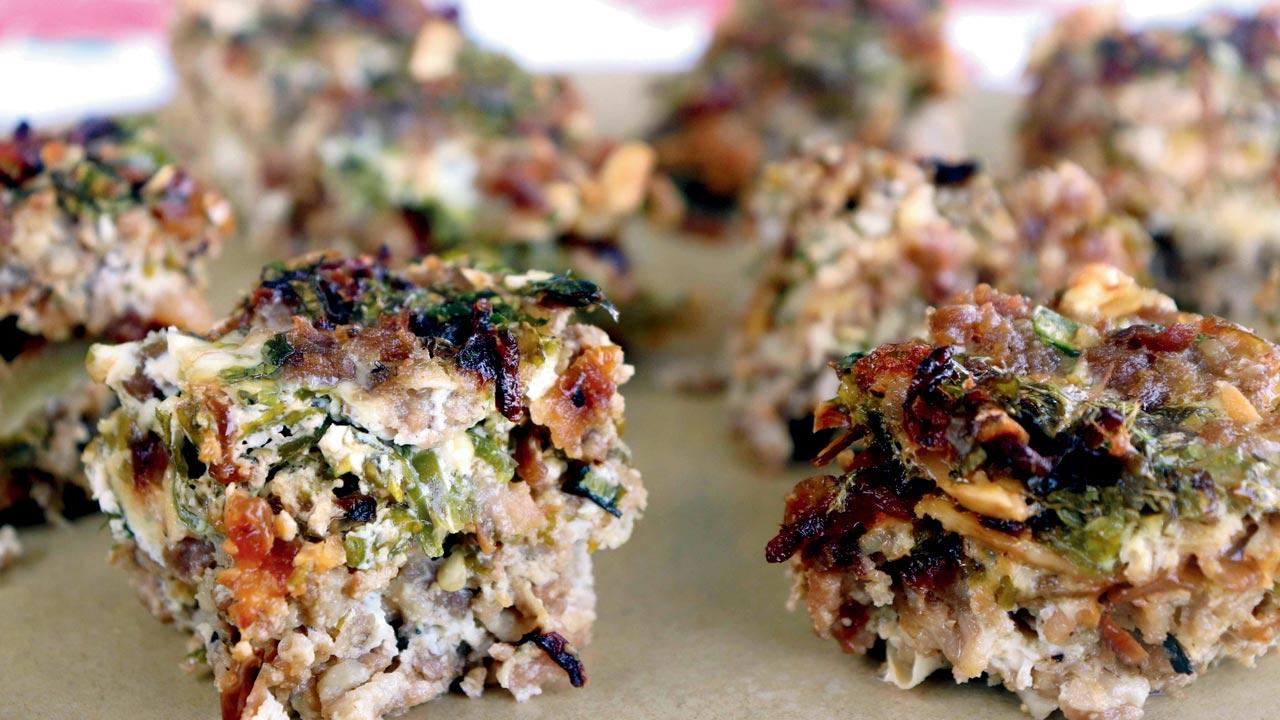 A close-up shot of sasranga
METHOD
In a heavy bottomed pan add ghee. Hot fry the almonds and raisins and remove aside. Fry onions in the same ghee and remove. Roughly crush them.  Add the mutton kheema and salt to the remaining ghee and let it cook. Bhunao the meat by adding  water a few times till it is completely cooked. In another bowl, add fried almonds, raisins, onions, ginger, green chilies and coriander. Beat the malai and keep in a separate bowl. Now, whisk the eggs with the lime juice and store it in another bowl. Lightly grease a baking tray and spread half the kheema. On top of that, add half of the malai followed by the almond mixture. To that, add half of the egg mixture. Repeat the layering again while pressing down gently with fingers. Bake for around 30 minutes or till it is firm. Let it cool and then, cut it into squares. The nourishing snack is loved by children.
Beetroot gazpacho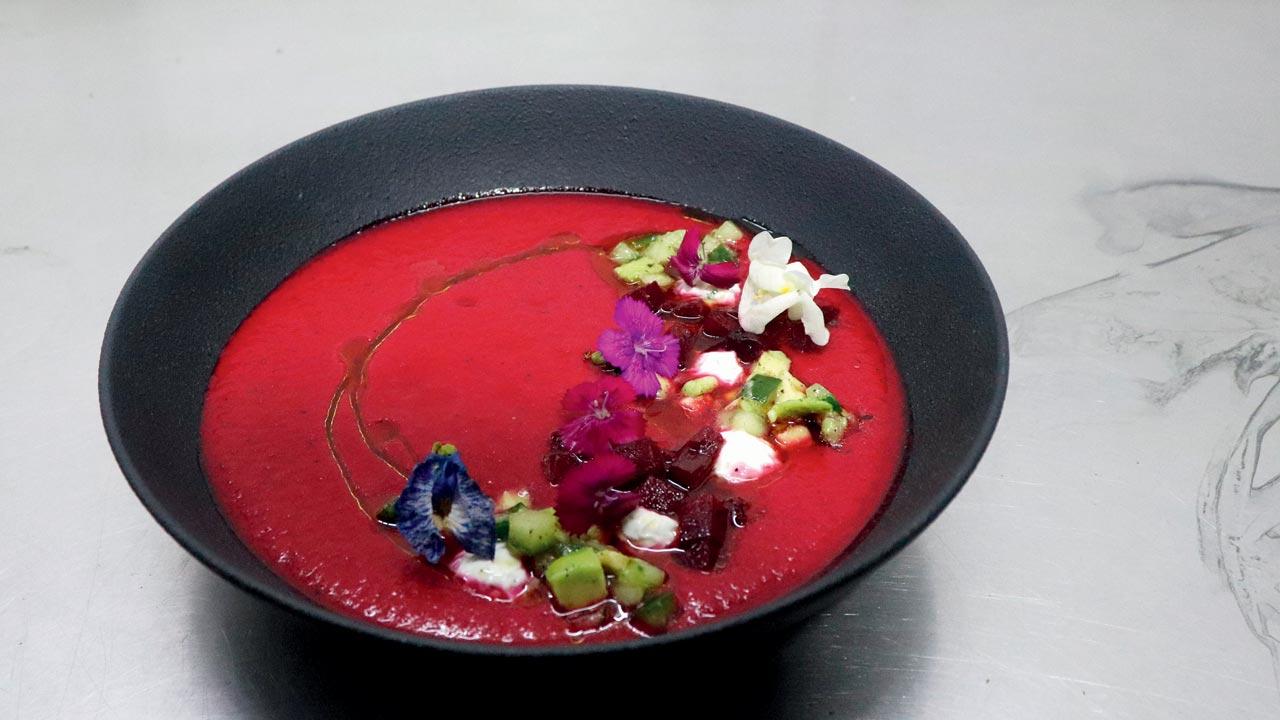 Also known as a vegetable drink, gazpacho is a cold soup with its origins in Spain. Chef Vansh Khanna of The Indian Project says, "A gazpacho is perfect for cooling down the body. It is rich in antioxidants and even lowers blood pressure. I have created a beetroot gazpacho (above) with pickled cucumber, avocado, beetroot, and dill sour cream. The beetroot is roasted in the oven for a smoky flavour, and I have used confit garlic to avoid the raw taste of garlic. The sour cream helps give the soup a creamy texture."
INGREDIENTS
2-3 beetroots
1-2 red or white onions
1 tomato
1 green pepper (green capsicum)
2 English cucumbers
Crusty bread (day-old bread)
2-3 garlic cloves
2 tsp sherry vinegar or white vinegar
10 gm dill leaves
50 ml olive oil
2-3 tbsp sour cream
1 avocado
Salt to taste
Black pepper to taste
METHOD
Roast the beetroot in an oven with aluminium foil or cut into cubes and boil them for 20 minutes. Cool and peel the outer layer of the beetroot. Chill in the fridge for an hour. Cube the cucumbers, avocado, and some beetroot for garnish. Marinate them with some olive oil, salt, and pepper. Chop dill leaves and mix them with the sour cream. Set aside. In a blender, add the beetroot along with tomato, cucumber, onion, crusty bread, green pepper, olive oil, vinegar, and blitz until smooth. Pass through a sieve to achieve a smooth consistency. Chill it for 1 to 2 hours. Pour the gazpacho into chilled bowls, Garnish with vegetable cubes set aside and add a dollop of the dill sour cream.
PS: Replace sour cream with cashew paste and skip the bread.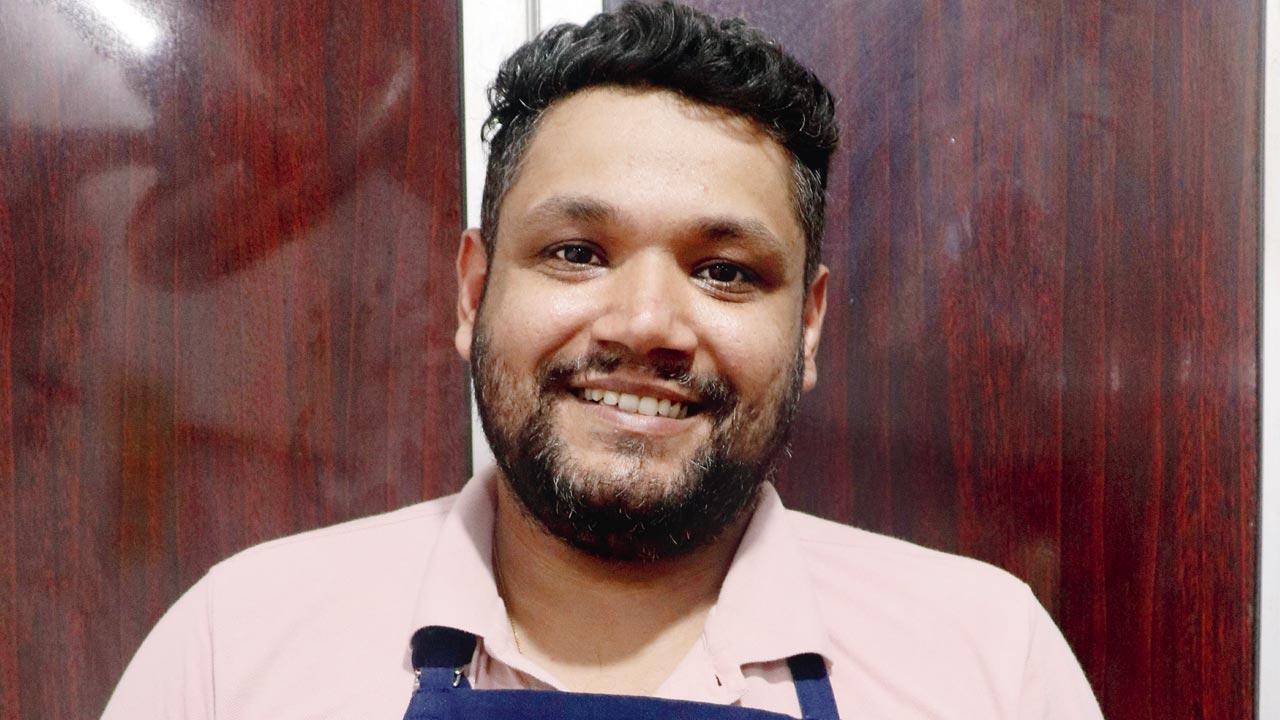 Mango salad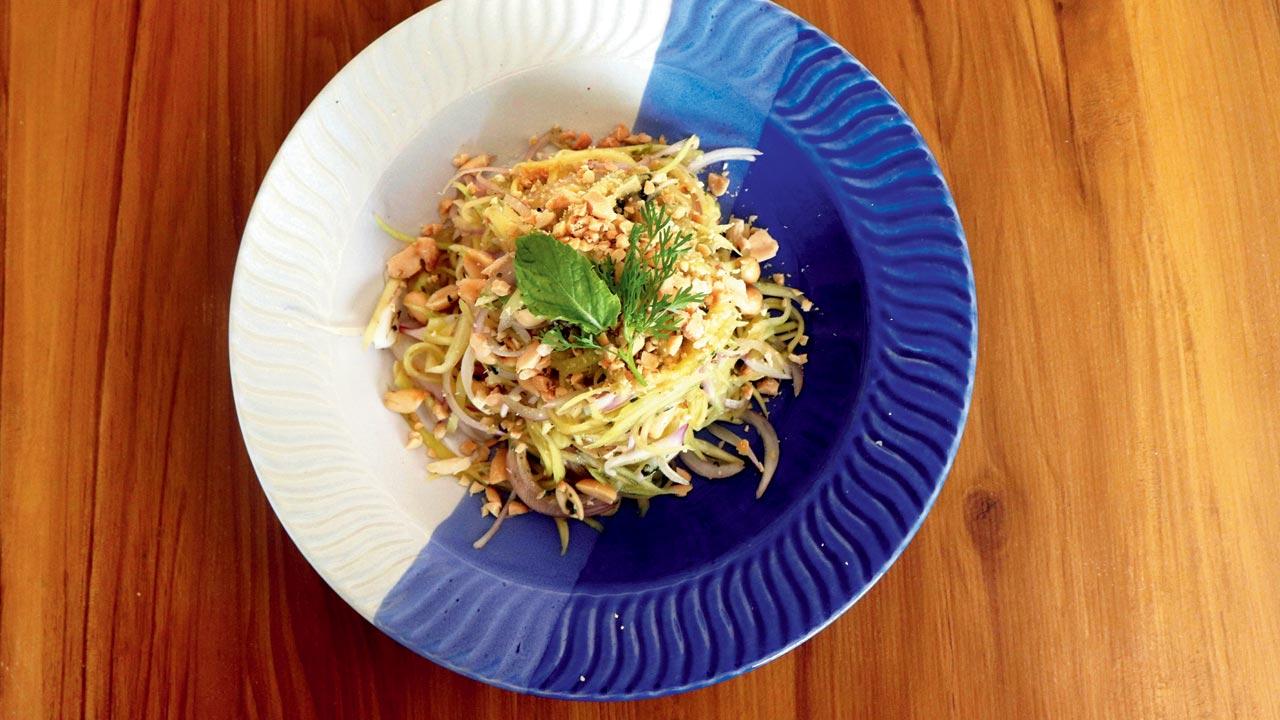 Raw mango and papaya salad
Saloni Kukreja, chef, content curator and recipe developer (right), takes inspiration from Thai raw mango and papaya salad that usually has tamarind and fish sauce. "Since tamarind and peanuts are common to both cuisines, I wanted to do a more Indian version with just raw mango and easily available ingredients of chilies and coriander for a chatpata chat kick.  If you want to store it, don't mix the dressing already. The crunchiness of raw mangoes and peanuts will be lost.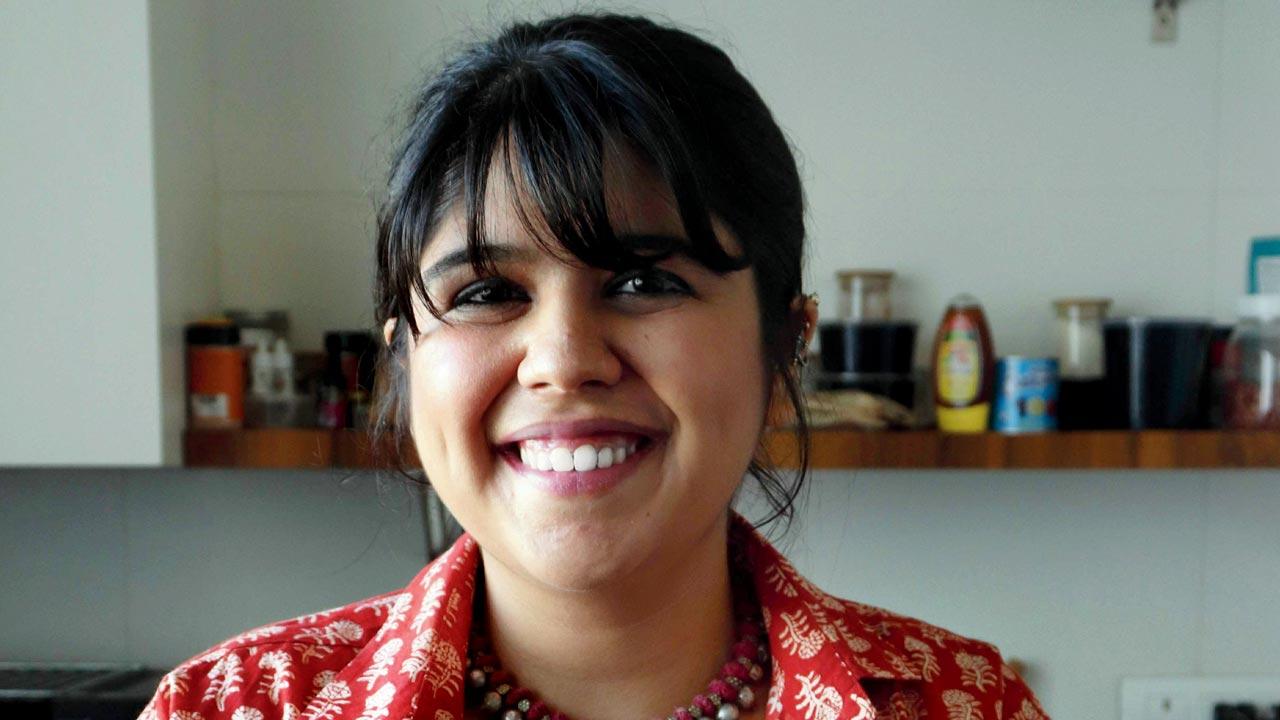 Salone Kukreja
INGREDIENTS
1 kachchi kairi/raw mango
Salt to taste
2 green chillies
2 tsp jaggery powder
1/8 inch ginger
2 tbsp coriander
½ tsp tamarind pulp
½ onion, finely sliced
1 tbsp peanuts
METHOD
Peel and thinly slice the mango. Keep aside. To a mortar pestle or a blender, add green chillies, ginger, coriander leaves, jaggery powder, tamarind pulp and salt to taste. Pound or blend into fine paste. Add lime juice, onion, raw mango and roasted peanuts, Mix well. Garnish with fresh coriander leaves and crushed peanuts. Serve.