Civic schools will be renamed as BMC public schools and skill development centers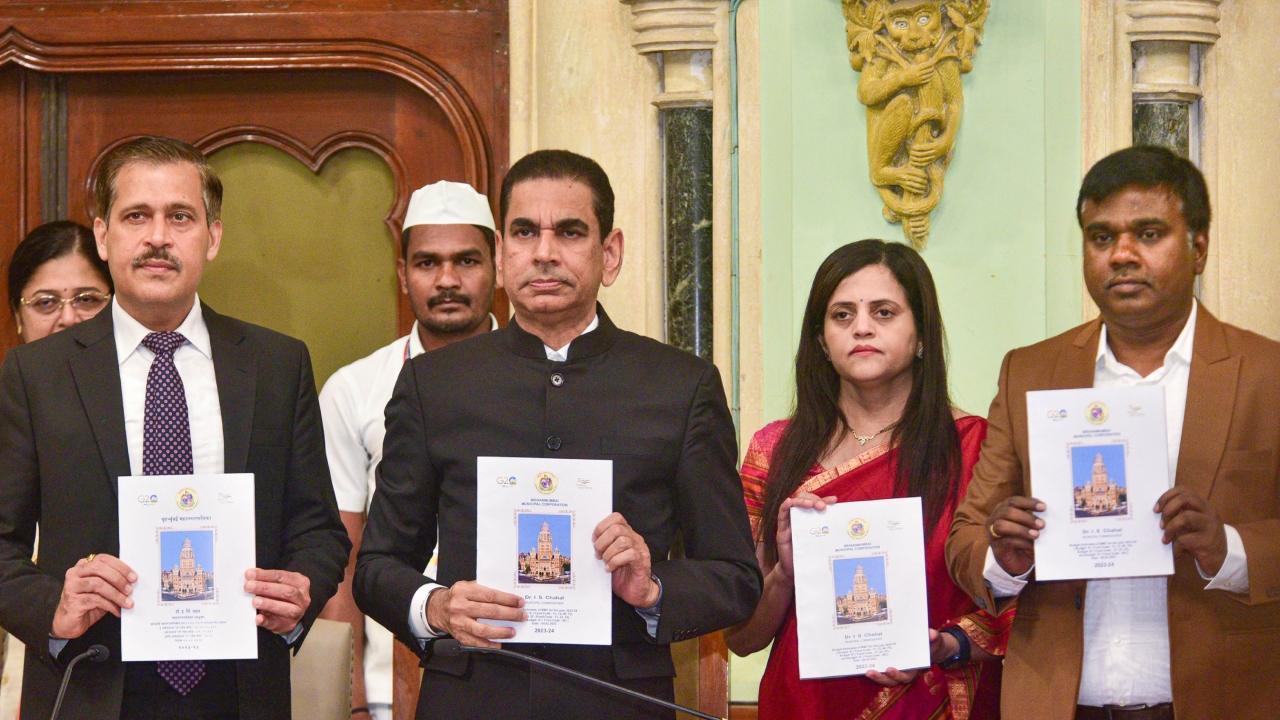 BMC Commissioner Iqbal Chahal along with other dignitaries presents the BMC budget 2023-24 at BMC headquarters. Pic/PTI
The Brihanmumbai Municipal Corporation (BMC) on Saturday presented its budget for the year 2023-24. The budget includes Rs 3,347 crore allocation for the education sector this year. In 2022-23, Rs 3,370 budget was estimated for the education sector in Mumbai.
The BMC chief, Iqbal Singh Chahal presented Rs, 3347 crore budget for education, he also mentioned about renaming BMC schools and adding 'skill development center' in its names.
ADVERTISEMENT
According to Chahal, in this financial year, the BMC will be upgrading the traditional classrooms in schools and making it digital friendly for the students. Out of the total 7, 934 classrooms, 1,300 classrooms will be made digital classrooms, he said.
In order to train students in skill developing, the 9th and 10th class students, courses besides the traditional streams, BMC will be providing vocational training to the students. This will help the students develop their skills. The training will be given to 41,774 students of BMC secondary schools, he said.
Chahal said, "The education budget is focused on giving quality education to all the students in schools. Through digital classrooms, the students will learn in an interactive way. In the financial year 2023-24 it is proposed to convert 1300 more classrooms into digital classrooms and take advantage of technological advancements. For this project, a budget of Rs 12 crore is proposed in 2023-24."
There are 7,934 classrooms in BMC schools. Out of these 1,214 classrooms were made digital classrooms by using projectors and computing devices in 2018-19. In the financial year 2021-22, around 1,300 classrooms were made digital classrooms with the help of LED interactive panels and upgraded technologies.
Also Read: BMC budget: Civic body focuses on NCDs; 9 pc drop in health sector
Major highlights of Education Budget:
- Leadership Training to Head Masters:
A total of 120 Head Masters of BMC Schools were imparted "Leadership Skills" training through the reputed institute 'Jamanalal Bajaj Institute of Management'. Such quality enhancement training will be provided in future as required.
- Skill Development Center:
It is proposed to commence Skill Development courses from the ensuing academic year in the following fields - Electronics, Artificial Intelligence, Apparel / Fashion Designing, Coding, Robotics, Automobile, and Tourism. Budget Provision (Secondary): Rs 28.45 crore
- CCTV Cameras:
In order to provide security to students, teachers, school premises and physical facilities of municipal schools, the process of installing CCTV cameras in all BMC school buildings.
- Budget Provision (Primary):
The Budget estimates (Primary) for 2023-24 Rs 3347.13 crore. Do you think Budget 2023 will meet aspirations of common man?