As the civic body breaks and rebuilds Mumbai's functional road dividers, what has irked political representatives, experts and citizens alike is the replacement of crossable dividers with monstrous three-foot ones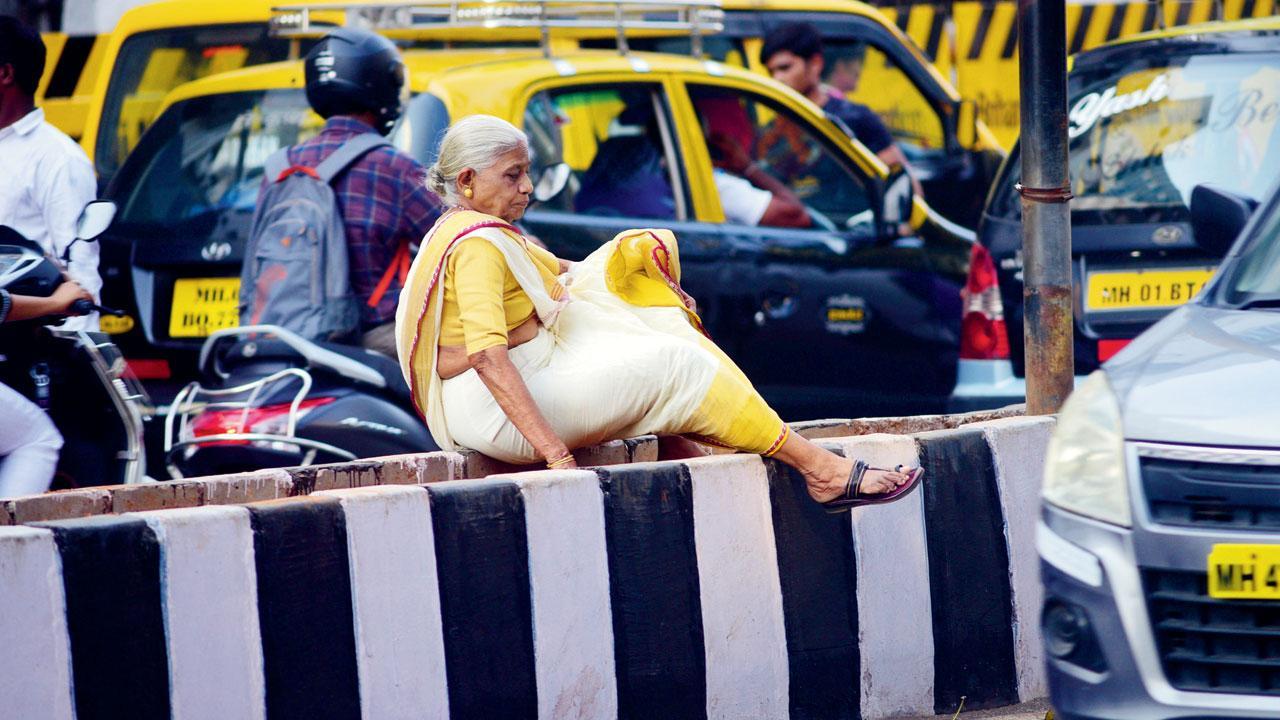 An old lady climb over a divider outside Churchgate station Pic/Pradeep Dhivar
The BMC has come under fire for encumbering pedestrians by replacing flat road dividers with raised barricades across the city. The civic body has undertaken beautification projects worth Rs 1,700 crore, and replacing dividers is part of this endeavour. However, even dividers that are in a good shape are being demolished. On Bandra West's KC Marg, the BMC has almost demolished a central divider that was repaired as recently as 2021 and will install its replacement.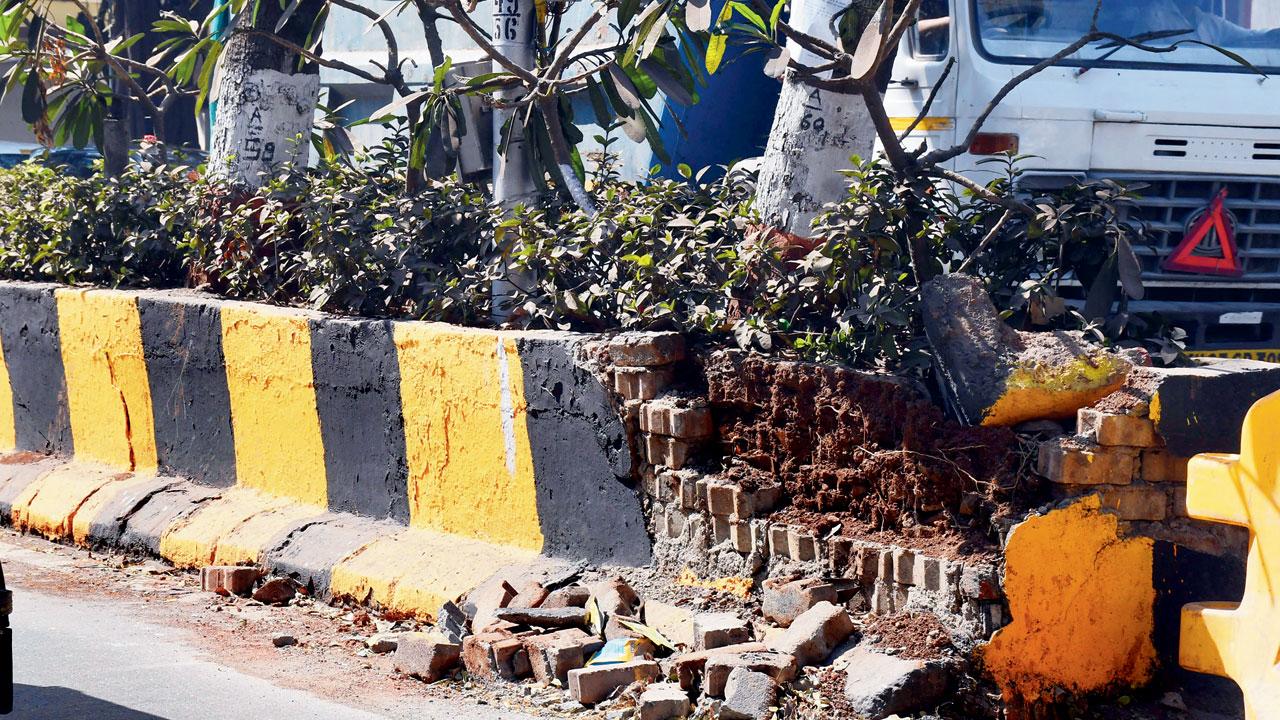 Mumtaz Rahebar Khan, a former Bandra West corporator, said after following up with the civic body, the BMC repaired the divider. "Now the authorities are removing it. Officials claim they are doing this under a beautification programme. But the old divider was in a good condition. Why are they wasting taxpayers' money? The old divider was made of bricks. It was strong," Khan said.
Also Read: Mumbai: Residents rally to save trees in King's Circle
Repairing of road proposed
The BMC also plans to carry out repairs on this road. "The repair work will start soon. While this goes on, the new divider will be damaged, wasting taxpayers' money again. When I asked the BMC roads department, they said this 1,510-metre-long asphalt road would be converted into a cement concrete one," said Khan. The work is being undertaken by H West ward officials. "They didn't take any suggestion from the roads department, which is needed," she alleged.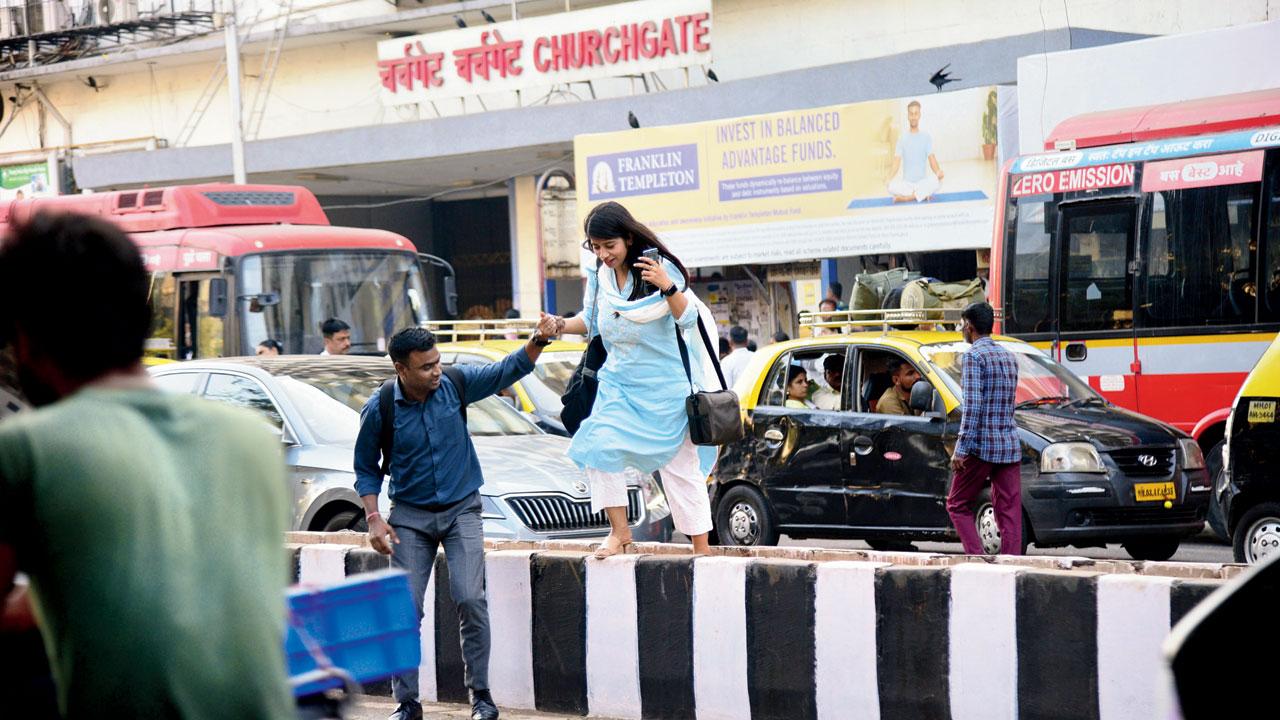 Pedestrians climb over a divider outside Churchgate station Pic/Pradeep Dhivar
Recently, Khan tweeted about the issue with a video, which was retweeted by former minister and Shiv Sena (UBT) leader  Aaditya Thackeray. "The BMC must explain this. This is pro-contractor work, which the new opaque administration defines as a beautification order by Chief Minister Eknath Shinde at Rs 1,700 crore of Mumbaikars," his tweet read. 
28 trees to be transplanted
The BMC has decided to transplant 28 trees, most of them full-grown palm trees, in the KC Marg divider. The civic body has already removed two dead trees.
"There is nothing wrong with planting trees in the divider. But they should be planted properly so their roots enter the ground. I had already filed an objection in this regard," said Zoru Bhathena, an environmental activist.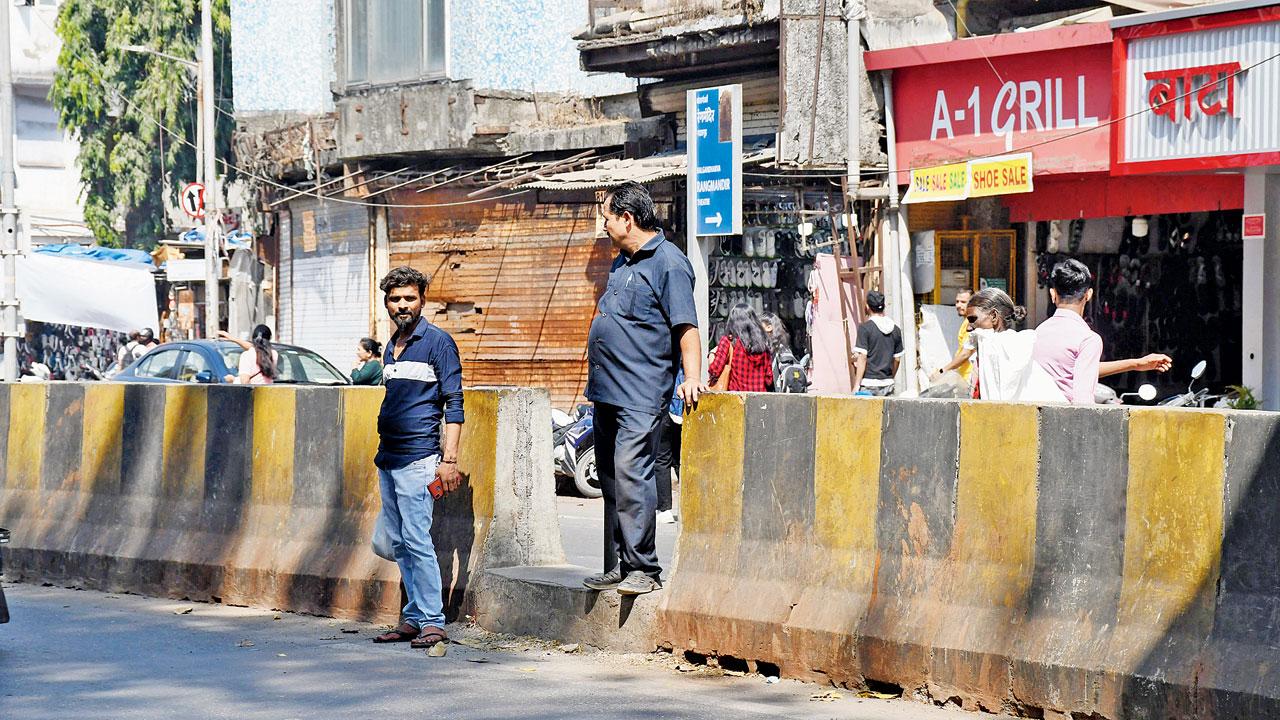 A roughly-four-feet-high divider on Linking Road Pic /Ashish Raje
"The existing central dividers are in a good condition and don't need replacement. Any proposal to remove trees to beautify a central divider is absurd. The Tree Authority should ensure that sufficient open space and soil is left available all around these trees," his  objection letter read.
Similar situation in Bandra
Even on a small internal road in Bandra East, Jagat Vidya Marg, near the collectors' office, the dismantling of barricades is going on. "It is totally wrong. It is understandable if the BMC replaces old, damaged structures with new, colourful ones. The BMC has been wasting money on non-required work," said Anil Trimbankar, a former corporator.
He added that cars were being parked on both sides of the road while footpaths had been encroached by hawkers, a tea stall and a garage. "If the civic body really wants to help commuters, it should focus on clearing the road and not on false beautification," he said.
Pedestrian inconvenience
Apart from allegations of wasting money. the beautification project is being blamed for obstructing commuters as two-to-three-feet-high are taking the place of flat dividers. Pedestrians must now walk up to junctions to cross the road, which is inconvenient for many.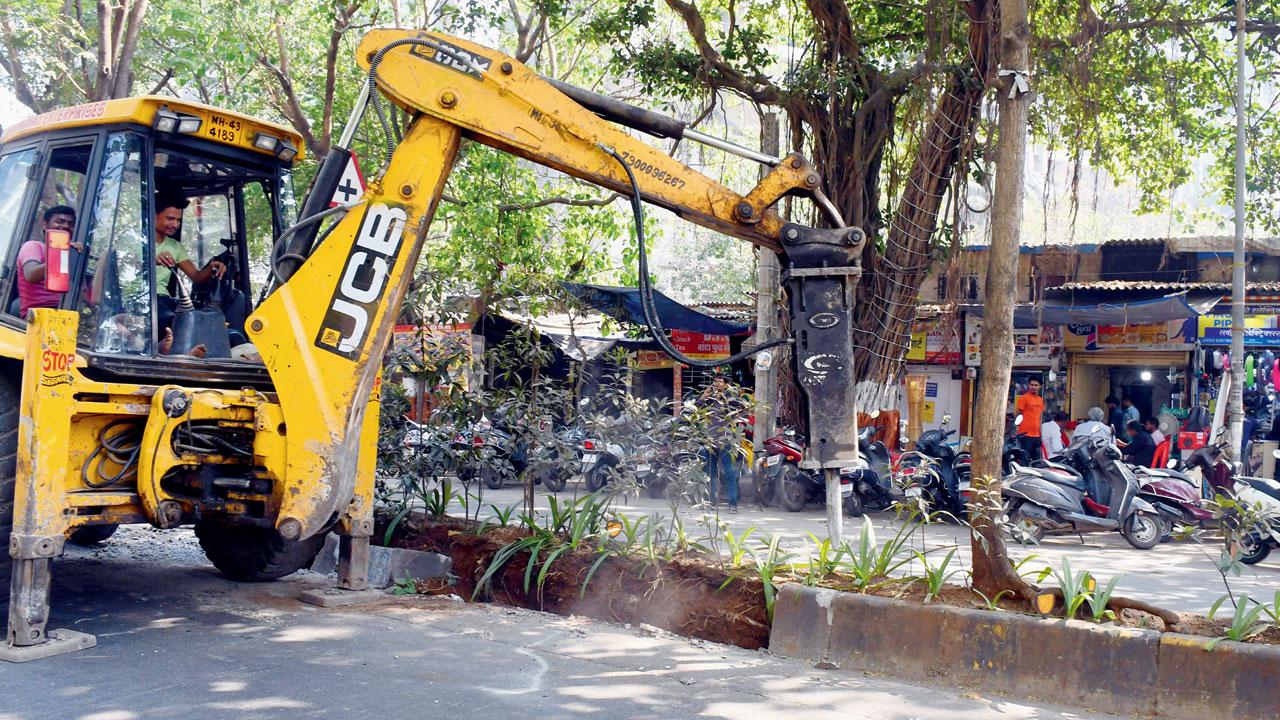 BMC workers demolish a perfectly intact divider on Jagat Vidya Marg in Bandra East. Pic/Ashish Raje
Rishi Aggarwal, a city-based activist, tweeted, "Flat dividers are being obliterated in Mumbai under the new onslaught of the R1,700 crore Mumbai beautification programme. A dense city like Mumbai needs frequent crossing of pedestrians. These are city roads, not highways."
He added that there were flat dividers from Lokhandwala Circle Road to Four Bungalows till 2018 and people could cross the road with ease. "But they were replaced three to four years ago. Anyone passing now will think the raised dividers were always there. Access to pedestrians is being severed at every other road in the city," he stated.
Near Churchgate
Though there have been raised dividers on only a few major roads in the city, they now are being built on small roads. In January, the BMC replaced the dividers on Maharshi Karve Road in front of Churchgate station, citing the prevention of accidents as people would cross the heavy-traffic road. However, after this, many young commuters have started climbing over the new barricades.
Even the flat, cement-brick divider on the road to parallel to Oval Maidan has now been replaced with elevated barriers. "The road is congested during office hours. But otherwise, traffic is sparse and pedestrians can cross with ease. But now there are only a few points where people can cross it," said Smriti Kulkarni, a regular commuter.
Khar Danda Road
The work of replacing flat dividers is also going on at Khar Danda Road in Khar West. There are many small gullies such as 14th Road, 15th Road and 16th Road that are connected to the road and there are many small junctions. Andrew Simoes tweeted, "I was shocked to see the huge raised divider appearing on the main Khar Road (Chitrakhar Durandhar Marg). There was no divider there before. It's not practical at all."
"The raised barriers are for the safety of pedestrians. It will prevent mid-road crossings, which results in accidents," said a BMC official. Activist Rishi Aggarwal added, "The BMC is using the excuse (of pedestrian safety) to make the movement of cars easier. There is no data supporting the argument. Raised dividers, in fact, cause many youths to dangerously climb over them. If the corporation is serious about pedestrian safety, let it make those junctions safe."
Iqbal Singh Chahal, municipal commissioner, said the roads department head would be able to explain the matter. Ulhas Mahale, deputy municipal commissioner of infrastructure did not respond to mid-day's queries at the time of going to print.
'No jaywalking rule exists'
Asked whether pedestrians are allowed to cross flat dividers, a transport expert said that though the concept of jaywalking exists in the US, it isn't mentioned in the Indian Penal Code. "But pedestrians can be booked for obstructing traffic under the Bombay Police Act. A few years ago, there was a drive to fine commuters for crossing the median near Churchgate station," he added.
2021
The year KC Marg divider was repaired