The Maharashtra government has allotted 10 acre land for the temple of Lord Balaji at Ulwe in Navi Mumbai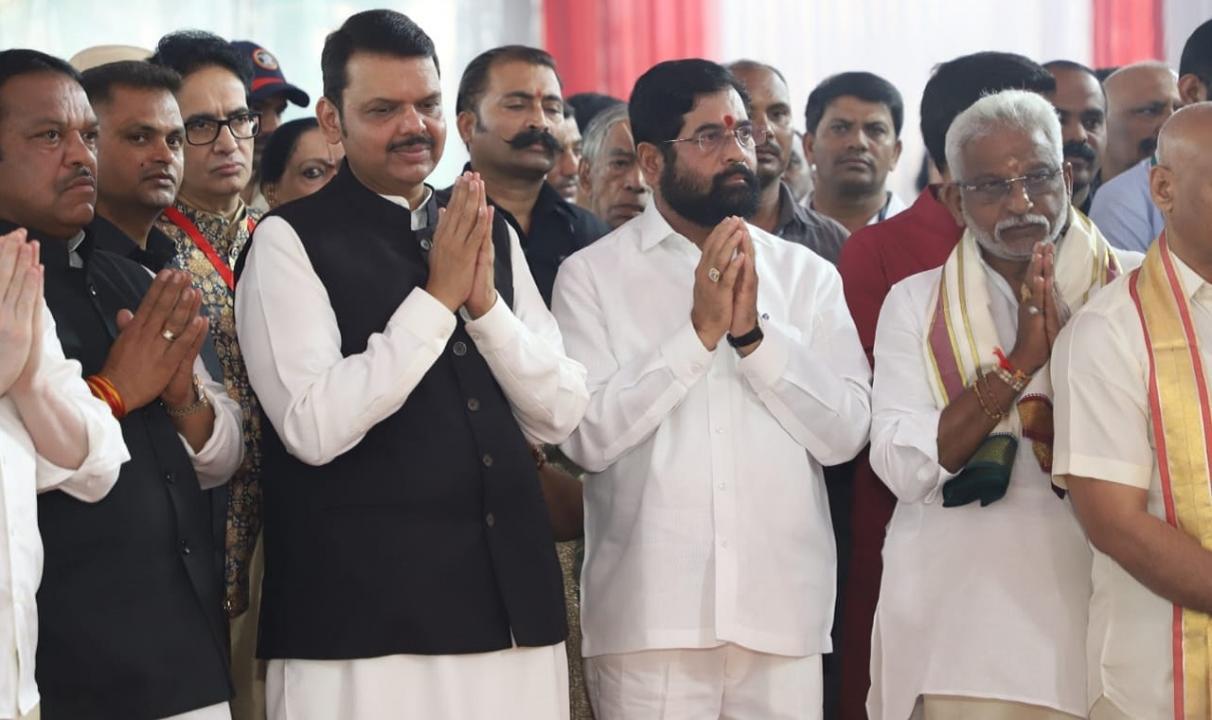 Pic/Eknath Shinde's team
Maharashtra Chief Minister Eknath Shinde on Wednesday performed the 'bhoomi poojan' of a temple being built on a 10 acre land in Navi Mumbai allotted by the state government to the Tirumala Tirupati Devasthanams (TTD) trust.
The TTD governs the ancient hill shrine of Lord Venkateswara at Tirumala in Tirupati.
ADVERTISEMENT
The Maharashtra government has allotted 10 acre land for the temple of Lord Balaji at Ulwe in Navi Mumbai. It will be a replica of the temple in Tirumala, a TTD trust official told news agency PTI.
Among those present during the 'bhoomi pujan' on Wednesday included Deputy Chief Minister Devendra Fadnavis, Raymond company Chairman and Managing Director Gautam Singhania, TTD trust board Chairman YV Subba Reddy and its Executive Officer AV Dharma Reddy, reported PTI.
The temple will be built at a cost of Rs 70 crore, with Singhania coming forward to foot the entire expenses, Subba Reddy said, adding the construction will be completed within two years.
Following a request from the Maharashtra chief minister, his Andhra Pradesh counterpart YS Jagan Mohan Reddy had asked the TTD to built the temple of Lord Venkateshwara on the lines of the one in Tirumala, he said.
The TTD board chairman thanked CM Shinde, his deputy Fadnavis, Singhania and former Maharashtra minister Aaditya Thackeray for taking the initiative to allot land for the temple.
Maharashtra CM Eknath Shinde in his address said the temple will go a long way in fulfilling the desire of thousands of devotees who want to visit Tirumala but are not able to do so for various reasons.
He assured all cooperation from the state government for the temple.
Shinde said Deputy CM Fadnavis got some necessary clearances for the temple project from the Centre. "All the hurdles have been removed and today is the day of happiness," he added.
Singhania in his address said the people who are not able to visit Tirupati will now have the opportunity to visit this temple.
He also expressed hope that the temple will boost the economy of Navi Mumbai.
(With inputs from PTI)