Daily test numbers stood between 8,000-9,000 last week; they were around 35,000 in Feb when cases had dropped below 700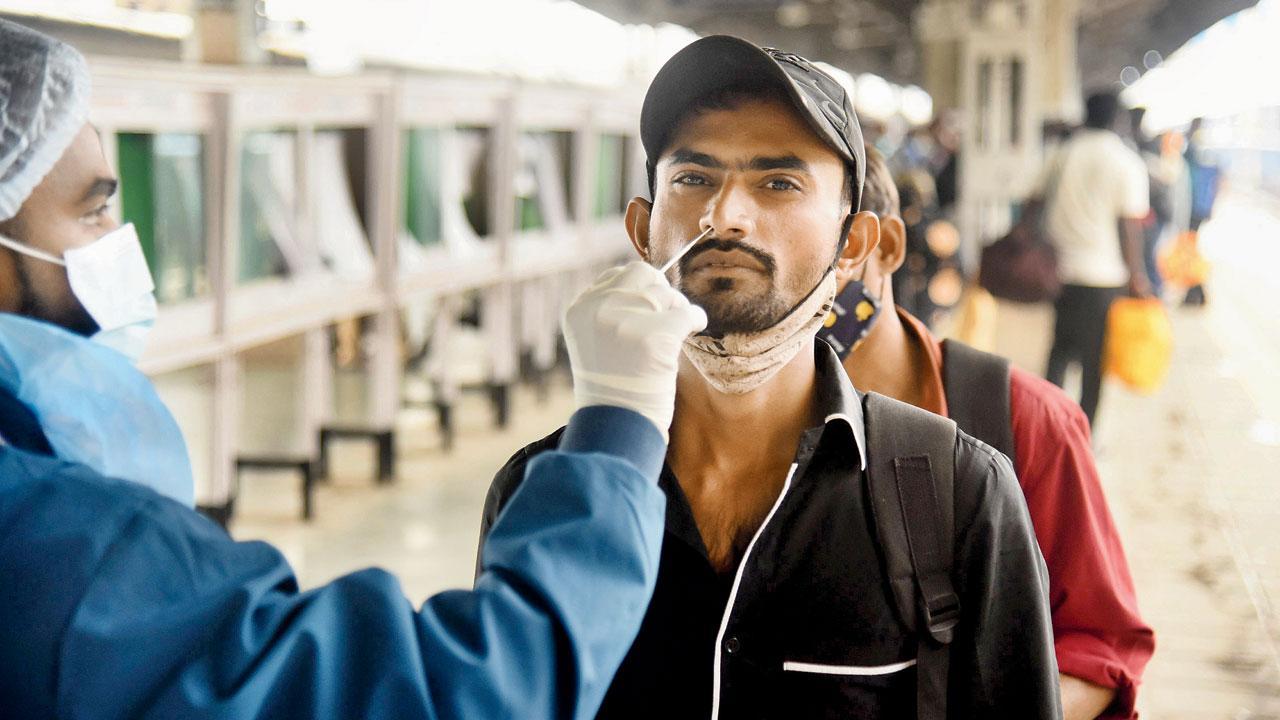 A health worker collects a swab sample of a train traveller, at LTT, Kurla, on December 2, 2021. Pic/Sameer Markande
The rapid increase in COVID cases in the city over the past two weeks is yet to push citizens to go for tests. Despite clear instructions by civic chief I S Chahal to ramp up testing, BMC officials managed between 8,000 and 9,000 tests a day last week. As a result, the test positivity rate shot up to 11 per cent on Sunday, which saw 961 new infections.
In February, when daily cases dropped below 700, over 35,000 tests were carried a day. At the peak of the third wave in January, daily tests in Mumbai topped 60,000. Most of the tests are now of air travellers and patients before surgeries.
Also read: Covid-19: Mandatory masking any day in Maharashtra now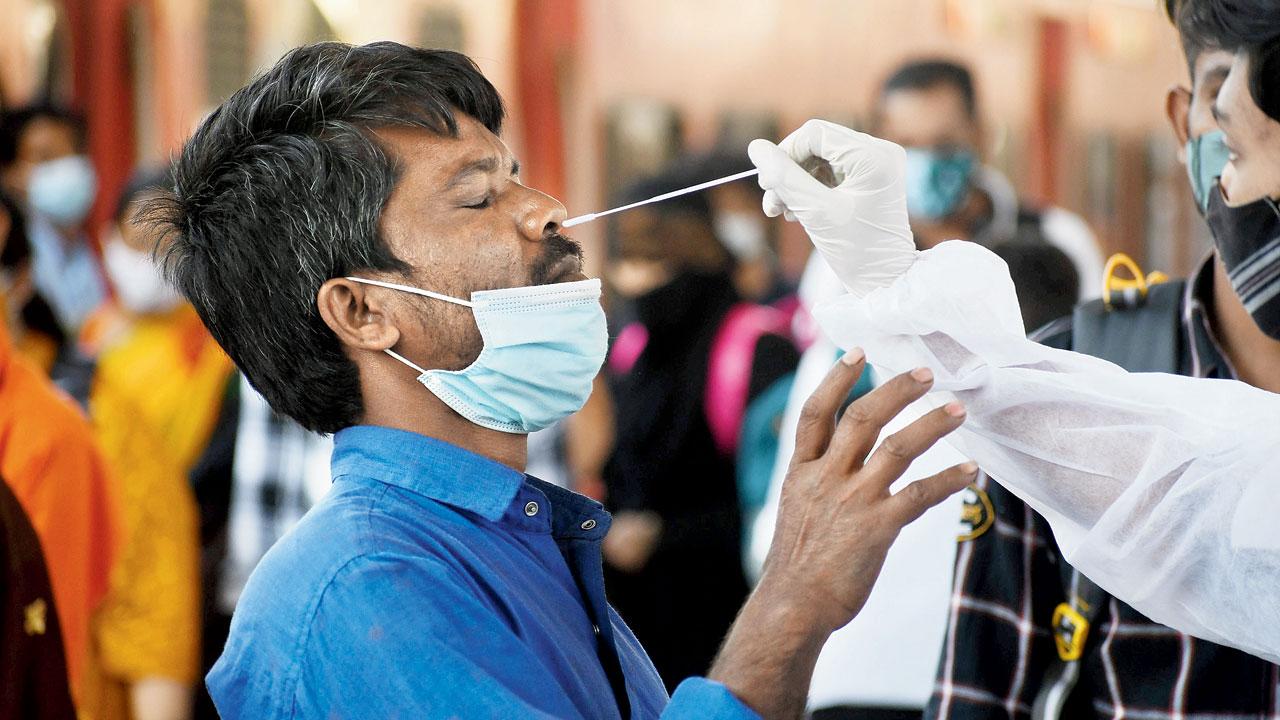 Swab sample of a passenger being taken at Dadar, on February 16. Pic/Ashish Raje
While Chahal had asked the civic staff to conduct about 30,000 tests every day, officials said it was tough considering that tests are no longer mandatory at public places like railway stations. As per the guidelines of the World Health Organization, a test positive rate or TPR of less than 5 shows adequate testing. For now, the ICMR has recommended testing symptomatic people. 
"Earlier tests were mandatory before entering many public places. Now there isn't any compulsion. So we can test only symptomatic patients coming to our dispensaries and close contacts of positive cases. Besides, it's like an endemic situation and nobody looks at their symptoms seriously," said Dr Shailendra Gujar, medical officer from E ward.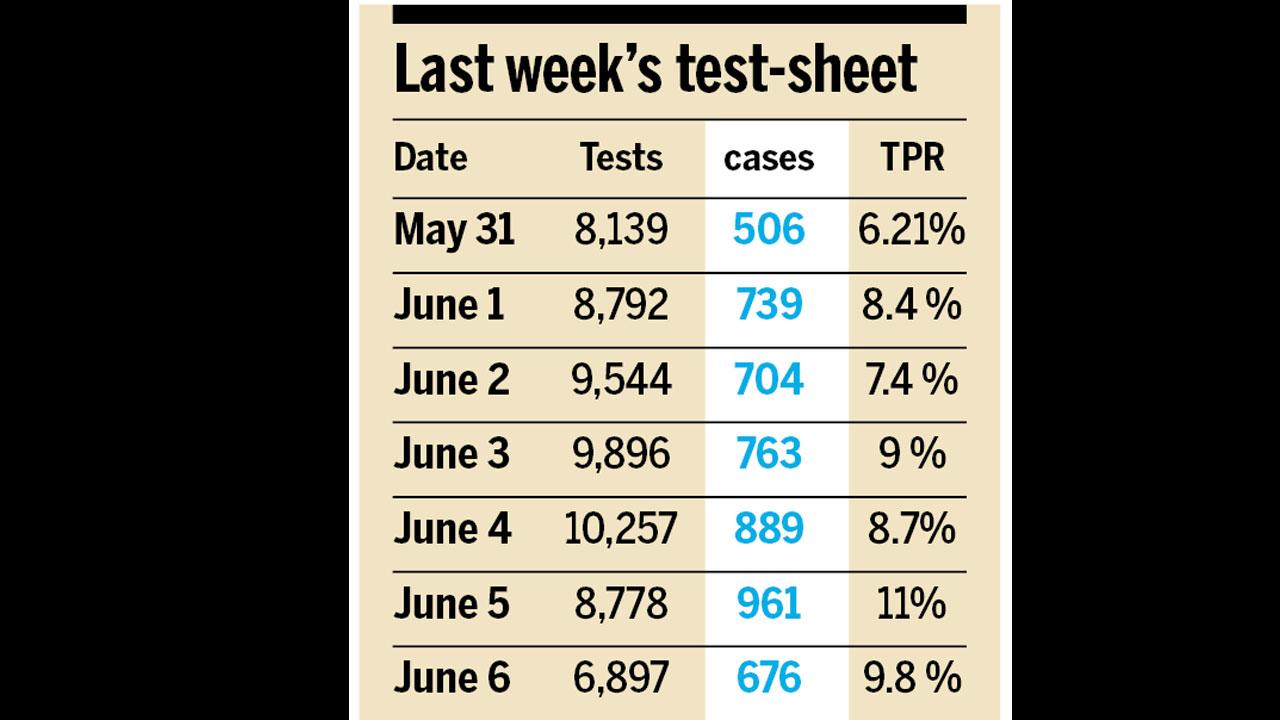 Another civic official said earlier they tested people arriving at major railway stations, beaches and markets which pushed up testing numbers. "Now people ask us to show the rules of random testing," said a source. 
"Non-slum people test themselves and 96 per cent of cases are from towers. But symptomatic patients from slums who come to our dispensaries refuse to do testing as they think positive results would lead to at least seven days' quarantine. Now, we instruct all the hospitals, private or civic, to do compulsory tests of respiratory syndrome patients," said Dr Prajakta Ambedkar, medical officer of A ward. She said most cases don't show COVID symptoms, while others have mild symptoms. "We don't know what it will turn into in the future. The virus is comparatively new and there isn't much study available. So we need to be cautious," she added.