The Cuffe Parade and Marine Drive police went to Deoghar and Hazaribagh to trace them; they are wanted in four cases in Mumbai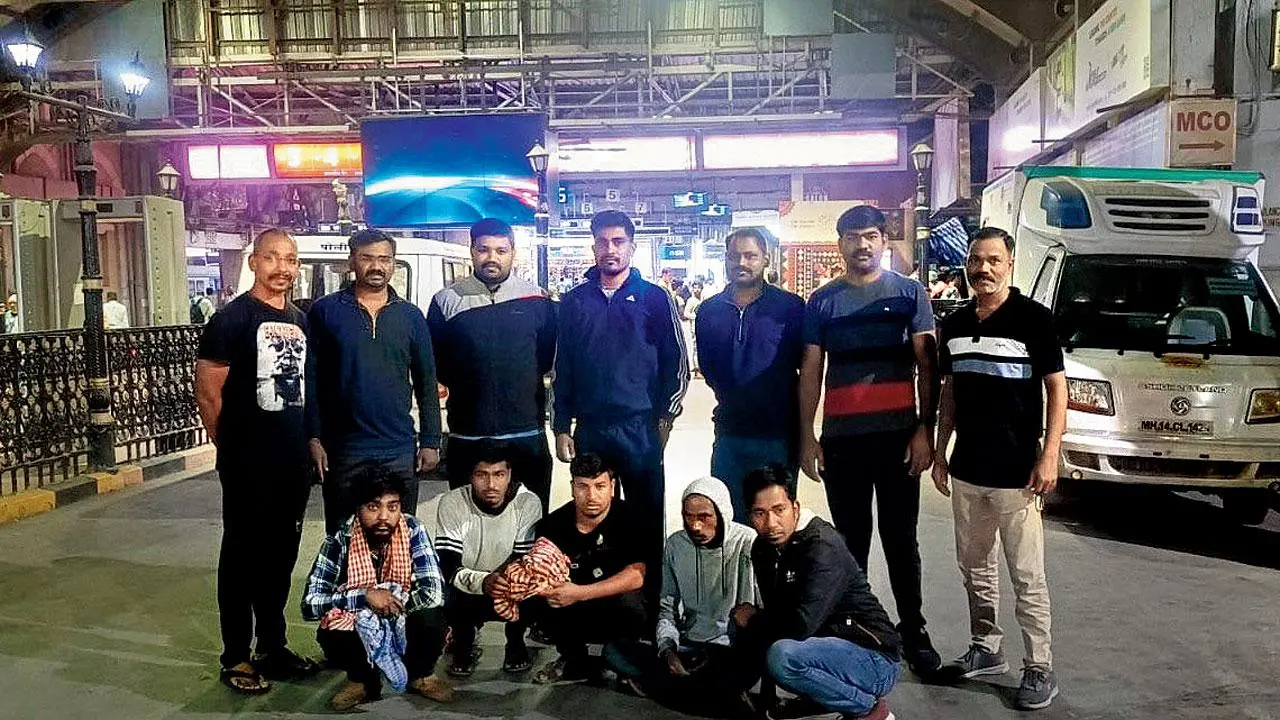 The accused with the police team that arrested them, after they were brought to CSMT
The Mumbai police nabbed five cyber criminals from Jharkhand, after high drama involving at least one arrest at an accused's bungalow which was designed to help him escape. The accused have been  brought to Mumbai for further investigations into four cases registered against them at Cuffe Parade and Marine Drive police stations.
They were arrested from Deoghar and Hazaribagh, which are districts adjacent to India's cyber crime hub, Jamtara, in Jharkhand. Those arrested from Deoghar include Tinku Kumar Das, 22, Uttam Kumar Manjhi, 22, and Roshan Kumar Sinha, 27. Binay Kumar Mahto, 42, and Shatrughna Ravidas, 32, were arrested from Hazaribagh. Police sources told mid-day that most of the accused have constructed big bungalows in their villages after cheating people across India.
ADVERTISEMENT
Scene from a movie
The arrest of Tinku Kumar Das proved to be most dramatic. "When our officers reached Patahradda in Deoghar to arrest Tinku, he tried to run away from his bungalow but our brave officers managed to nab him," said a senior officer attached to Cuffe Parade police station.
"Tinku's bungalow has been strategically constructed to escape even if cops reach the door. His bungalow is huge with a 7-ft high boundary wall and an iron gate. The team of Cuffe Parade police scaled the wall and entered the premises. When our team peeped into a window, they saw Tinku inside but he did not open the gate when they knocked on it," said an officer.
"Instead, he climbed atop his house to jump off the terrace. He has made a sand bed on the ground so that he won't be injured if he jumps off the terrace. Our team then surrounded the bungalow," added the officer. "There is also a cowshed adjacent to the bungalow, and he had been trying to jump on its asbestos roof, but one of our officers reached the terrace by then and nabbed him," added the officer.
Also Read: Mumbai: 18-year-old motorcyclist dies after mishap on Bandra's U-bridge
Swanky houses, bungalows
After making a lot of money, the cyber criminals have built swanky houses or bungalows with multiple rooms and several doors that allow them to hide easily, said one of the officers who went to Deoghar.
Another officer told mid-day that semi-literate youth in the area have been spending upto R30,000 on training to become cyber criminals. The trainer gives them tricks to escape the police such as how to destroy the SIM card, how to divert calls to another number to avoid being traced, when and where to destroy the handset used, etc.
Brother leads to criminal
The cops also used his brother to arrest Sinha who had been using the banking details of his deceased father and the mobile number of his brother for Know Your Customer (KYC) to avoid being arrested.
"After tracking down the mobile tower location ,we arrived at his house in Deoghar, but his brother had no idea about his cyber crimes. We then took Sinha's brother to record his statement to a nearby police station. We had also been trying a number of Sinha which his brother recognised. They later took him to the location from where Sinha was calling him, after tracing it. "We arrested Sinha from his uncle's house," said the officer.
The others were nabbed after a dramatic chase in a village where local cops also provided help, said the officer. The cops told mid-day that the youths in most of the houses in Deoghar and Hazaribagh districts " sneak into the forest areas to make random calls to their victims as shown in the web series Jamtara." 
"All these cyber criminals have cheated Mumbaikars using different modus operandi like creating panic in their victims by saying that their bank accounts will be suspended if they don't update their PAN card. In a case, a victim searched for the customer care number of a payment gateway company on a search engine and ended up losing money," said the officer.
"All these cases were registered in 2022 at Marine Drive and Cuffe Parade police stations. So our team of officers including Inspector Kiran Chougule, PSI Krunal Gholap, Constables Balu Pawar, Santosh Ghughe and Bhanudas Kamble from Cuffe Parade and PSI Sachin Shelke and Constables Ramesh Raghunath Repal and Mukesh Dadaji Chavan from Marine Drive police station had been sent to Jharkhand to arrest the accused," said the officer. The accused were booked under sections 419 (cheating by personation), 420 (cheating and dishonestly inducing delivery of property) of IPC and 66A, 66D of Information Technology Act.
5
No of accused held Do you agree with the management`s decision of only letting devotees offer jal abhishek at Babulnath temple?