The city - sliced, diced and served with a dash of sauce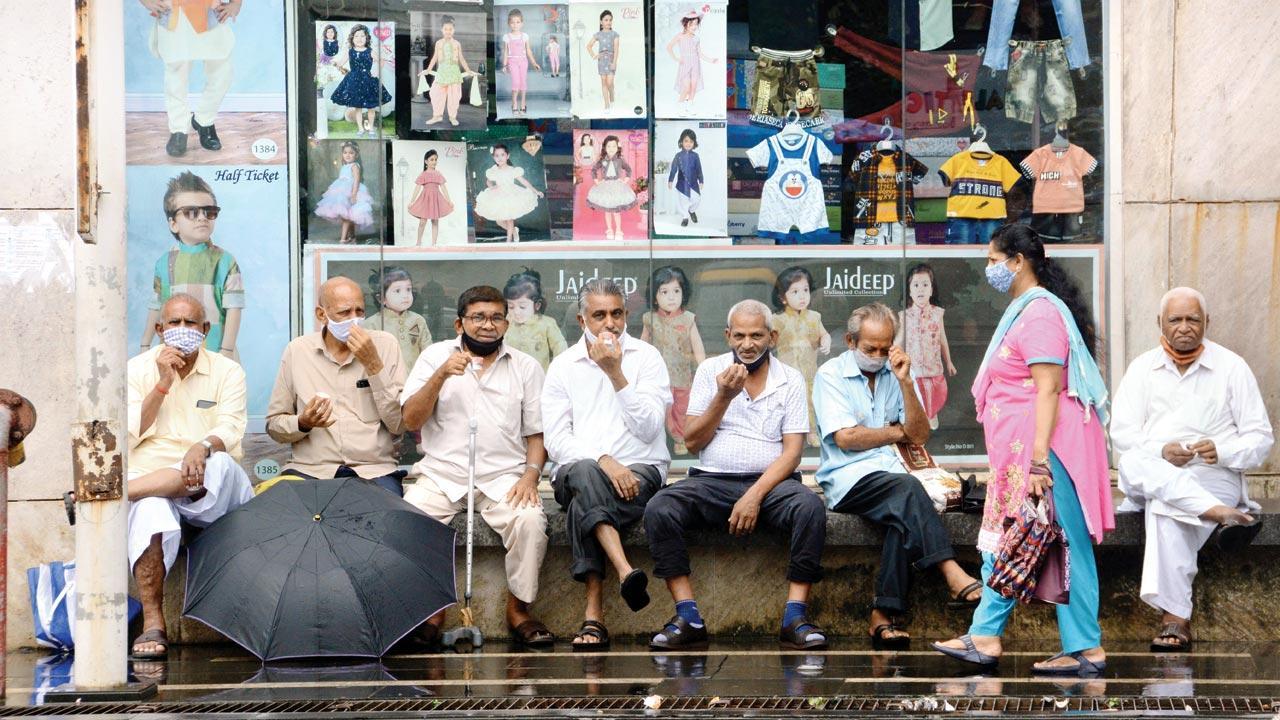 Pic/Satej Shinde
Fits to the tea
A group of senior citizens enjoy the rainy weather on Monday with a hot cup of tea, at SV Road in Borivali West. 
ADVERTISEMENT
A food series that rules the palate
Over the years, the different royal families that have ruled over India have left a permanent culinary imprint on the country, from Kerala to Kashmir. Digital museum Sarmaya has now started a series called Royal Feasts, where they invite chefs and food writers to share one recipe from a royal kitchen and share stories around it. "Every six weeks, we organise a series called Spotlight where we talk about a theme through objects in the collection. The current one is called The Age of Empire, which highlights lesser-known kingdoms in India through objects like photographs and coins. The Royal Feasts series is a part of this theme, where the idea is to talk about a recipe to show how it is a part of history," shared Avehi Menon, archive director at Sarmaya. Visit @sarmaya_india on Instagram to embark on this delicious journey.
Slow and steady saves lives
Helpline coordinator at Awaaz - Voice of Stray Animals, Phalguni Shah, is a recipient of multiple phone calls a day, dealing with animal-related hit-and-run cases across the city. As the ongoing lockdown does not allow for the organisation to create physical awareness drives or programmes in communities, schools and other regions, the group has taken to creating and distributing stickers to combat the problem.

Artwork by Alok Kumar Singh used to raise awareness about the campaign
Through their #iBrakeforpaws initiative, the organisation aims to create awareness against driving at high speeds on roads that pass through areas like forests and villages. "Every day, we receive many cases of hit-and-run accidents. Sometimes, animals tend to take shelter under cars; cats even climb into car bonnets during chilly winters. The least we can do now is make people aware. If you see an animal crossing the road, you should wait for them to finish crossing, slow down and be cautious when you're approaching, and be prepared to stop," Shah told this diarist. The stickers (inset) are free and available at the page called @awaazvoiceofstrayanimals_ on Instagram.
Take note of those we lost
Shubha Mudgal and Aneesh Pradhan, along with fellow Indian classical musicians Shivangini Yeashu Yuvraj, Abhimanyu Herlekar and Dhavait Mehta, had started a project this year, to find out data about artistes who lost their lives to Covid-19. That report has now been released and features 110 unique cases. It shows how the maximum number of deaths (31) was recorded in Maharashtra, and musicians were the worst affected group, apart from revealing other insights on the conditions that led to the death, such as a lack of ventilators. "We hope that the many individuals, organisations and even ministries that have the charter of supporting art and culture will perhaps take note of the report and indeed, the need for such data and its analysis, and continue this work in order to create welfare schemes for artistes at the earliest," Mudgal told this diarist. We hope so too.
Sounds for a green planet
The British Council has selected London-based Indian musician Soumik Datta (inset) as one of the 17 awardees out of 480 proposals for a project called Songs of the Earth, which will be presented in the run-up to the 26th UN Climate Change Conference of Parties in Glasgow in November. The project will see Datta team up with illustrators Anjali Kamath and Sachin Bhatt to create an animated film that raises awareness about issues such as plastic pollution and deforestation. "I have always been inspired by nature and its infinite capacity to teach and make us dream. To be part of a global chorus of artiste voices fighting for the world we live in is a great honour. I hope that Songs of the Earth reaches the hearts and minds of viewers around the world, reigniting their passion for our endangered, blue and green little home," Datta said.