Explaining what the consumers need to see while purchasing the milk pouches from shops, the official said that consumers can look at different parameters such as - the milk should be cold/room temperature, stitches should be zigzag and sealed. 'All the four corners should be pointing outwards,' says FDA official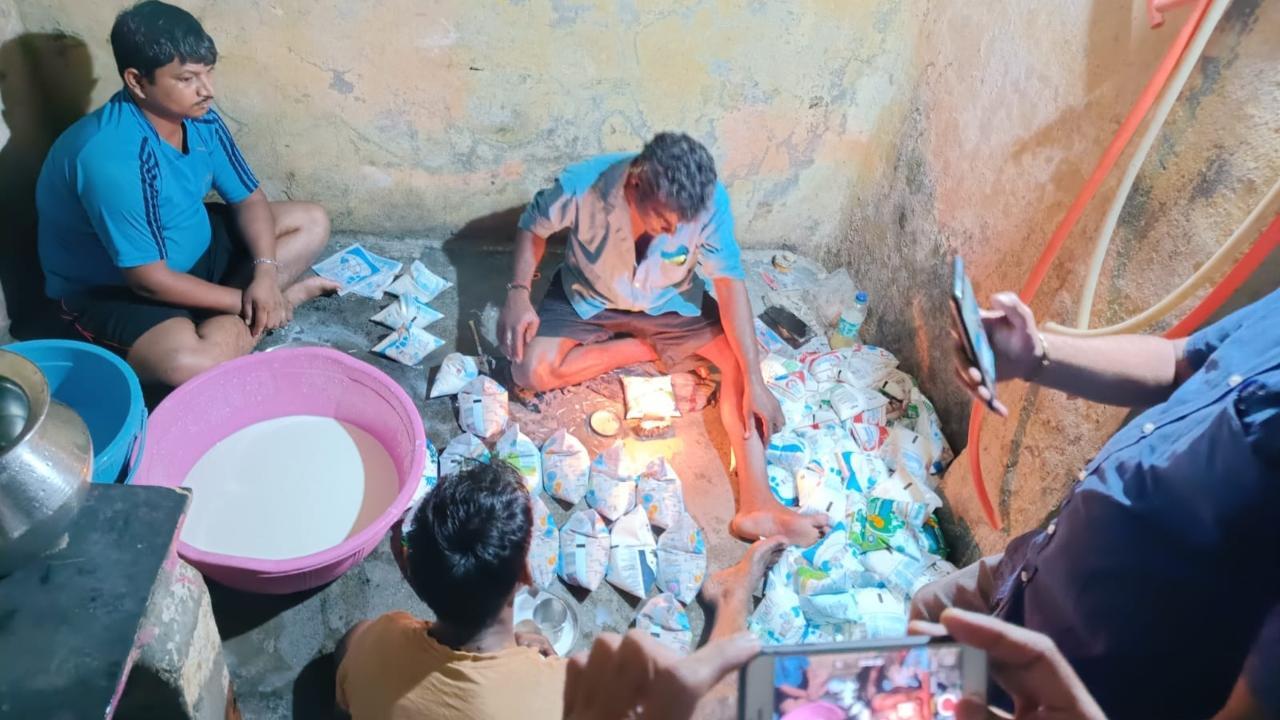 According to the FDA officials, during the inspection, they found tampered milk pouches of around 807 litres of milk worth Rs 45,852. Pic/FDA Maharashtra
With an aim to keep a check on milk adulteration, the Food and Drug Administration (FDA) Maharashtra raided five row houses in the bylanes of 60 feet road in Dharavi a week ago. According to the FDA officials, during the inspection, they found tampered milk pouches of around 807 litres of milk worth Rs 45,852.
As per the FDA officials, an FIR has been filed against six persons in Shaunagar police station in Sion.
The raid was conducted on September 15. "The group of people at different locations were found tampering with the milk pouches by adding water to the pasteurised milk and repacking the pouches. Around 10 samples of different brands of milk pouches are collected for quality testing and analysis. As they were found tampering, the case has been registered against them and the samples are given for further investigation," Shashikant Kenkre, Joint Commissioner, Food (Mumbai region).
Also Read: Mumbai: FDA seizes 1,264 kg of tea in Masjid Bunder
The accused are identified as Sedul Ananththaiyya Kharing, Komarvelli Nasyaa Bobali, Vankanaa Ramlu Yalgaboiena, Narshihana Rajyaa, Jangili Krishtaih Antaitah, Nagesh Ramlingayaa Mandra. "We received the information from local police after which we inspected the location with their help," added Kenkre.
Explaining what the consumers need to see while purchasing the milk pouches from shops, the official said that consumers can look at different parameters such as - the milk should be cold/room temperature, stitches should be zigzag and sealed. "All the four corners should be pointing outwards."
The consumers can also look for the name of the manufacturer on the pouch, MRP must be visible, the type of milk must be mentioned on the packet, the expiry date must be mentioned, FSSAI license number must be written on the packet. Is Narendra Modi India`s most loved Prime Minister so far?