The railways has finished assembling most of the web girder for the Delisle Road bridge, shortages push its completion to August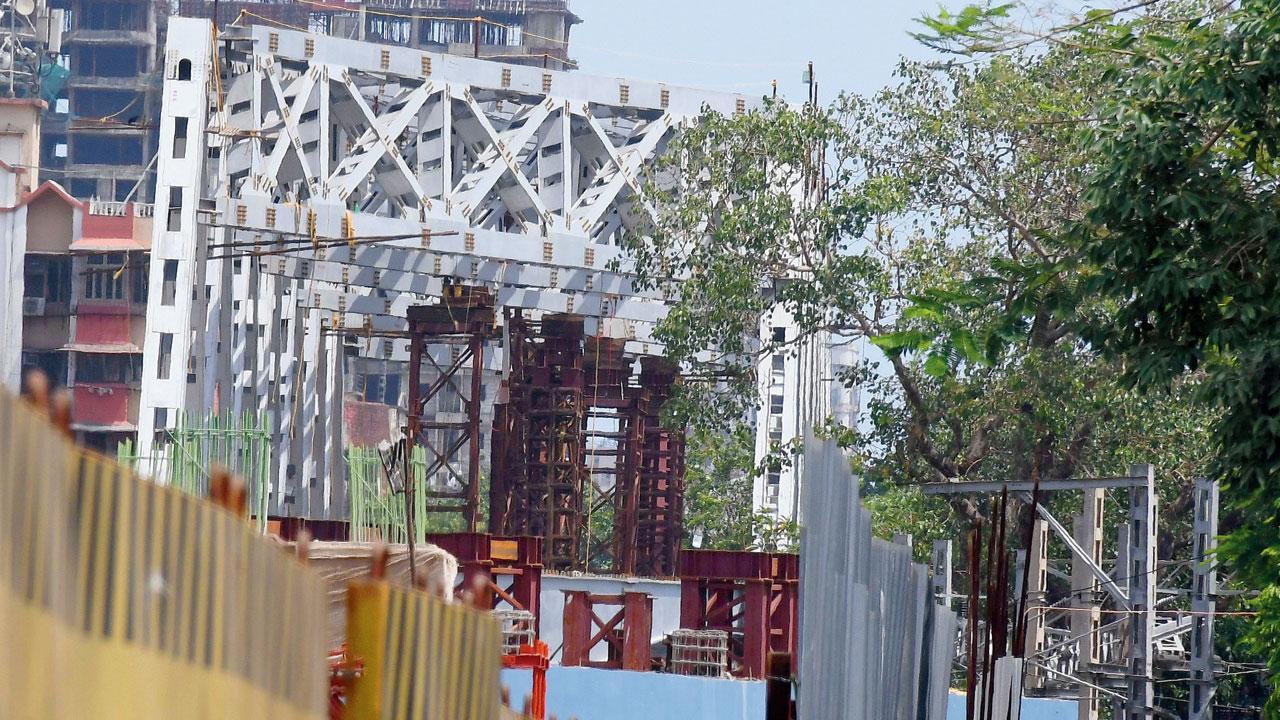 The webbed girders of the Delisle Road bridge in Lower Parel. Pic/Ashish Raje
Lack of oxygen for fabrication work and labour shortage amid the Covid-19 restrictions have delayed a key bridge in Lower Parel even though its giant girders are ready. The pushing of the new Delisle Road bridge over rail lines will now happen around August.
The deep foundations of the bridge were completed on either side of the line in January 2021 and the web girder that is being assembled is expected to get ready by August. About 2,100 metric tonnes of fabrication has been already completed out of the total 2,200 metric tonnes required. Assembling work along with temporary works for the launching of girders is in the advanced stage. "The big web girder has been designed specially as per the angles of the old bridge's alignment because the bridge needs to be placed at a 65° curve. A total of 360 metric tonnes of stainless steel along with 3,700 cubic metres of concrete (M-40 grade) has been used," a senior official said.
Also Read: Mumbai: 168-year-old bridge dismantled in Kalyan
The two key reasons for delay have been the unavailability of industrial oxygen since it has been diverted for medical use and the absence of skilled labour amid the restrictions.
Once this is done, the approaches to the bridge will be built by the BMC. There are three approaches — two on the west where dismantling and rebuilding can be fully executed by BMC and one approach on the east which would be used for the assembly and launching of steel girders that cannot be lifted with cranes but will have to be pushed. Once this is done, the east approach will be made available to BMC for construction. This should be complete by March 2022.
The dismantling of the spans over railway tracks was completed in February 2019, in a record time of five months. This was followed by the dismantling of abutments in June 2019, after the removal of encroachments by BMC. Western Railway then awarded the contract for rebuilding the railway portion for R87 crore and physical work of laying foundations was taken up after the monsoon in November 2019. The foundation work on the east side was completed in May 2020 and while the raft foundation on the west side was completed in June 2020 and on the east it was done by January 2021.