Western Railway spokesperson says all such trains checked for defect, activist slams apathy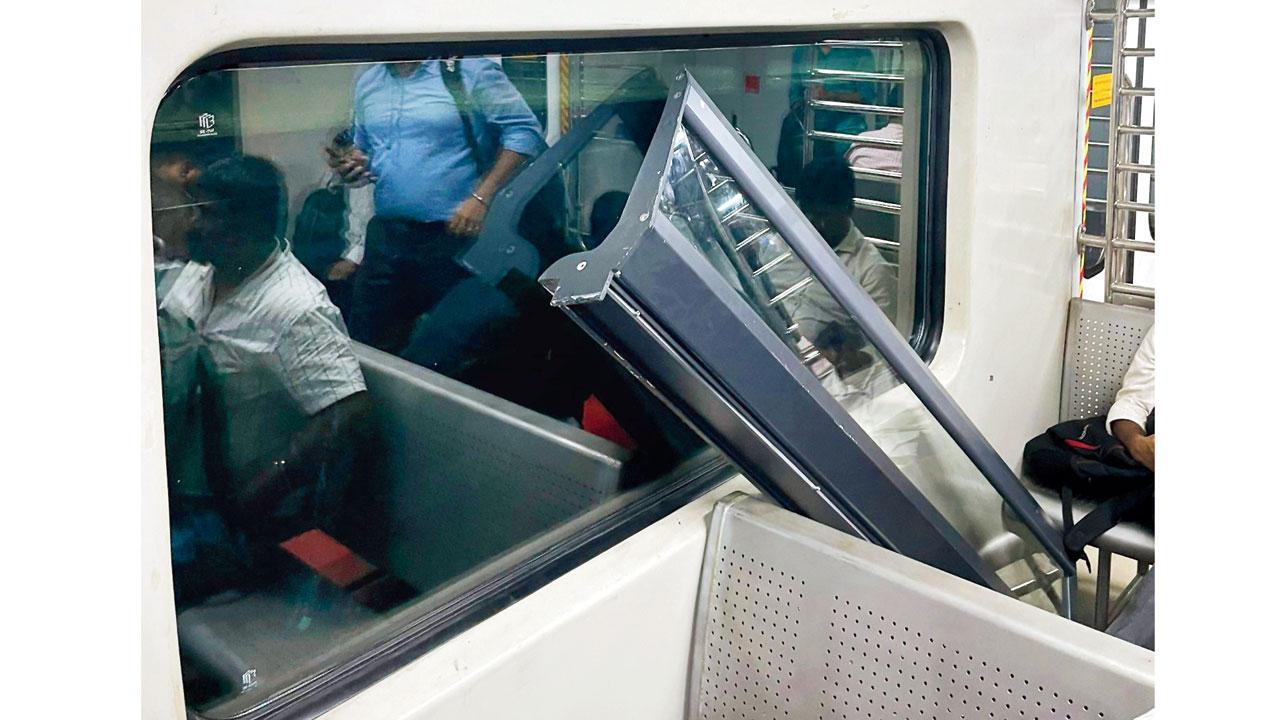 The luggage rack that had fallen down in the Churchgate-Virar AC local train. Pic/Santosh Mishra
Passengers had a close shave in an air-conditioned local on Wednesday after the main heavy-luggage rack installed above the window came crashing down while the train was in motion. Luckily, no passengers were seriously injured. Santosh Mishra, who was onboard the train, said it was the 7.49 pm Churchgate-Virar AC local.
A Western Railway spokesperson said, "Due to a loose bolt, one of the luggage racks came off in the Virar-bound AC local train, which had departed from Churchgate. The issue has been attended to and the luggage rack has been re-fixed. Additionally, all AC local trains have been inspected and checked thoroughly for the same defect."
Mumbai's AC locals are a relatively new set of trains as they were manufactured by the Integral Coach Factory in Chennai just a few years ago. This is the second such incident after the roof of one of the toilets in the air-conditioned C2 coach of the brand new Deccan Queen came crashing down while the train was in motion in June.
Also Read: Mumbai: BMC plays it safe, refuses Shivaji Park to both Sena and breakaway
"This is a perfect case of quantity versus quality. The Integral Coach Factory is more concerned about breaking the record of manufacturing a high number of coaches than focusing on quality, which no one cares about," public transport observer and activist Akshay Marathe said.
Last week, AC locals on Central Railway were in the news when the doors of a train did not open at Thane station and passengers were taken to the car shed at Kalwa due to the reported ignorance of the train guard.
Since August, AC locals have become a political tool with NCP president Sharad Pawar calling for their complete withdrawal from the city and the restoration of regular services for working-class commuters. CR`s Mumbai division has maintained efficient train operations with highest punctuality rate. Do you agree?