HealStation hosts sessions in trains, buses and boats for commuters to be aware that they can use their commute time to bend, stretch and breathe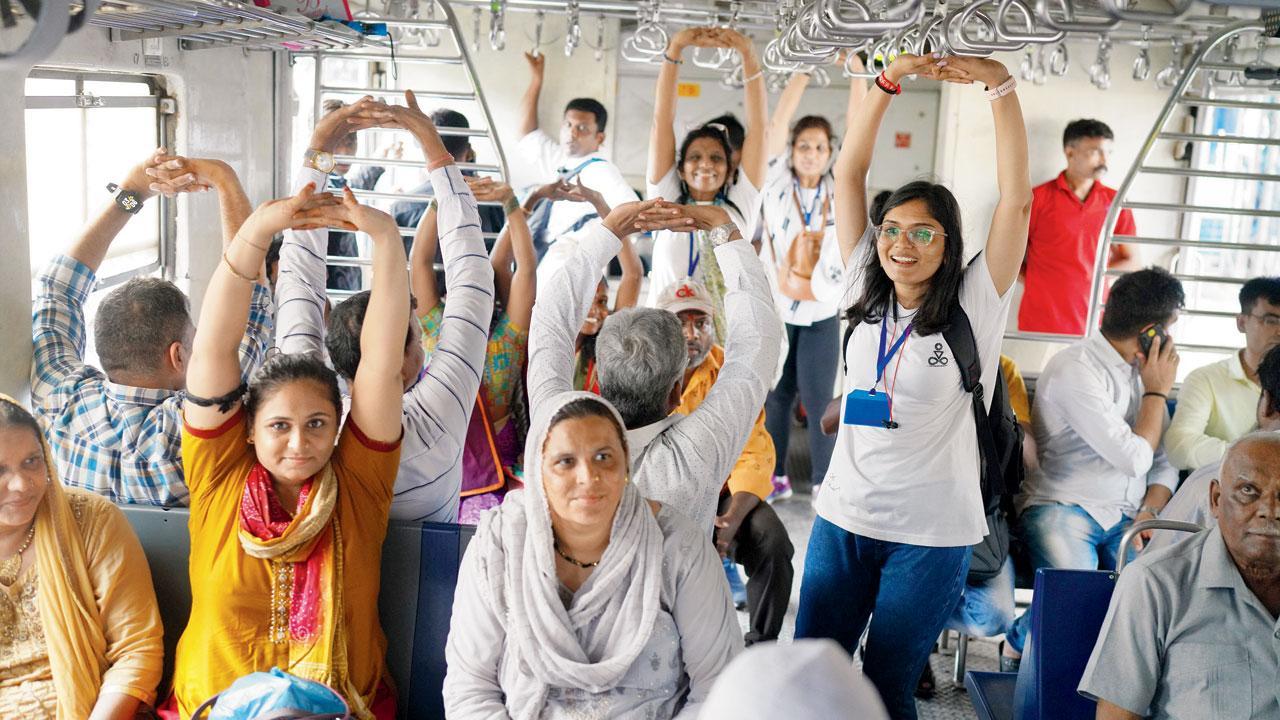 International Yoga Day celebrations started on May 21, and the final session will take place on Wednesday across all modes of transportation
Missed your AM yoga? If you catch the right train, you could get your daily dose of movement as you commute. This is exactly what senior Gujarati journalist, Ruchita Shah's brainchild HealStation, aims to offer. "I used to travel from Borivli to Grant Road early in the morning in 2018 and my train group asked me to teach them yoga during a festival," she says. "That is when I realised that if they can do it, so can everyone else and imagine how peaceful commuting would be. Everyone can use this time to release their stress."
"Getting permission was difficult because Railway authorities were apprehensive because yoga is assumed to be a tedious exercise, which can't be done in a small set up [like a train compartment]. But yoga has many techniques, and some can be done in a small space as well."
ADVERTISEMENT
Shah and other volunteers have been doing it like since 2018, usually taking to trains on International Yoga Day, which also led to Railway authorities approaching them to organise the same on Women's Day. What started off with 20 instructors in 2018 has now bloomed into a substantial community, who teach pro bono. The theme this year, on International Yoga Day on June 21, is Vasudhaiva Kutumbakam—108 teachers corresponding the number of beads in a prayer mala—across modes of transportation.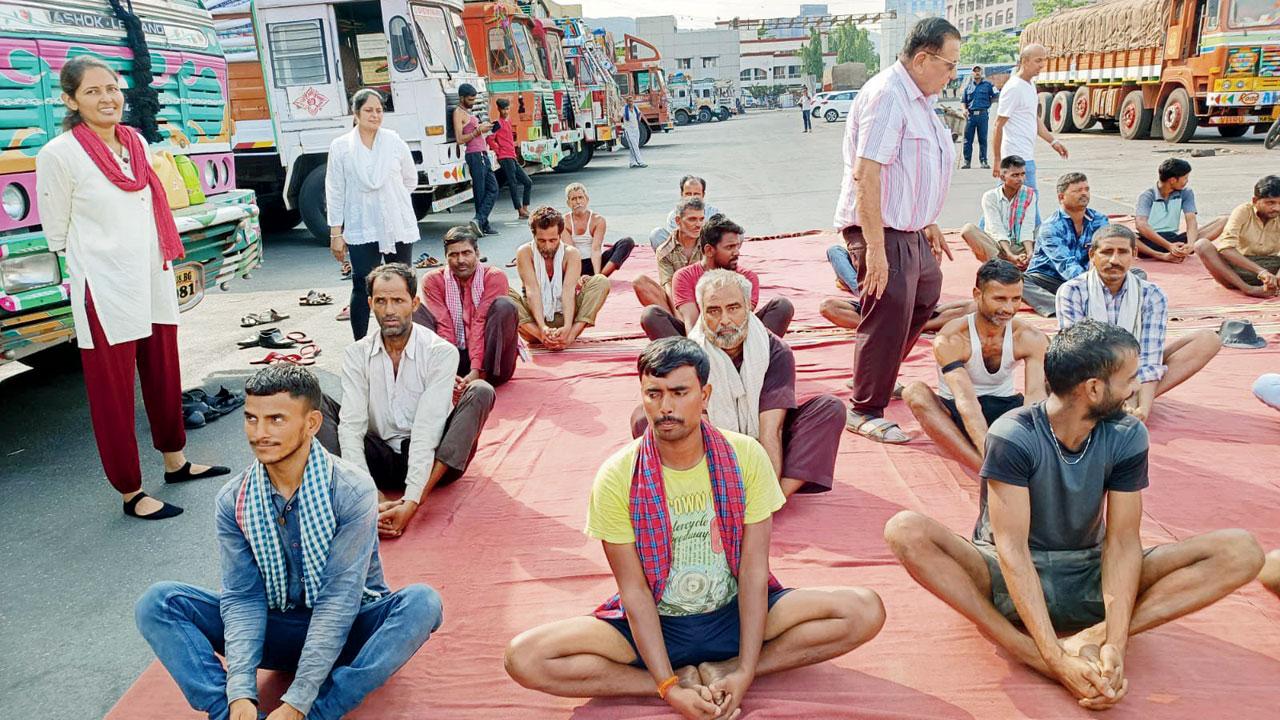 With Travel Time, Yoga Time, as their motto, HealStation not only conducts these awareness sessions in BEST buses, trains and boats, but has also organised one for truck drivers at APMC Market in Vashi
The organisation has been celebrating with events all of last month. "We did yoga on a boat, BEST bus, the Matheran toy train and even the Surat Intercity train," says Shah. The final event this Wednesday will include yoga on a CST to Ghatkopar train, then on a metro from Ghatkopar to Andheri, followed by a local from Andheri to Churchgate; and on a BEST bus from Churchgate, the route of which is yet to be confirmed.
The volunteers belong to different professions and age groups. Wadala-based Bhanu Shah has been doing this for two years and has been a yoga teacher for two decades. "People feel they don't have the time for this, but we hope to make them aware that these are the things they can do very easily on the train," says the 74-year-old. Most of the asanas the group teaches the commuters encompass arm, neck, spine stretches and meditation that can be done sitting down or standing up.
Krishma Sandesra, 29, is an investment advisor and has been also teaching yoga to commuters for the past four years. "We are not really teaching yoga," she clarifies, "the aim is to teach people how to take out time for their health and wellbeing. They need this as with desk jobs, their bodies are not getting enough movement." Thus, the focus is mostly on spine stretches, movements of the joints, posture alignment and other breath techniques. Sandesra says that meditation is something she has personally been practising. "Just plug in your headphones, find a place to sit and you can meditate."
Devendra Mehta, a 50-year-old businessman, who also teaches yoga says that the response has been tremendous. "A forest officer participated in our session on the Matheran toy train, and he was eager for us to come and conduct a session at the Forest department," recalls Mehta. "On the Surat train, a person with spine issues felt extreme relief after doing simple neck and spine exercises." The teachers say that people of all age groups participate enthusiastically. "There was a woman who was headed to an interview, and was stressed. After our session, she said that she felt more confident," recalls Sandesra. Most sessions are held on Sunday mornings as the trains are emptier and all volunteers buy a ticket and follow a dress code.
"Exciting news! Mid-day is now on WhatsApp Channels

Subscribe today by clicking the link and stay updated with the latest news!"
Click here!