They operated on the newborn suffering from a rare condition due to which part of the skull and scalp had not developed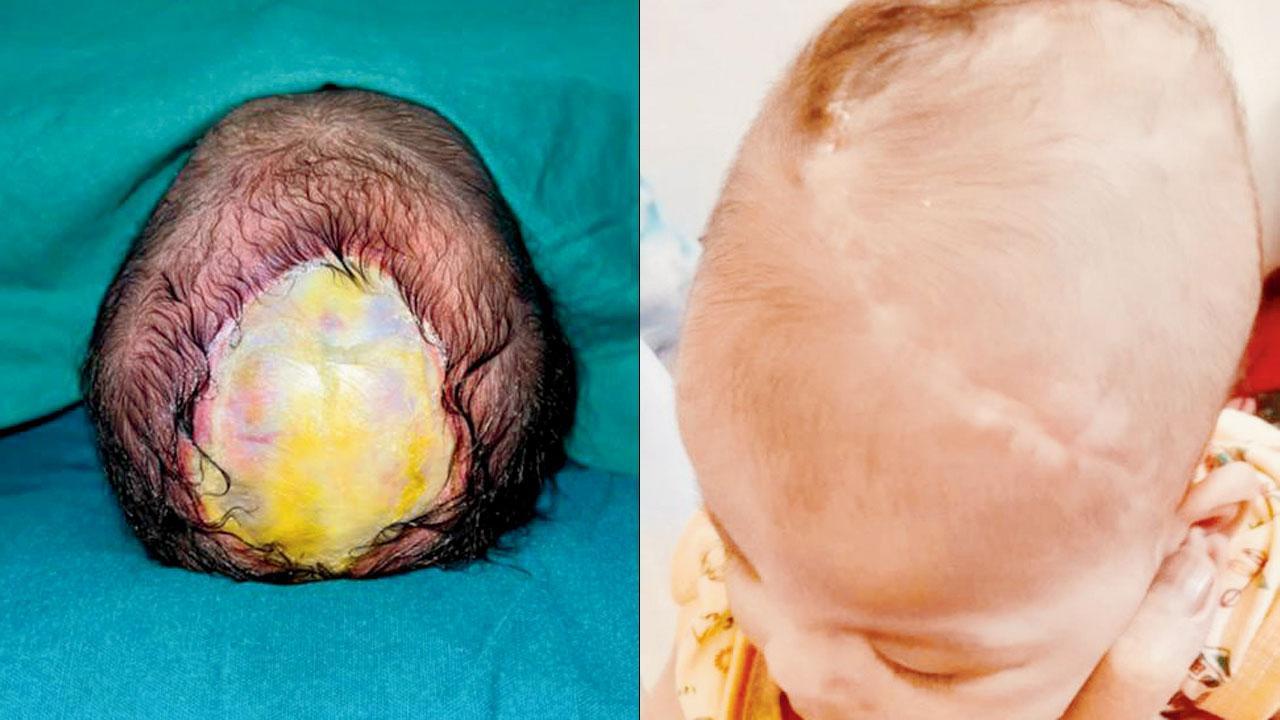 The boy's pre and post surgery pictures. The surgery helped cover the missing portion, 40 per cent of the scalp.
The Bai Jerbai Wadia Hospital for Children gave a new lease on life to a baby born with a rare condition, Aplasia cutis congenita, recently. He was born without a scalp and skull on part of his head. Now, one and a half months old, he is recovering at his home. The boy, whose brain is normal, was born to Tamil Nadu-based Sanaullah and Afrin Khan at a Sakinaka nursing home on December 24, 2022. He was then shifted to the Neonatal Intensive Care Unit at Wadia hospital where he was operated on when he was five days old.
Speaking to mid-day, Wadia hospital's Consultant Plastic and Reconstructive surgeon Nilesh Satbhai said, "A part of the boy's head was open and the skull there had not developed. The brain and its coverings were visible. This is a rare case, one in lakhs. Around 20 per cent to 50 per cent people with this condition die. There are major chances of infection in the head that could have been dangerous for the child. So we decided to perform surgery at the earliest and save him."
ADVERTISEMENT
Also Read: Dahisar woman gets life term for throwing newborn out of KEM hospital window
Dr Satbhai further said, "We took flaps of skin from his head to cover the missing portion, which was 40 per cent of the scalp. The surgery took four hours." Doctors from the departments of plastic surgery and neurosurgery were involved in the procedure. Asked if the skull would  grow naturally, Dr Satbhai said it might not. Hence he could need more surgery later, he added. Afrin said, "I am very  glad that the doctors at Wadia hospital found a remedy. I am thankful to them."
What is Aplasia cutis congenita
Aplasia cutis congenita is a condition in which there is congenital absence of skin, with or without absence of underlying structures such as bone.