'I queried my 18-year-old neighbour'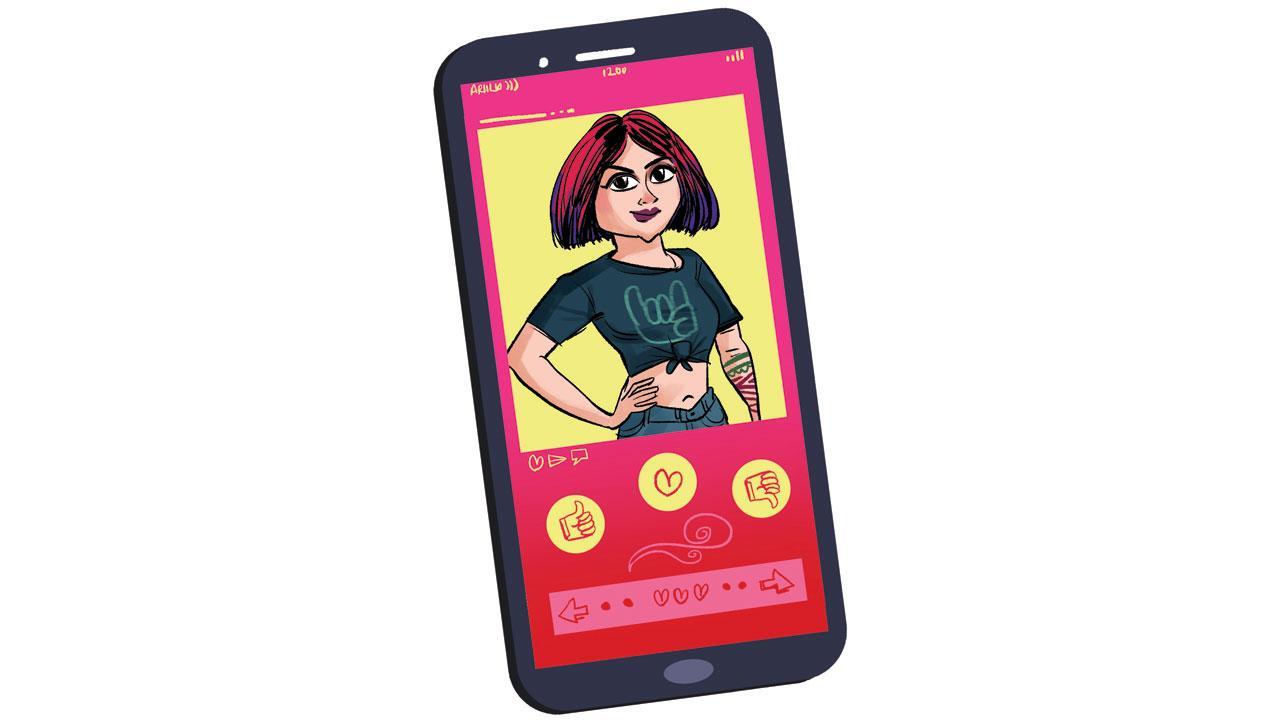 Illustration/Uday Mohite

It was 5 am, Jan 1, muffled sounds emanated from Natasha aka Nats' flat. 
"Morning Natasha, are you coming in or heading out?" 
I queried my 18-year-old neighbour.
Nats' eyes narrowed suspiciously, "Rahul Bruh, are you being 'Concerned Uncle' or 'Big Brother'?"
"Neither... I'm being 'Nocturnal Neighbour' who got rudely woken up!"
"Liar, you are, 'Protective Substitute Papa', waiting for my key to turn in the lock so you know I'm safe. You can chill now, dude... I have Armaan."
"Who's... uhm Armaan?"
"My 'bae'."
'Your 'bai' comes in later."
"No dude, not 'bai', my 'bae'."
"What's 'bae'?" 
"Bae. BF... boyfriend... 'significant other.'"
"You have a 'significant other'?"
"Yeah Bruh... you surprised?"
"No, no I'm not surprised... you are quite attractive in an Amy Winehouse kind of way."
"Thanks for the vote of confidence, Bruh"
"Natasha, I know everyone who comes in and out of your home... when did you slip a boyfriend in without my noticing?"
"Now dude, you're going from 'Nosey Neighbour' to 'Borderline Creep'."
"So your 'bae' dropped you home and left, I'm guessing?"
"He's asleep, Rahul uncle (meaningful pause)  inside."
I paused.
"Dude... do I see judgement masquerading as shock  swirling around in your head?  Uncle ji?"
"So where did you meet your 'bae', this Armaan?"
"On a dating app, a week ago."
"Whaaaat... a dating app?"
"Yeah... a dating app called 'Bumble'."
"You met your 'bae' on a dating app called 'Bumble'... is he a Bumble Bae?" I joked. 
No laughter was forthcoming.
"Yeah 'Bumble', it's a cool app, you know what sets it apart from all the Tinders of the world, Rahul bruh?"
"No... but I sense you're about to tell me?"
"The power is in the hands of us women, it's a feminist dating app!"
"Meaning?"
"Women get to make the first move after two people mutually connect—then they become a part of each other's hive. 
Cool, right?"
"So you and Armaan are now a part of each other's hive... I can imagine you two buzzing around."
"Dude... cut the sarcasm, okay?"
"Nats, kiddo, at your age, why do you need a dating app... can't you just meet boys at the zillions of parties you go to, why resort to technology"
"Saves time, dude. The people I meet in college or at parties are so 'meh'... so 'blah'. On dating apps, you cut to the chase, you specify what you want, the type you like and just dive in... no nonsense chit-chat (pause, her eyes widened).

"You know bruh... come to think of it, why don't you get onto a dating app... I could set it up... you could meet some really hot older women."
"Uhm Nats, I'm good for now, thanks."
"Bruh... 'Hinge' is straight up your alley... you could have interesting conversations... work your way into a relationship?"
"I'm sorted, Natasha."
"Dude. I got it... you'd love 'Coffee and Bagel.'"
"What's 'Coffee and Bagel'?"
"It's a dating app that sends you options at noon..."
"Got it. So what does young Armaan do?"
Nats was now unstoppable.
"Puhl-ease don't tell me you that you live in an era of classified ads, 'Fair complexioned Cancerian, loves cats, carpaccio and cutting edge heavy metal, seeks like-minded blah blah blu blu.'"
"Nats... what's the plan?"
"Plan... what plan?"
"You have a 'bae', who you met a week ago... and he's already sleeping over. There's got to be a plan."
Nats' smile formed a confluence where condescension met amusement.
"You wanna know when we're gonna get engaged, when I'm gonna meet his mom, Rahulji?"
"Shut up, I'm not that old fashioned!"
"That's 'awes' Bruh... but I can't become 'shaadi shuda' anytime soon, just saying."
"Why not?"
"They're moving the marriage age up from 18 to 21!" Nats concluded, her eyes twinkling.
Rahul daCunha is an adman, theatre director/playwright, photographer and traveller. Reach him at rahul.dacunha@mid-day.com