PM Modi's tacit endorsement of Bajrang Dal's vigilantism and wrestler Punia's quest for gender justice represent a contest over the meaning of Lord Hanuman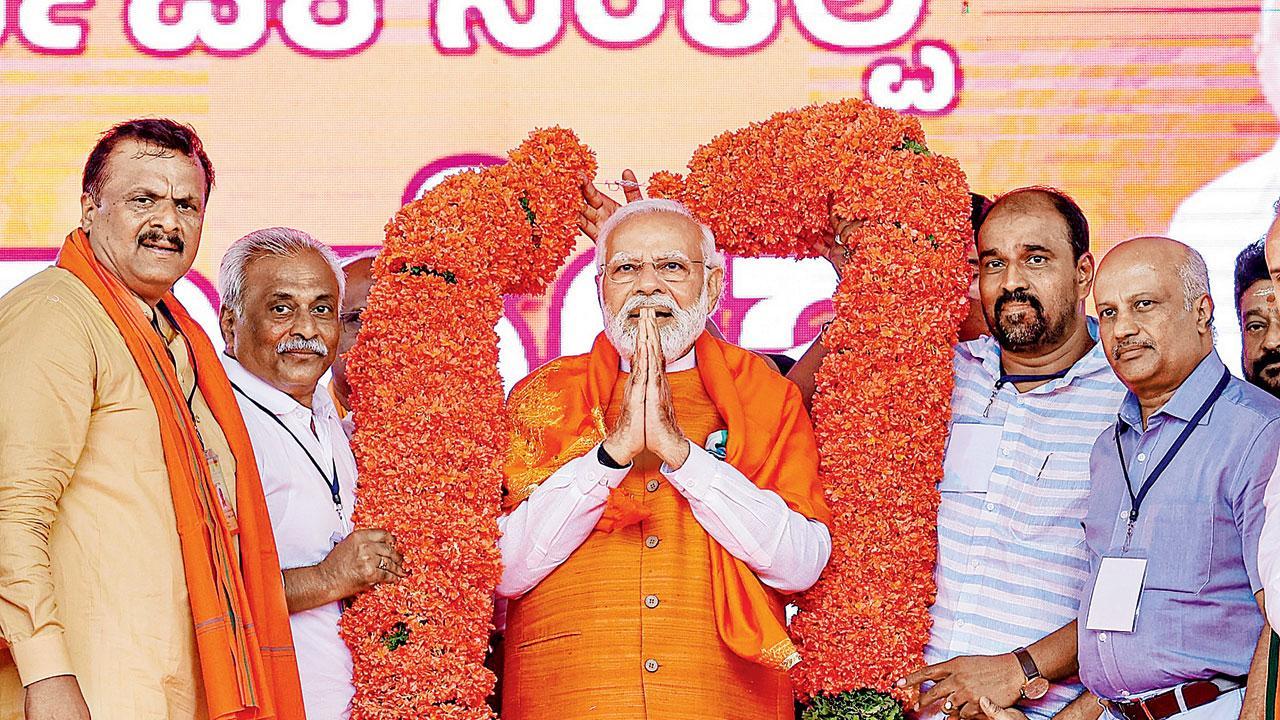 Prime Minister Narendra Modi is garlanded at an election campaign rally ahead of the Karnataka Assembly polls, in Tumakuru, on May 5. Pic/PTI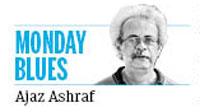 Prime Minister Narendra Modi pounced upon the Congress for promising that if it were to come to power in Karnataka, it would ban the Bajrang Dal: "Today it is my great fortune to bow down to this holy land of Hanuman ji." His was a reference to the popular belief in Karnataka that Lord Hanuman was born on the Anjanadri Parvatha hill, close to Hampi.
Modi continued, "But, see the misfortune. Today, when I have come here…the Congress party has decided…to lock up those who chant Jai Bajrang Bali [Lord Hanuman]." At Modi's remark, posters surfaced declaring, "I am Bajrang…Ban and arrest me." Modi had the audience at his rallies chant Jai Bajrang Bali, which he said should also be their cry before they press the button on the Electronic Voting Machine.
ADVERTISEMENT
Formed in 1984, the Bajrang Dal, or brigade of Hanuman, has earned notoriety for hunting and lynching cattle traders, for its disruption of inter-faith marriages, and organising religious processions designed to rend apart social harmony. Its members seem perpetually in rage, always ready to battle, even as the police, at times, allow them to appropriate the State's coercive powers.
Modi's speeches in Karnataka tacitly endorse the Bajrang Dal's exercise of extra-judicial authority.
Also Read: Afwaah lets it rip
The prime minister's partisan attitude towards the Bajrang Dal is because the organisation, like the Bharatiya Janata Party, is an affiliate of the Rashtriya Swayamsevak Sangh, where he, too, earned his spurs. Yet his support for the Bajrang Dal is also about foregrounding the meaning Lord Hanuman signifies for Hindutva.
For instance, in the 2018 Karnataka Assembly elections, Modi applauded Karan Acharya, the graphic designer who created the angry Hanuman image, saying it has "captured the imagination…across India." Acharya's image of Hanuman now dominates our public spaces.
This image has altered Hanuman's image of being a "gentle giant who rose to be a reliable, selfless and humble devotee and ally to his Lord [Ram]", as writer Mrinal Pande wrote in a 2018 piece for Scroll.in. She added, "The angry masculinisation of Hanuman is not contesting gender injustice or waging a war against rapists..."
Five years after Pande's piece, the battle against gender injustice, expressed most horrifically through sexual harassment, is being fought by another Bajrang—wrestler Bajrang Punia, who has been winning, from 2013, medals at international events, including the Olympics, the last being a gold at the 2022 Birmingham Commonwealth Games. Just as Bajrang Bali fought for the honour of Sita, the Bajrang from the world of grapplers is sitting in a dharna in Delhi, to secure justice for the seven women, including a minor, who have accused the now-sidelined Wrestling Federation of India (WFI) chief Brij Bhushan Sharan Singh of sexual harassment.
This is a 21st century replay of Ramayana, a contest between good and evil, a concerted pushback of women against powerful men's presumption about their untrammelled sexual rights over their subordinates. Did Hanuman have to cross the sea to search for Sita and join Lord Ram's war to free her from Ravan's captivity? Did Bajrang have to join the fight of women wrestlers against an alleged sexual predator, staking his chances of winning a medal in the forthcoming Asian Games—and, therefore, also of qualifying for the 2024 Olympics?
Bajrang could have chosen silence and inaction, as do most of us in the face of injustices of which we are not victims.
Mythologist Devdutt Patnaik, in Hanuman, The Mighty, writes, "He [Hanuman] embodies the positive side of masculinity (strength) but not the negative side (domination)…. When Hanuman was flying over the ocean to Lanka, he defeated many monsters. But he did not stop to rest. Thus, Hanuman embodies selflessness, commitment, and integrity…"
Rest Bajrang has not; unwilling he is to withdraw from the battle for gender justice. His strength is not the strength of Lord Hanuman, who carried a mountain of herbs to treat the wounds of Lakshmana. Bajrang's strengths are his fortitude and patience, and belief in the righteousness of his cause. His is an attempt at sublimating his masculinity for the larger good, not for domination, which is symbolised by Brij Bhushan Singh.
Bajrang's passive resistance has become a fight to retrieve the deeper meaning of Lord Hanuman, who is increasingly projected as merely unafraid or eager to battle. That deeper meaning, to quote Pande, is in Tulsidas's description of Hanuman as "gyan gun sagar (a sea of wisdom and goodness)."
Bajrang has not consciously sparked the battle over the values Lord Hanuman represented. It has been initiated by Modi's endorsement of the Bajrang Dal, which in its vigilantism is the opposite of Bajrang in his new avatar as a crusader for gender justice. The two contrasting representations of Bajrang Bali demanded our allegiance last week—and still does.
The wrestler will encounter several impediments in the days to come, just as Hanuman did on his flight to Lanka. Even as Bajrang, the wrestler, encounters an imperious Union government, he may as well recite Hanuman Chalisa's 36th Chaupai, which, in Patnaik's translation, reads, "Problems cease Pain goes away. /When one remembers Hanuman, the mighty hero." Did I hear Bajrang yell at knuckleheads, Jai Bajrang Bali?
The writer is a senior journalist.
Send your feedback to mailbag@mid-day.com
The views expressed in this column are the individual's and don't represent those of the paper.