A podcast started by two former colleagues and first-time dads brings the father's perspective to the fore, in a culture where the mother's role in parenting is far more defined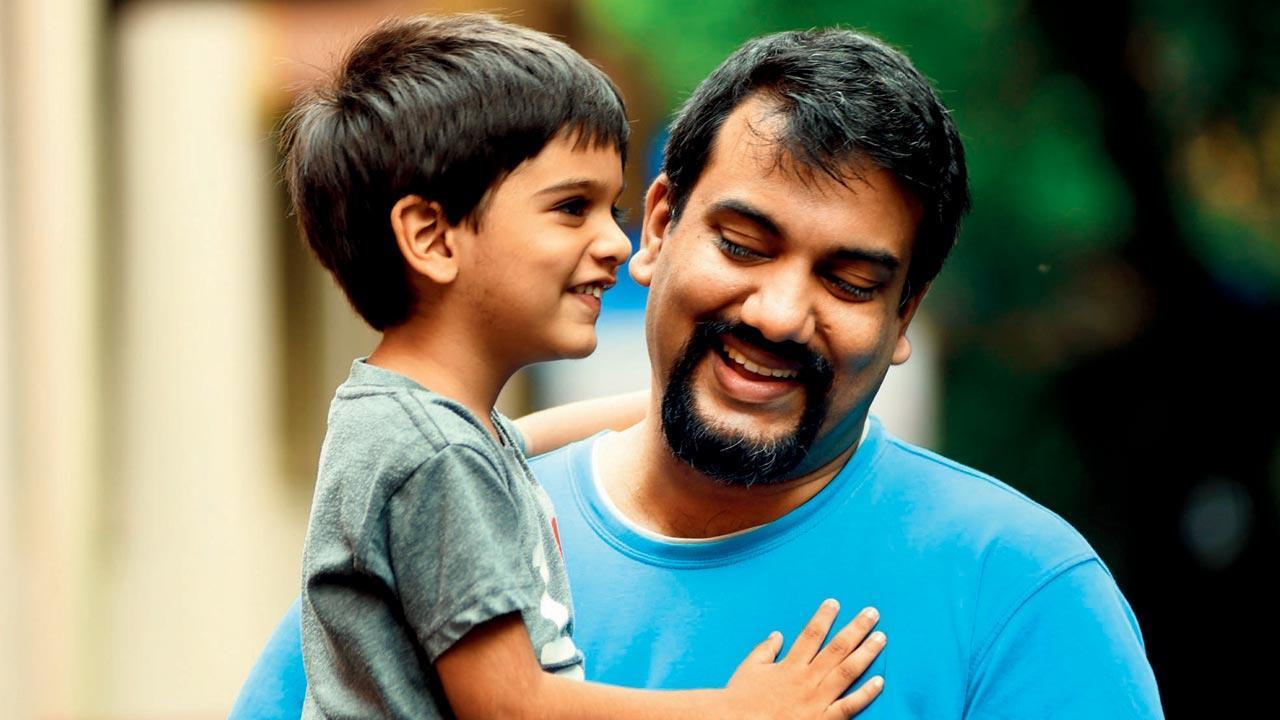 Peter Kotikalapudi with four-year-old son Liam. Kotikalapudi says the pandemic taught him parenting all over again. Pic/Nimesh Dave
Peter Kotikalapudi remembers meeting colleague Nadir Kanthawala at digital marketing agency WATConsult a few years ago, where he says the average age of the employees was about 25. He found himself able to relate to Kanthawala, who had a six-month-old daughter. Kotikalapudi's wife was in her last trimester at the time, and the two bonded over the fact that they were new fathers. The decision to share their experiences on a public platform and engage in conversations with other parents, however, came a few years later, with the duo ultimately launching Pops in a Pod in January 2020. There were few references to fall back on, they recall, as the dominant cultural conversation around parenting is generated by and for mothers. Added to this, was the social conditioning undergone by many men in India where they are traditionally assigned the role of the provider, the real hands-on parenting being the domain of the mother. 
"We wanted to flip the script," says Kanthawala, who believes that their steady involvement in their children's lives and their day-to-day needs made the task easy. "We are two guys who don't want to give you tips or advice. We are here to share our experiences." Uppermost in this list of new learnings was the importance of planning. Parenting, he says, starts before the actual arrival of the baby. From finances and one's personal sense of responsibility and readiness for the change, to compatibility with one's partner, everything requires careful consideration. There will be sacrifices to be made and hence, preparation, both mental and circumstantial, is essential. Kanthawala says that the arrival of a child has taught him to be patient in a way he has never been before. Becoming a parent has also led to the discovery of the significance of sleep and how dearly he misses it. "Even now when my daughter is five, she wants to cuddle in the middle of the night. I wake up and then it takes an hour to go back to sleep. I end up resorting to screens, reading and watching, which only makes it worse." 
Nadir Kanthawala with his five-year-old daughter Ziya. Parenting, he says, starts before the actual arrival of the baby, with everything from finances to one's compatibility with one's partner requiring careful and early consideration. Pic/Bipin Kokate
For Kotikalapudi, who enjoys the company of friends, negotiating with a four-year-old to make time for social engagements hasn't been easy. Moreover, over the past 18 months, managing a child round the clock along with other responsibilities proved challenging. "He's not at day care for eight hours anymore. We actually learnt parenting all over again [in this time]", he shares. The lockdown also led the podcasters to rethink their content strategy and cancel pre-planned episodes in favour of new ones, which made space for conversations around coping with the new circumstances and tending to the mental health of both, children and their parents.
Apart from sharing their own insights, Pops in a Pod has held discussions with a host of guests, including sleep consultants, psychotherapists, gynaecologists, nutritionists, neurologists, urban designers and and fathers from diverse backgrounds and professions. Adman Lahar Joshi, a stay-at-home dad, who decided to look after his twin boys while his wife went back to work, sparked a real conversation on a subject still relatively uncommon in our country. Getting to know musician Jishnu Dasgupta of band Swarathma as a father and listening to the music his son inspired, they recall, was similarly memorable. The duo has hosted episodes, 87 to date, on subjects ranging from adoption, selection of schools and academic performances, online learning, apps, games, toys, and teaching children about finance. to paternity leaves, parenting a special needs child, the effects of gender stereotypes on children, Indian fathers bringing up children outside the country, and children's experiences with the busy and restrictive urbanscape of Mumbai. Within the podcast, they've also held themed series on parenting in films, Valentine's Day-themed episodes examining how a couple's relationship evolves as they become parents, and episodes on entrepreneur parents. "We noticed that in the last decade or so, many people in their 30s who quit their jobs to start as entrepreneurs, were also parents. We did a string of episodes where we spoke to them about their business and parenting journeys together," informs Kanthawala.
A background in marketing has helped the hosts churn out fresh and relevant ideas. For World Breastfeeding Week in the first week of August, they have an episode planned that they say will address what we're all thinking: why would we want to hear about it from two dads? As Kotikalapudi says, "The objective was never to be the cool or know-it-all fathers. What we wanted was to create awareness and put these conversations out there."