Kartik Aaryan has over 28 million followers on Instagram and keeps his fans engaged with interesting content related to his personal life, work, his pet Katori, and other updates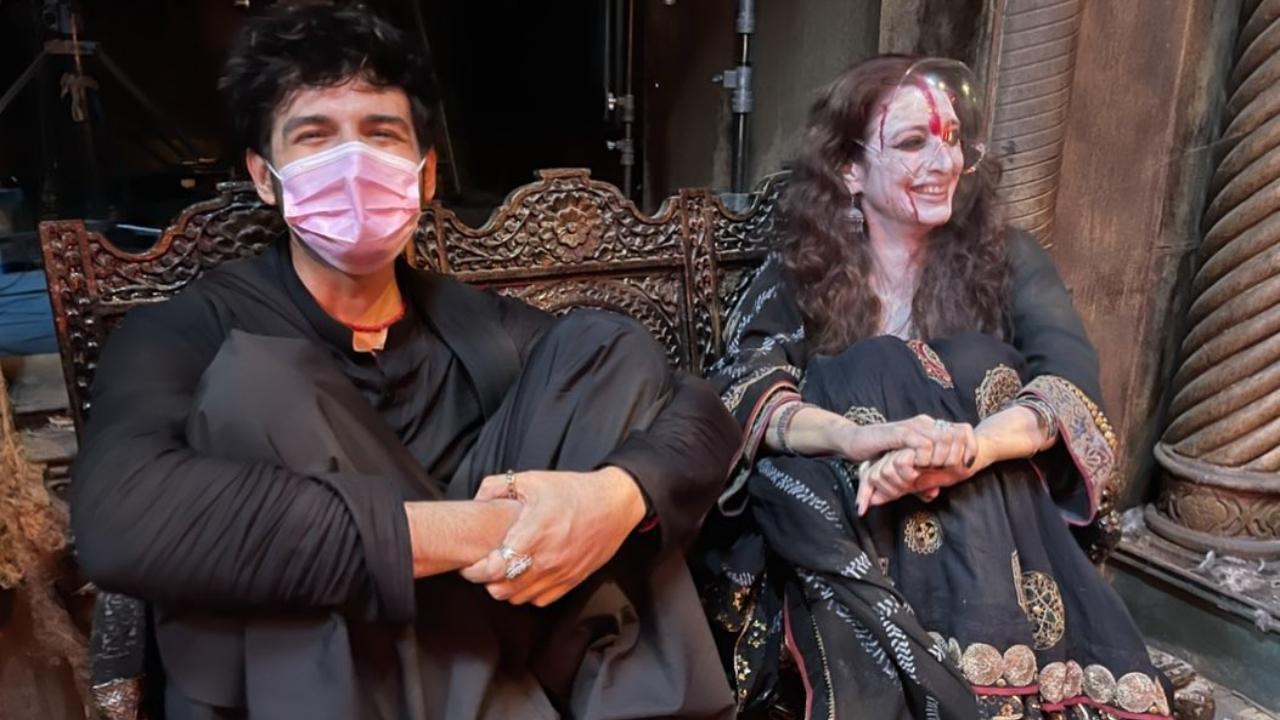 Kartik Aaryan with Tabu
Kartik Aaryan is one of the most popular celebrities in India, both on and off screen. While his performance keeps his audience enticed in theatres, his social media presence plays an important part in staying connected with his fans, who love him immensely. Recently, Kartik Aaryan topped the research of Actors with the Best Social Media in a study conducted by a leading magazine. This comes after his big award win as the Social Media King at recently held awards.
With 33%, Kartik Aaryan took the first spot. The young star certainly knows how to keep his social media followers engaged, and he does this by being his most real self on the platform and the kind of connect he has with his fans which is why he is known to be a fan-made superstar. The actor consistently shares witty posts, cute pet photos, and interesting shoot updates with his followers.
ADVERTISEMENT
Also Read: Kartik Aaryan writes about 'heart wrenching' day on 'Satyaprem ki Katha' sets; see pic
Here is looking at just why Kartik Aaryan is rightly crowned the Social Media King: 
1. Real self and Witty humor: 
Be it his bio, which reads 'B-Tech' or his witty captions that any other person would be able to relate to, Kartik keep his social media very real and relatable with photos and captions reflecting his thoughts in quirky ways.
 

 

View this post on Instagram

 
 

 

View this post on Instagram

 
 

 

View this post on Instagram

 
2. Pet love: 
Kartik Aaryan's love for his pet Katori resonates with all the pet lovers out there. His social media videos of Katori are solid proof of how his life revolves around his cute pup and fans can never have enough of Katori's videos. 
 

 

View this post on Instagram

 
 

 

View this post on Instagram

 
 

 

View this post on Instagram

 
3. Work Updates: 
Kartik Aaryan is a dedicated actor and he always keeps his fans updated on whatever he is working on. From new brand announcements to images from the sets or his vanity and film assets and award wins.
Also Read: 'Bhool Bhulaiyaa 3': Kartik Aaryan to return as Rooh Baba in Diwali 2024, check out teaser!
 

 

View this post on Instagram

 
 

 

View this post on Instagram

 
4. Appreciating Fans:
While Kartik Aaryan's social media is full of all things fun and relatable, it is also highly interactive with his fans. Where he often replies to their comments and also shares posts for them on his feed, appreciating them time and again as he has always considered himself a fan-made superstar.
5. Family Time:
No matter how busy the actor is, hopping from one place to another for work shoots, he makes sure to take out time for his family and also share sweet moments spent with them to his social media, because of which many know how much of a mumma's boy the actor is.
 

 

View this post on Instagram

 
 

 

View this post on Instagram

 
Climbing high on the ladder of success, Kartik is currently unstoppable. Meanwhile, on the work front, the actor has an interesting lineup of films like 'Satyaprem Ki Katha', 'Aashiqui 3', and Kabir Khan's untitled next among a few other unannounced ones.