Naseeruddin Shah has slammed Vipul Shah's The Kerala Story, which is one of the most successful films of 2023, despite courting controversies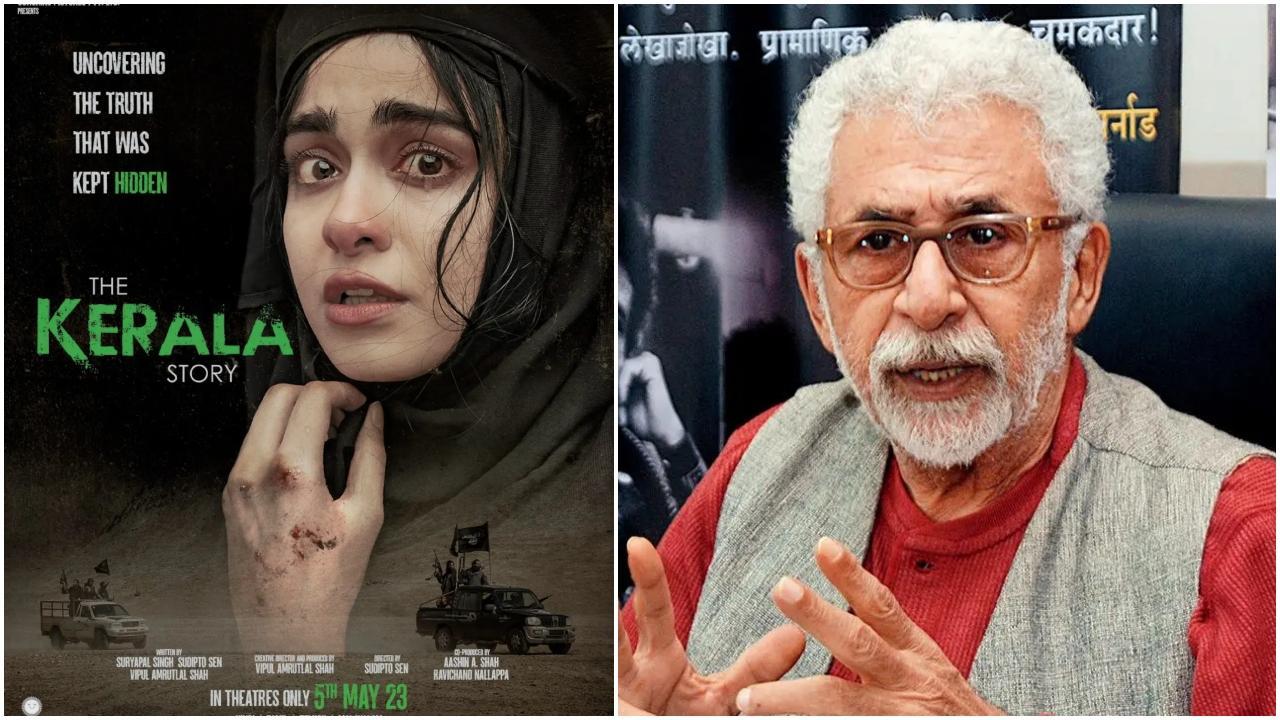 Naseeruddin Shah says he has no intention of watching The Kerala Story
Veteran actor Naseeruddin Shah is known to voice his opinions freely and fearlessly. He is among those actors in Hindi cinema who has never shied away from speaking his mind. The 72-year-old actor has now spoken up about the box office hit The Kerala Story, produced by Vipul Shah, which deals with the sensitive issue of ISIS recruitment from Kerala. The film, despite being criticised for its controversial topic, has made quite an impression on a certain section of the audience and has emerged as one of the biggest hits of 2023.
Speaking about the film while promoting the series Taj: Divided by Blood, Naseeruddin Shah vehemently criticised the Sudipto Sen directorial and said that he has no intention of watching the movie. "Worthwhile films like Bheed, Afwaah, Faraaz, all three collapsed. Nobody went to see them, but they are flocking to see The Kerala Story which I have not seen, and I don't intend to see, because I have read enough about it," Shah told India Today.
ADVERTISEMENT
The actor also called this a "dangerous trend" and compared this trend to Nazi Germany. "...In Hitler's time, the filmmakers were co-opted, attempted to be co-opted, by the supreme leader to make films praising him and what he has done for the countrymen, and running down the Jewish community," he added.
The Kerala Story has been embroiled in controversy ever since the teaser of the film dropped in November 2022. The film was released in theatres on May 5. Recently, at the press conference for IIFA 2023 held in Abu Dhabi, superstar Kamal Haasan was asked for his take on The Kerala Story and the controversy around it. Responding to the question, Haasan said, "I am against propaganda films. It's not enough if you wrote true story at the bottom as a logo, it has to really be true and that (the film) is not true." 
The Kerala Story portrays the story of a converted Muslim woman who was misled and exploited by religious vanguards before being converted into an ISIS terrorist and taken to Syria. It is produced, developed, and distributed by Sunshine Pictures which is owned by Vipul Amrutlal Shah. Adah Sharma leads the cast along with Yogita Bihani, Sonia Balani and Siddhi Idnani. The Kerala Story is bankrolled by Sunshine Pictures Private Limited, founded by Vipul Amrutlal Shah who is the Producer, Creative Director and the co-writer of the film, which is co-produced by Aashin A Shah and directed by Sudipto Sen.