Like every year, this year too, Maharashtrians in Mumbai have begun prepping for Gauri celebrations 2023. What do these celebrations include? Two families in Mumbai share interesting details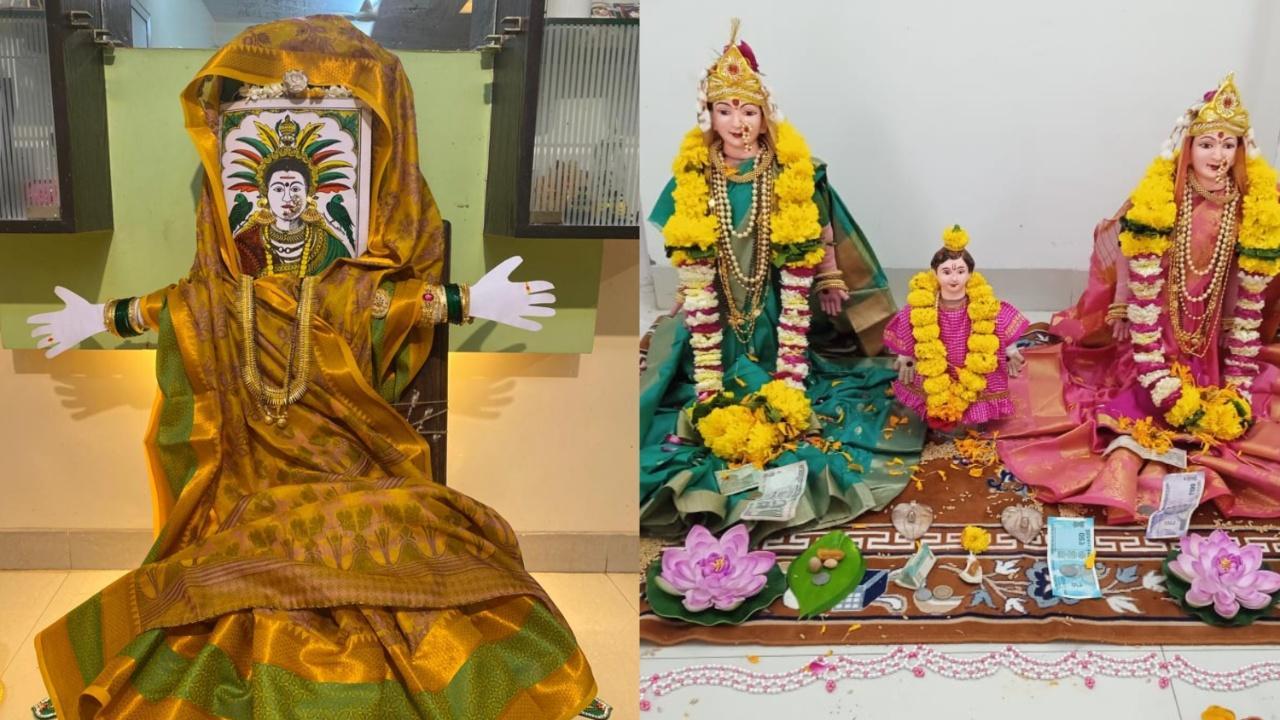 There are around four forms in which Gauri is worshipped by people in Maharashtra. Photo Courtesy: Aakanksha Ahire (Left), Nayana Joshi (Right)
Listen to this article
How Maharashtrians in Mumbai celebrate goddess Gauri's homecoming
x
This time around, we don't just welcome lord Ganesha into our homes. We also bring home the goddess Gauri. As per the Hindu legends, the goddess is the mother of lord Ganesha and also the wife of lord Shiva. Each year, many Maharashtrian families having different cultural backgrounds carry out Gauri puja in their own unique way. Ahead of Gauri celebrations, we speak to two families based in Mumbai who share with us how they celebrate this auspicious occasion. 
Uma Dandekar (85), a resident of Andheri has been celebrating Ganpati and Gauri for decades. She has successfully carried forward her family's tradition and passed it on to her daughter-in-law, Nandita Dandekar. She says, "Goddess Gauri is treated as a mahervashin (married woman who comes for a stay at her parent's place to have a relaxed time.) In the ancient days, most women were married far off and visited their parents less often. This made their visit special. Married women were welcomed back home with love. Assorted dishes were prepared for them and complete rest and relaxation were ensured. Goddess Gauri signifies a married woman who is welcomed home after a long period of one year."  
ADVERTISEMENT
At Dandekar's residence, Gauri is brought home in the form of a plant named Terda which is considered to be pious. The plant is then tied together and dressed up as a goddess. It is wrapped in a beautiful saree and adorned with gold jewellery.  
Elaborating on the rituals, Dandekar mentions, "We bring Gauri into the house only in the evening. She is held by the door by one of the married daughters of our family. The mother of the daughter then cleans her daughter's feet, performs a small pooja at the door and then brings her in. Gauri is then given a tour of the entire house and her footprints are imprinted on the house's floor and important items like cupboards and bedroom doors. After she is placed in the house, mostly in the hall room, we offer her simple food like bhakri, gud and laal math bhaji. She is then put to sleep. This signifies she gets good rest after an entire day of travel."  
At Dandekar's residence, a special lunch is organised the next day that involves a variety of delicious dishes like puris, vada, any sweet dish, rice, and mutton. All family members relish this lunch. Goddess Gauri is a guest for one night and is immersed in the ocean the next day in the afternoon marking her return to her husband's place. Dandekar says, "Our Ganpati visarjan also takes place on the same day along with Gauri visarjan. This signifies that the mother takes her son and returns to her husband."  
Following a similar tradition is Nayana Joshi (75), residing in Goregaon, who performs the Gauri pooja on seven stones brought from either the banks of any river or the sea coast. Joshi says, "There are around four forms in which Gauri is worshipped by people. According to our family's tradition, we worship Gauri in the form of seven stones. A married woman in our family goes to collect these stones with water in her mouth. She is not allowed to speak till the time she comes back home with the stones. At the time of her entrance, we wash her feet with milk and water and welcome her into the house."  
Joshi and her family decorate the stones and perform pooja on them. Just like Dandekar, Joshi too, prepares a variety of dishes however they don't include meat in their naivedya platter. Their platter includes sweet dishes like Ghavan Ghalta, Kheer Puran and 16 varieties of vegetables. 
The whole process right from bringing goddess Gauri home to her immersion is extremely fun, says Joshi. "We all ladies get together and have a gala time."   
During this festival, all women, married and unmarried, visit each other's homes to worship the goddess. Not only this, in most parts of Maharashtra, women also stay up late in the night and play games called Mangla Gaur which mainly involves two games, Jhimma and Phugadi. Women dress up in beautiful sarees, wear gold ornaments and spend a joyous time together. 

Also Read: How women of Mumbai's dhol tasha groups are playing dhols in style
"Exciting news! Mid-day is now on WhatsApp Channels

Subscribe today by clicking the link and stay updated with the latest news!"
Click here!