Are you heading to the Kala Ghoda Arts Festival today and are bewildered by the massive itinerary? Fret not, we have curated a smashing line-up of engaging events to make the most of your evening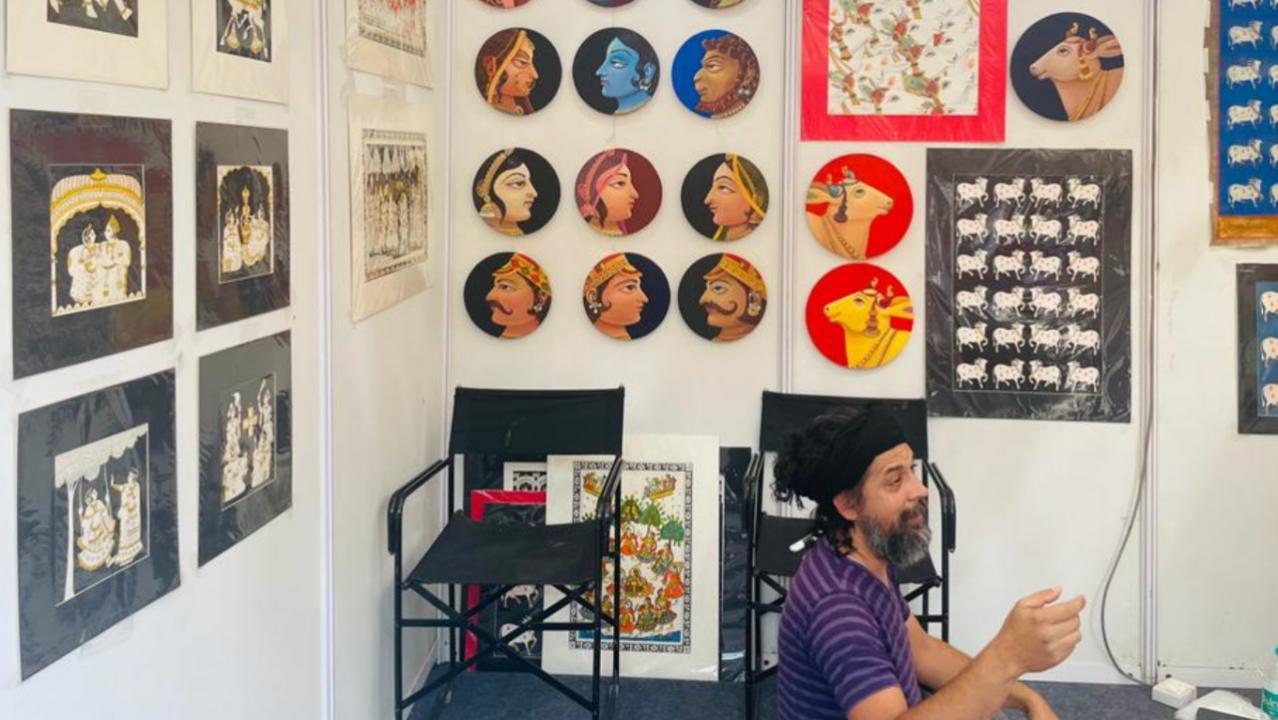 Art enthusiasts can attend the Kala Ghoda Arts Festival till February 12. Pic/Ainie Rizvi
The annual Kala Ghoda Arts Festival is back with newer and more engaging list of activities on the schedule. Spread across the Fort area with events happening from February 4 - February 12 at K Dubash Marg, Rampart Row, YB Chavan Centre, Cross Maidan and Cooperage Bandstand to name a few. 
Cinema: Upstream
ADVERTISEMENT
Best of KASHISH - International Shorts Package (Fiction) of 5 films
Presented by KASHISH Mumbai International Queer Film Festival
The 5 films from Venezuala, Japan, China, Portugal and Lebanon are as diverse in their cinematic approach as they in the stories they tell about the LGBTQ+ communities.
- The Third Solar Term by Zhanfei Song
- Fado Manor by Salvador Alejandro Gutiérrez
- Leave by Sioly Amundarain
- The Fish With One Sleeve by Tsuyoshi Shoji
- Warsha by Dania Bdeir
Time: 6:00pm – 7:30pm
Venue: Rangaswar Audi (Yashwantrao Chavan Centre)
Music: Upbeat                         
Anand - An Absolute Space of Bliss
Presented by Suhel Rais Khan
Suhel Rais Khan is a world-renowned sitarist and son of the legendary sitarist Late Ustad Rais Khan. He sings in multiple genres. Bringing the essence of his music to KGAF, he calls it 'ANAND.'
Time: 06:30pm – 07:15pm
Venue: Cross Maidan
Yatra with Aanchal
Aanchal Shrivastava is an independent sufi & folk singer giving a contemporary touch to home-grown sounds. This Din Shagna Da singer from 'Four More Shots Please' is known for her powerful voice.
Time: 07:30pm – 08:15pm
Venue: Cross Maidan
Songs of Himalayas
by Shantanu Moitra
Featuring: Ani Choying, Kaushiki Chakraborty, Ambi Subramaniam
Conceptualised and led by Shantanu Moitra, renowned music composer of landmark films including Parineeta, 3-Idiots and Madras Cafe. Shantanu's 100-day journey across the Himalayas led to compositions being created on the way. He intersperses this musical ensemble with riveting stories and breath-taking visuals of the mountains.
Time: 08:30pm – 10:00pm
Venue: Cross Maidan
Theatre: Flash Forward
The Bose Legacy (English)
Presented by Playpen Performing Arts Trust / Show Case Events
Vociferous protestors against British oppression, Amiya Nath Bose's father Sarat Chandra Bose and uncle Subhas Chandra Bose often found themselves imprisoned or detained under some pretext or another. They wrote to him often. Long after the people who wrote were gone, they leave behind a legacy that we read today. (Mature Theme - U/A 16+)
Time: 08:30pm – 09:15pm
Venue: Yashwantrao Chavan Centre

Literature: Foreward
Finding the Mystical in the Mundane
Poet and biographer Arundhathi Subramaniam discusses how the metaphysical stems from the physical, as she touches upon the practice of poetry and all things art — with Pervin Saket.
Time: 6:00pm – 7:00pm
Venue: CSMVS Main Lawn
The Editor's Cut: Literary Magazines
Editors discuss the growing role of literary magazines in shaping Indian writing across genres and forms. Smita Sahay, Ashoak Upadhyay, Indira Chandrasekhar and Anil Menon field questions from Tanuj Solanki.
Time: 6:00pm – 7:00pm
Venue: CSMVS Main Lawn
Children's Literature: Page Turners
Diamonds in the sky
By Katie Bagli/Medha Rajyadhyaksh

Explore our vast galaxy of celestial bodies, and strange happenings through poetry, stories and drama? (Age: 6-10)
Time: 6:00pm – 7:00pm
Venue: Kitab Khana, Fort, Mumbai
Heritage Walks: Footsteps in Time
Gothic Grandeur Footsteps around Oval Maidan (05:00pm – 06:30pm)
05:00pm - 06:30pmExploring the Jewish Heritage of Bombay
Talk: Prof. Saul Sapir talks about Jewish contribution to Mumbai
Time: Khaki Lab
Venue: 05:00pm – 06:30pm
Note:
Batch size for each walk is 20.
Entry will be allowed only with a valid pass.
Passes to be collected from the Heritage Help Desk, Ador House at 3:00pm every day for the next day's walk.
IN PHOTOS: Watch these innovative installation arts from Kala Ghoda 2023 in Mumbai
For more information visit www.kalaghodaassociation.com