What with celebrations involving colours, food and drinks in equal measure, many are looking forward to Holi this time. Here are some unique innovations revelers can try with thandai – the cooling drink that is synonymous with the festival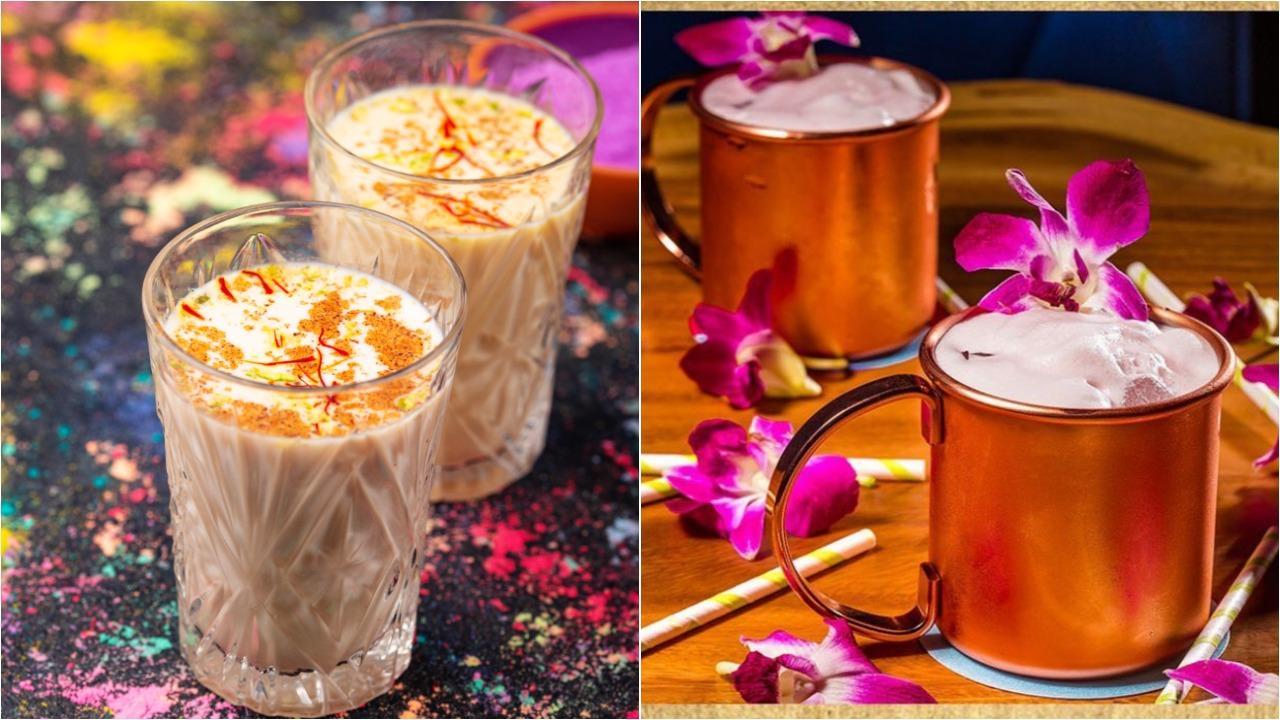 Experiment with your thandai by using coffee, vodka or strawberries with almond milk. Photo Courtesy: Something''s Brewing/Kaala Chashma
Holi, the festival of colours is here and celebrations are in order, especially because people have had to settle for a subdued affair over the last two pandemic-hit years. This festival is as much about the food and drink specialties, as it is about celebrating with colours and water.
While different kinds of food are distributed among friends and family members, it is thandai among the drinks that takes centre stage. The flavourful milk-based cold drink is made with a mixture of fruits, nuts and spices along with saffron and sugar. However, there is no harm in innovating with the drink. While people may have had the luxury to celebrate it in large groups earlier, they may be hesitant to do it this time around but that shouldn't stop them from making the most of the festival. 
ADVERTISEMENT
Keeping this in mind, Mid-day Online reached out to city-based chefs and mixologists to share innovative recipes that people could make and drink in the comfort of their home. They share delicious alternatives using coffee, strawberry and vodka too. 
Coffee Thandai by Abhinav Mathur, CEO, Something's Brewing
Drinking a traditional thandai is a Holi festival ritual and Abhinav Mathur says the nutty and aromatic beverage is a great drink. This, he says, is especially because of the use of spices, which are an integral part of Indian cooking and are found in literally every kind of food in the various cuisines. The fact that Indians love their coffee and tea made him think of giving the drink a caffeine twist. 
Ingredients:
Milk - 1 litre, sugar - 6 tbsp, few saffron strands, black coffee - 2 tbsp, rosewater (optional) - 1/2 tsp.  
For the paste:
Almonds - 30 nos, cashew nuts (optional) - 10 nos, pistachios (optional) - 10 nos, melon seeds - 2 tbsp, poppy seeds - 1 tbsp, fennel seeds - 3/4-1 tbsp, black peppercorns - 1 tbsp, green cardamom - 4-5 nos. 

For garnish:
Few rose petals, saffron strands and chopped nuts.  

Method: 
1. Soak the ingredients for the paste in water overnight or for 6-8 hours.
2. Strain the soaked mixture. Peel almonds and grind to a smooth paste with a little water.
3. Boil milk to a point where it starts bubbling.
4. Take some milk in a separate bowl and add saffron to it.
5. Add the paste and sugar to the boiling milk.
6. Simmer for 5 minutes until it slightly thickens.
7. Add 2 tablespoons of brewed coffee.
8. Add saffron-infused milk.
9. Turn off the heat and add rose water.
10. Strain the milk or you could have it as it is.
11. Pour the thandai into serving glasses.
Vodka Thandai by Kabir Samtani, co-founder, Kaala Chashma, Thane (West) 
Adding an alcoholic twist to the classic thandai, city-based bar Kaala Chashma is serving a Vodka Thandai on the occasion of Holi. Founder Kabir Samtani says, "It is a brilliant concoction because it doesn't dilute the thandai flavours and is extremely mild. It's still traditional with a little twist." For those who would like to add a boozy twist to their Holi, this is a good recipe to try. 
Ingredients:
Vodka - 400 ml, milk - 1500 ml, condensed milk - 250 gms, almonds - 125 gms, black peppercorns - 1 tbsp, cardamom - 6 nos, fennel - 1/2 tbsp. 
Method: 
1. Grind the almond, saunf, cardamom and peppercorns to a fine powder. 
2. Heat the milk and add the condensed milk and the powder. 
3. Simmer for 15 minutes. 
4. Cool and then chill in the refrigerator. 
5. Add vodka, stir and serve.

Vegan Strawberry Thandai by Shriya Naheta Wadhwa, founder, Zama Organics, Govandi
Enjoying a glass full of thandai to celebrate Holi may prove to be difficult, especially for vegans. Luckily there are so many alternatives for regular milk. Further, why settle for a regular glass of the cool drink when you can add a twist of flavour with strawberries? Founder Shriya Naheta explains, "I added strawberries in thandai because the way it complements the sweet scents of rose, cardamom and saffron is unbelievable." Since it is a vegan option, Wadhwa has swapped regular milk with almond milk and she says it tastes just as good. 
Ingredients:
Strawberries (crushed/pureed) - ¼ cup, warm water - 1 cup, almonds - 3 tbsp, pistachios - 2 heaped tbsp, poppy seeds - 2 tbsp, melon seeds - ¼ cup, rose petals (dried) - 2 tbsp, fennel seeds - 1 tbsp, whole black pepper - ½ tsp, green cardamom (husk removed) - 3-4, hemp seeds - 2 tbsp, saffron strands - 1 pinch, sugar - ½ cup, chilled almond milk or any plant-based milk - 8 cups, ice cubes as required, few rose petals, chopped almonds, pistachios and saffron strands to garnish. 

Method:
1. In a bowl, add a cup of warm water.
2. Then add in the almonds, pistachios, poppy seeds, melon seeds, dried rose petals, fennel seeds and black pepper.
3. Mix them well and keep it aside for a couple of hours. Once soaked, add in the mixture in a blender, followed by crushed or pureed strawberries, sugar, cardamom seeds, hemp seeds and a pinch of saffron.
4. Blend it until it turns into a smooth and fine paste.
5. Take about 4 tablespoons of the prepared thandai paste into a glass.
6. Add in the chilled milk and mix it very well, adding a couple of ice cubes.
7. Garnish with rose petals, chopped nuts and saffron strands and serve immediately.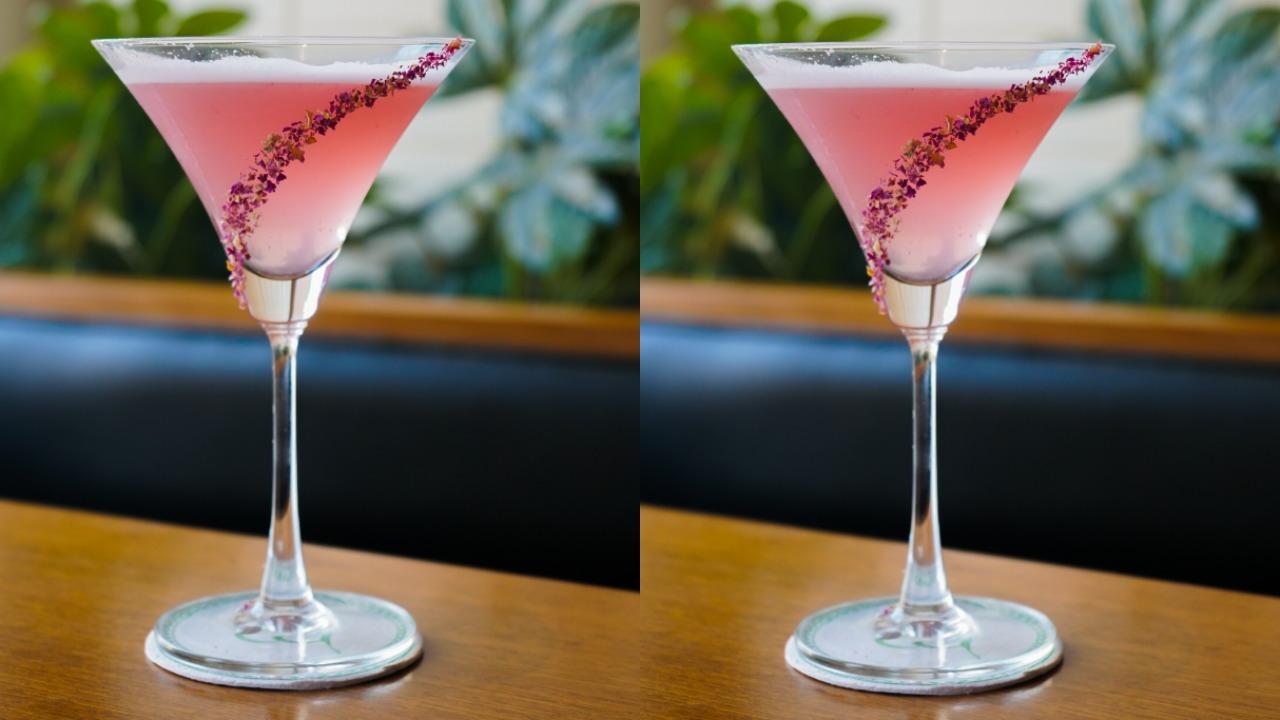 The "Pink cocktail" at Woodside Inn has a refreshing mix of rose milk, tequila, maple syrup and dehydrated gulkand. Photo: Woodside Inn

Tapioca Thandai by Manoj Jangid, director, food & beverage, JW Marriott Mumbai Sahar, Andheri East
While other city restaurants use a variety of ingredients including coffee, vodka and strawberries with almond milk, JW Marriott Mumbai Sahar gives the traditional thandai a local twist. Manoj Jangid says the five-star property adds tapioca to enhance the sweetness of the Holi drink. If you love tapioca, this interesting creation may be right up your alley. 
Ingredients:  
Thandai Masala 
Almonds (blanched) - 35-40 nos, black peppercorns (whole) - 20 nos, fennel seeds - 4 tsp, watermelon seeds - 2 tbsp, green cardamom pods - 15-20 nos, 
Thandai 
Whole milk - around 4 cups or 1 litre, sugar - 1/2 cup or 100 grams or to taste, rose water - 2-3 tablespoons or 30-45 ml, tapioca pearls - 20-25 nos, strands of saffron - 3-4 nos, sliced nuts to garnish, chopped rose petals to garnish.  
Method:  
Tapioca Thandai Masala 
1. Blanch the almonds. Soak in hot water for 15-20 minutes and then peel off the skin. It would easily come off. 
2. Blend the blanched almonds along with peppercorns, fennel seeds, poppy seeds and cardamom pods. Grind to a smooth paste. You may add little milk for grinding if needed. Once the thandai masala is done, set it aside.  
Tapioca Thandai 
1. Heat milk in a pan on medium heat. Stir in between and let it come to a slight boil. 
2. While the milk is getting heated up, remove 2 to 3 tablespoons of the hot milk from the pan and transfer to a small bowl. 
3. Crush saffron strands between your fingers and add it to the hot milk. Let it sit until it gets a nice yellow color.4. Once milk comes to a boil, lower the heat and add the Thandai masala to it. Whisk to mix it all together. 
5. Add sugar syrup. Turn off the heat. 
6. Add the saffron-milk mixture to the pan and stir. Let the thandai cool.  
7. After 30 minutes, add rose water and stir. It's important for the milk to absorb all the flavors of the spices before we strain. 
8. Double strain the thandai using a sieve into a pitcher and add the tapioca pearls. 
9. Press the solid thandai masala that collects into the sieve with the back of a spoon as you strain it - this is to get the maximum flavors out of the spices into the thandai. 
10. Transfer the pitcher to a refrigerator and chill, preferably overnight. 
11. To serve, pour thandai into glasses and garnish with sliced nuts like pistachios, almond, rose petals and saffron strands.  
 
Pink by Harshad Koli, beverage manager, Woodside Inn, across outlets   
Harshad Koli says the Woodside Inn's Holi special menu depicts different colours with an explosion of flavours in each one of them. Their "Pink cocktail" has a refreshing mix of rose milk, tequila, maple syrup and dehydrated gulkand. Koli explains, "This is a technique-forward cocktail which uses milk and rose as the base as they are the most common Holi ingredients. We take it a step further by clarifying it, retaining the creaminess of the milk and floral notes of rose. We infuse it with tequila which takes the cocktail to a different dimension." 
Ingredients: 
Clarified rose milk - 120 ml, tequila - 60 ml, maple syrup - 20 ml, dehydrated gulkand - for garnish.   
Method:  
1. Add tequila to a glass, followed by the rose milk and maple syrup.  
2. Stir it all together.  
3. Add the dehydrated gulkand on top and serve chilled. 
"Exciting news! Mid-day is now on WhatsApp Channels

Subscribe today by clicking the link and stay updated with the latest news!"
Click here!