The summer is here and with it comes different varieties of mangoes that one can enjoy at all times. Now, mango lovers relish the fruit in many ways but there is always room for experiments. Why opt for a juice, when you can not only make a smoothie bowl but also payasam out of it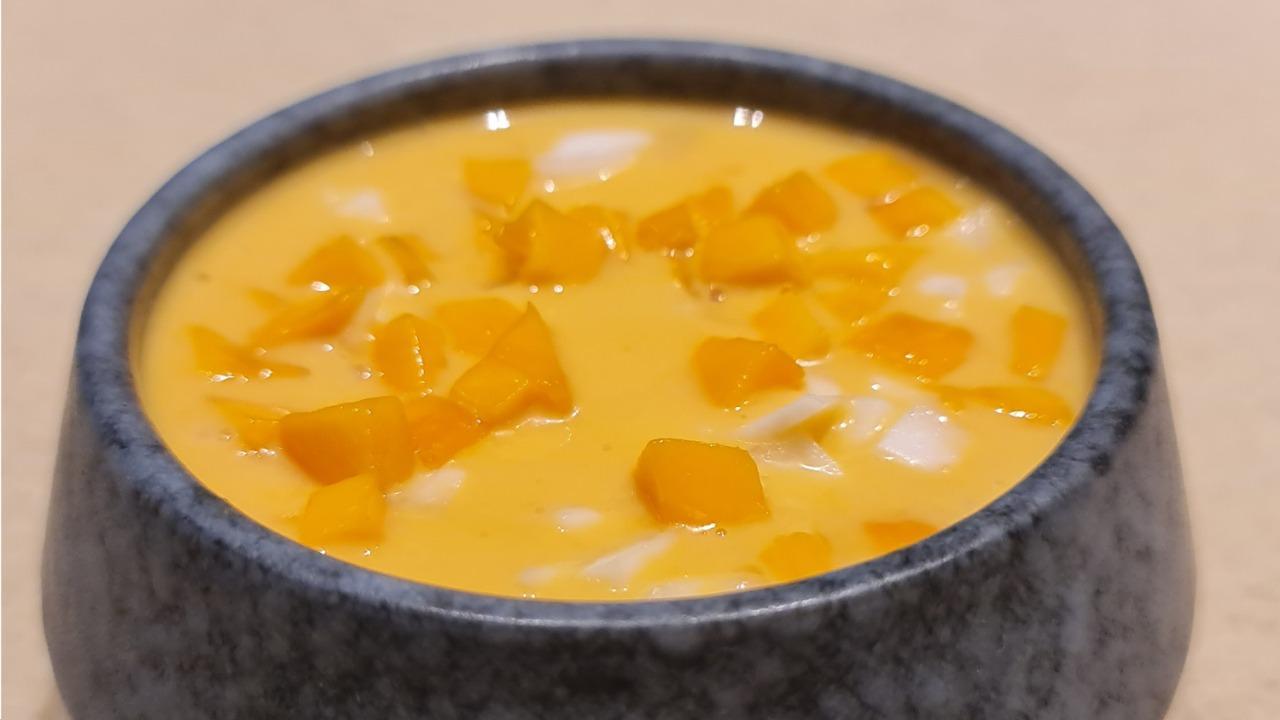 With a rich preparation of mango and tender coconut, mango payasam is definitely one to try out this summer.Photo Courtesy: Golden Chimney Restaurant
It is that time of the year when mangoes are available in abundance. While raw mangoes of different varieties have already started appearing in markets, it will not be long before the glorious yellow ripe fruit will be seen on the fruit vendors cart in the city. Now, many people love eating mangoes plain, there are others who add some chilli powder and salt that produces a burst of flavours that take us back to our childhood days spent with our grandmothers or simply buying it from the stall outside our schools, or classic mango juice or milkshake.
The diversity of the fruit allows many people to explore many dishes with the fruit. Interestingly, these aren't sweet but also savoury. For the lack of time, people may opt to simply indulge in fruit salad with mangoes that add a sweet and sour flavour that tantalise our taste buds almost immediately. However, there are many other desserts that can be made with the fruit that will simply make your summer worthwhile, especially if you love mangoes.
ADVERTISEMENT
Mid-day Online reached out to Mumbai chefs to share their favourite mango dessert recipes that are a mix of easy as well as elaborate treats that are simply mouthwatering and will immediately entice you this summer.
Mango Mascarpone Filo by Dane Fernandes, executive chef, JW Marriott Mumbai Sahar, Andheri East
If you want to go for an elaborate treat, Dane Fernandes, executive chef at JW Marriott Mumbai Sahar suggests experimenting by making a Mango Mascarpone Filo. It is a delicious creation of a flaky filo pastry with a rich and creamy mixture of mascarpone cheese, whipped cream, and sweet mango puree. He explains, "I always look for ways to showcase the natural beauty and flavor of seasonal ingredients, and mangoes are no exception." Fernandes says the Mango Mascarpone Filo Dish is a perfect example for him, of how you can elevate a humble fruit into a show-stopping dessert. "By combining the sweet and juicy flesh of mangoes with the luxurious creaminess of mascarpone cheese and the delicate crispiness of filo pastry, you create a symphony of texture and taste," he adds.
Ingredients:
For the dough:
Flour 100 gm
Milk powder 100 gm
Water 375 gm
Vinegar 100 gm
Salt 15 gm

Method:
1. To make the filling, mix all the ingredients together and keep covered until further use.
2. Add all the ingredients for the dough in a stand mixer fitted with a dough hook and knead until you get a very smooth windowpane
3. Once done, wrap the dough with cling film and allow it to rest.
4. Divide the dough into 2 portions. Take one portion and sheet the dough at the thinnest setting using a sheeter, then roll it further using a rolling pin until the sheeted dough is see-through
Almond cream:
Butter 75 gm
Icing sugar 75 gm
Egg 50 gm
Vanilla 5 gm
Almond powder 75 gm
Flour 25 gm
Method:
1. Cream the butter and icing sugar until light.
2. Add the egg and vanilla in parts and whisk until combined.
3. Fold in the almond and flour mix.
4. Cling wrap and chill.
Pastry Cream:
Milk 75 ml
Elle & Vire Cream 50 ml
Caster sugar 20 gm
Refined sugar 8 gm
Corn flour 5 gm
Egg yolk 40 gm
Vanilla essence 2.5 gm
Elle & Vire Butter 20 gm
For Diplomat cream
Pastry cream 45 gm
Elle & Vire whipped cream 90 gm
Elle & Vire mascarpone 90 gm
Method:
1. Fold the mascarpone cream into the pastry cream.
2. Add the whipped Elle & Vire cream to the pastry cream mixture.
3. Use the mixture for blueberry cake layering.
Assembly:
1. Cut the filo design into two equal parts, brush butter one part, and place the other part on top.
2. Cut the filo into square sizes and place it over the round mould. Press and shape the filo round mold and fill the almond cream in filo.
3. Bake at 200 degrees Celsius for 30-40 minutes until dark golden brown.
4. Garnish with diplomat cream and fresh mango.
Mango Smoothie Bowl by Rahul Desai, chef, Bloom Cafe, Bandra West
With smoothie bowls becoming more and more popular by the day, it is just the right time to add mangoes to your bowl. Chef Rahul Desai of Bloom Café says one can simply make the most of the fruit by adding it to a smoothie bowl. He explains, "During mango season in India, mangoes capture the essence of summer in a single dish. Incorporating mangoes in this smoothie bowl recipe adds a burst of tropical flavour to every bite." He says you can top it up with kiwis, pineapple, fresh coconut shavings, granola, or even chia seeds. The fact that it has vitamins, fiber and antioxidants, make it a perfect bowl to start your day or for a post work out meal.
Ingredients:
Frozen mango puree (frozen) 100 gm
Frozen banana 100 gm
Oat milk 40 ml
Yogurt (skip if making it vegan) 30 gm
Mango slices for garnishing
Mixed seeds
Toasted almonds
Granola for garnish
Method:
1. Put all the ingredients in a blender and blend until very smooth.
2. Make sure all the berries and bananas are frozen to get a nice thick smoothie
3. Pour the contents into a bowl and garnish with slices of mangoes on top.
4. Sprinkle some granola and toasted almonds for the crunch and some nutty flavour.
Mango Payasam by Gopal Yadav, chef, Golden Chimney Restaurant, Grant Road
Many people would like to keep their classic payasam untouched. However, if you are one of those that would love to experiment with it, then chef Gopal Yadav suggests adding mangoes to the sweet dish. With a rich preparation of mango and tender coconut, it is definitely one to try out this summer.
Ingredients:
Mango
Tender coconut
Rich cream
Milk maid
Milk
Ice
Method:
1. Peel the mango and blend with milk and five ice cubes.
2. Keep it in refrigerator to chill for half hour.
3. Remove it from the refrigerator and add rich cream and milk maid. Mix it well.
4. Garnish with finely chopped tender coconut and finely chopped mango

Aam Kesaria Cheesecake by Sandip Dutta, executive sous chef, Bakstage Gourmet, Salt Lake, Kolkata
With India getting mangoes in abundance, it is also a good time to make a mango cheesecake. At Bakstage Gourmet, chef Sandip Datta suggests experimenting with an Aam Kesaria cheesecake that can be enjoyed throughout the summer season. For the baked cheesecake, he suggests using any mango available and combining it with a delicious crumbly crust with a creamy mango texture that is definitely irresistible.  
     
Ingredients
Crust:
Graham cracker crumbs (about 2 sleeves) 1 1/2 cups
Cardamom, ground 1/4 tsp
Granulated sugar 1/2 cup
Butter 400 gm
Filling:
Cream cheese, room temperature 500 gm
Granulated sugar 1 1/4 cup
Vanilla extract 2 tsp
Saffron in warm milk to release the colour 1/8 tsp
Eggs, large 4 nos
Canned pureed mango, large fresh, pureed in blender 2 nos
Method:
For Crust: 
1. Preheat oven to 325 degrees Celsius. 
2. Lightly butter a 9-inch spring form pan and set aside. 
3. In a medium bowl, combine the cracker crumbs, cardamom and sugar. 
4. Add the melted butter and stir until evenly moistened. 
5. Press the crumb mixture firmly onto bottom and 1 inch up the side of the prepared pan. 
6. Refrigerate for 15 minutes. 
7. Bake until the crust is set, about 10 minutes. 
8. Cool the crust completely. While the crust is cooling prepare the filling.
For Filling
1. Set water to boil in a kettle for the water bath. 
2. In a mixing bowl, beat the cream cheese on medium until fluffy, scraping down the sides of the bowl. 
3. Gradually add the sugar and beat well. 
4. Add the vanilla and saffron and mix. 
5. Beat in the eggs, one at a time, at medium speed, scraping down the sides of the bowl after each addition. 
6. Beat in the pureed mango. 
7. Wrap the bottom half of the spring form pan in foil. 
8. Pour the filling into the crust. 
9. Place the spring form pan in a roasting pan. 
10. Pour boiling water into the roasting pan to come halfway up the side of the spring form. 
11. Bake on the middle rack until just set in the center, about 2 hours. 
12. Remove the pan from the water bath; let cool 20 minutes. 
13. Run a sharp knife around the edge; let cool completely. 
14. Cover; chill 4 hours to overnight before serving.
Vegan Mango Gateaux by Archana Nakte, head chef, Fyole, Lower Parel
If you like indulging in extravagant dishes, then Archana Nakte, head chef at Fyole suggests making a Vegan Mango Gateaux. She explains, "We use the freshest local mangoes and give an international twist to the king of fruits with its soft creamy texture and tantalising flavours."
Ingredients:
Mango pure 250 gm
Whipped cream 250 gm
Coconut cream 100 ml
Vegan sugar 50 gm in pure
Method:
1. In mango puree, add sugar and make a thick puree let it cool down then add coconut cream.
2. And lastly add vegan whipping cream.
For Base
1. Chopped pistachios and finely chopped dates mix tougher till it gets binding consistency. 
2. Set the dessert as per your desired mould.

Also Read: Pickle perfect: Meet these Mumbai women who continue to follow age-old tradition of making lip-smacking achaars Do you use mangoes to make desserts?