Mangoes are clearly the attraction of the season and like always, city restaurants have put together special menus that celebrate the fruit. They not only include several known favourites but also other innovative dishes that are sure to make you get out of your house and enjoy them this summer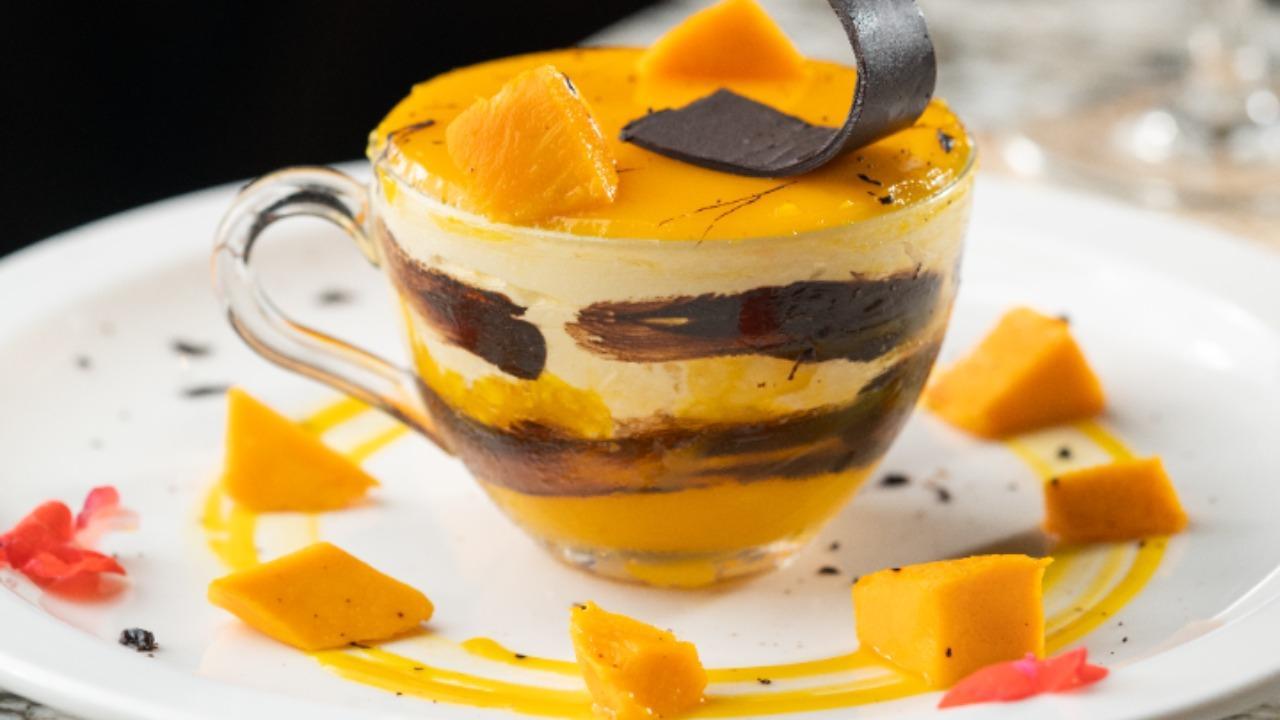 As part of its seasonal menu, Zenmai is serving a delicious Mango Cheesecake. Photo Courtesy: Zenmai
Most of us have grown up enjoying the 'King of fruits' plain, as milkshakes or in traditional Indian dishes made by our grandmothers. 
However, not all may have that luxury or the time anymore to make something special out of the fruit. It's time to make new memories and try the fruit in different forms at your favourite restaurants in the city. As the summer is at its peak, city restaurants have taken the liberty to innovate with their menu by using the fruit to create delicious dishes that are not only limited to desserts but also savoury specials. 
ADVERTISEMENT
Here are some restaurants that you could visit to feast on mangoes this summer: 
A touch of Japanese
If you are open to exploring new flavours, head to Zenmai for a delicious Japanese affair this summer. The city-based restaurant is not only serving innovative dishes that use the fruit, but also cocktails and desserts that will tantalise your taste buds. Experiment with the mango sushi called Mango Uramaki, which has cream cheese, avocado, fresh mango, chopped bell peppers. Sip on a fruity whiskey-based Mango Sour or a Mango and Gin Spritzer. While the first has muddled mango chunks, the latter has a pureed form of the fruit. Last but not the least, don't forget to get spoonfuls of Mango Cheesecake to make the most of the season. 
Where: Zenmai, Santacruz (West) 
When: Ongoing 
Time: 12 noon – 4 pm and 7 pm – 12 am 
Price: Rs 650 per dish plus taxes
Call: 77150 48934 for reservations
Asian delights
Elsewhere in the city, Foo has a variety of mango dishes on their summer menu called 'Fresh at Foo'. Diners can choose to eat a refreshing Foo Summer Salad with ripe mangoes or savour them in their raw form with Natsu Maki. They also have Crispy Panko Rolls, which are panko fried pancakes with mango and more. However, their menu is not limited to dishes made from mangoes, Chef Eric Sifu says, as they also have lychees, oranges, melons and kaffir used in different forms in the dishes and one can enjoy them too.
Where: Foo - Asian Tapas, across all outlets
When: Till May 31 
Time: 12:30 pm – 1 am 
Mango mania 
Balsa, another city resto-bar in Lower Parel, is making the most of the fruit this season. The limited-edition menu is curated by celebrity chef Karishma Sakhrani, who takes the opportunity to not only celebrate mangoes in desserts but also in savoury dishes. Diners can enjoy a Spicy Thai Mango Avocado Salad, which promises robust flavours or simply tuck into their Pulled Jackfruit or Chicken Tacos that are served with a Mango Pineapple Salsa. The menu has other dishes such as Poké Bowl, Fried Chillies and Mango Habanero Sauce, Asian Bhel, Grilled Snapper, Sticky Rice Mango, all of which explore mangoes in different forms like salsa, sauce and the evergreen simply cut pieces included in the dessert.
Where: Balsa, Lower Parel (West)
When: On till June 30 
Time: 12 pm – 12 am
Call: 02249143107 / 8657929833 for reservations
Feasting time
If you are looking to enjoy a mango treat around you, then head to any of Silver Beach Café's outlets in the city to enjoy them all day. The menu includes classic pancakes served with mangoes and berries or the Mango Sticky Rice for dessert made with Alphonso mangoes, Mango Tart, a signature Sundae or take the healthy route with a delicious Acai Bowl.   
Where: Silver Beach Café, across all outlets
When: On till May 31
Time: 11 am – 11 pm
High on mango
Toast & Tonic's Summer Side Up menu has a variety of dishes for every kind of eater, and without a doubt they have quite a few mango specials sprinkled on their menu. One can simply start by sipping on a gin-based Indian Summer, which makes use of raw mangoes and enjoy a refreshing Everything Summer Salad. In seafood, the restaurant has an innovative gluten-free Bhetki En Paillotte which is served with a raw mango and green tomato salsa verde among other accompaniments. Diners with a sweet tooth can also enjoy a delicious Alphonso Mango Panna Cotta to end their meal. 
Where: Toast & Tonic, Bandra Kurla Complex, Bandra (East) 
When: On till May 31
Time: 12 noon – 12 am
Price: Rs 3,000 plus taxes (Meal for two including a drink each)
Call: 72088 71559 for reservations
Summer on the menu
In Juhu, Café 49 has introduced a Mango Specials menu that has a variety of dishes and desserts including smoothie bowls and mango chilli mocktails too. While you can start by sipping on the Pink Mango Mocktail, follow it up with a Raw Mango Cilantro Hummus. For dessert, choose from the likes of a Layered Mango Cream Cheese & Chocolate Fudge, Mango Chipotle Bonbons, Mango Coconut Mousse or a simple Mango & Fresh Cream Cake among others. 
Where: Café 49, Juhu
When: On till May 31 
Time: 11 am to 11 pm 
Call: 9223379080 / 9223379096 for reservations
Mangoes for dessert
If you aren't really a fan of mangoes in savoury dishes, don't worry because The Sassy Teaspoon has an all-mango dessert menu called Mango Mania just for you. Feast on desserts such as Mango Baked Cheesecake, Mango Pistachio Cake, Mango Fresh Cream Pastry or a Molten Mango & Coconut Mousse Tart. While diners can enjoy the desserts at any of the outlets, they are also available to order and enjoy in the comfort of one's home. 
Where: The Sassy Teaspoon, across all outlets
When: On till May 31
Time: 12 pm – 11 pm
Price: Rs 170 plus taxes onwards (per dish) 
Order: https://thesassyteaspoon.dotpe.in/order
"Exciting news! Mid-day is now on WhatsApp Channels

Subscribe today by clicking the link and stay updated with the latest news!"
Click here!