South Indians love their Idlis and relish it when cooked with the right passion. On World Idli Day, we spoke to South Indians on their special love for Idlis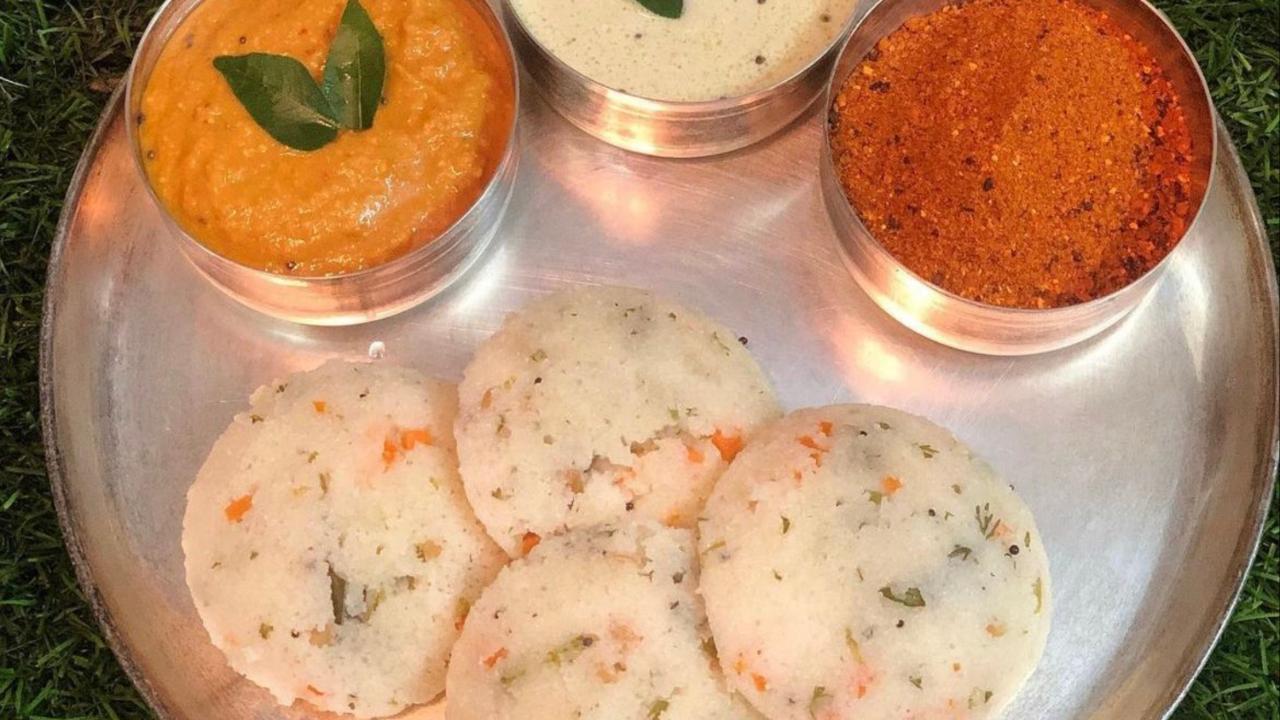 Idli has been a part of South Indian cuisine and not to mention, a staple for centuries now. It is also of cultural significance for South Indians. Photo Courtesy: Trishla Lunawat
"We cannot stay without eating idli for too long! It is our go-to dish for breakfast, dinner, or even snacks. You will find idli batter always prepared, in every South Indian household, at all times," says Trishla Lunawat, a home chef who runs Meal On Leaf, a south Indian meal service in Mumbai.
South Indians across the country share a common love for this soft and fluffy dish. For this Prabhadevi resident who originally hails from Coimbatore, Tamil Nadu, Idli is synonymous with home. "It is my comfort food that satisfies me and heals my soul." On World Idli Day, Mid-day online spoke to a few South Indians to find out about their special relationship with Idlis.
ADVERTISEMENT
38-year-old home chef explains, "Idli is a steamed cake that is made from the batter of rice and urad dal (black gram lentil). It is soft, fluffy, and has a spongy texture." Idlis are enjoyed alongside piping hot Sambar, coconut chutney, red chutney made from coconut, tomato and red chillies and even Podi mixed with ghee.
Lunawat learned to prepare Idlis from her mother. She says, "I started making the batter all by myself only after I got married and settled in Mumbai. Preparing Idlis from scratch does take a long time. Besides the right measurements of rice and urad dal, the use of good quality lentils to make the batter and correct fermentation process is key for preparing perfect soft Idlis."
Why Idli is a staple for South Indians  
Idli chutney Sambar with Podi and ghee served on the leaf is this home chef's favourite meal of all time. She is not alone, her son as well as her husband relish her freshly cooked warm Idlis. Sujitha Tarun Acharya, a resident of Bandra also shares the same love for Idlis. She relishes them with sambar and eats it once every week.
Sneha Suhas, a resident of Virar says, "Idlis are prepared at least twice a week at my home. Since Idlis are steamed and easy to digest, they are my comfort food. Eating warm Idlis prepared by my mother at the end of a tiring day helps me wind down."
Jaya Menon, a Mulund resident prepares Idlis once a week for breakfast. The batter she says is easy to prepare and can be refrigerated. Once prepared, it suffices for the whole week. A mother of two, she says, "Besides being a quick and easy-to-cook meal, steaming hot Idlis with either white or red chutney, are a go-to when anyone from my family falls sick."
79-year-old Santha Menon, another resident from Mulund, learned to make Idlis in her childhood itself. Since then she has been making this dish for her family.
Idli has been a part of South Indian cuisine and not to mention, a staple for centuries now. It is also of cultural significance for South Indians. The Virar resident recalls her childhood days in Kerala where each morning her home used to be flooded with the aroma of the Idlis being cooked on the stove, served hot with sambar, coconut chutney, and also with the special Idli Podi.
Bandra resident, Acharya also reminisces about her time as a child who didn't like Idlis much then. "My mother used to cut the Idlis in different shapes, stir fry them in ghee or butter and serve with a chutney which I unknowingly enjoyed thinking it's a different dish."
Health Benefits
Idli is one of the healthiest meals in India. It is very nutritious and filling. Over four Idlis make up for an entire meal. Our home chef lays down some health benefits of consuming Idlis:
1. It is low in calories and, rich in protein and fibre.
2. Idli is light due to its fermented nature. The fermentation process breaks down the starches and makes them easier to digest.
3. Idli is a nutritious breakfast. It contains a good amount of proteins, carbohydrates, and vitamins. The combination of rice and urad dal provides the essential amino acids that our body needs.
4. Eating Idli helps in the growth and repair of muscles and tissues.
5. It improves gut health and helps reduce cholesterol levels.
6. Idlis are also a great source of energy.
South Indian hotels in Mumbai loved by South Indians
Lunawat says that the success of making Idli lies in its softness. She says, "the one whose Idlis are not soft gets judged a lot." Many hotels serve Idlis that aren't soft and fluffy. The home chef says, "Rice and dal that I use to make Idlis is organic. It is homegrown and has no preservatives. This might not be the case with all the hotels."
However, we all are guilty of relishing hotel food from time to time. Lunawat, although now residing in Mumbai misses eating in Annapoorna, a hotel chain in Coimbatore known for their Idli and sambar. Back in Mumbai, Sneha Suhas has her top three favourites, Ram Ashraya located in, Matunga, Madhuram in Virar and Mani's Lunch Home in Chembur which is also Acharya's favourite.
While these hotels do specialise in the cuisine, many South Indians prefer eating Idlis and Dosas which are only cooked at home. The 79-year-old Santha Menon says that there is no other place that can cook as delicious tasting Idli as the one cooked in South Indian homes.
Also Read: World Idli Day 2023: Check out these innovative Idlis in Mumbai's Matunga Do you like eating Idlis?