Anil Jaisinghani and his daughter Aniksha were produced at the Sessions Court and remanded in police custody in the case involving blackmailing of deputy CM's wife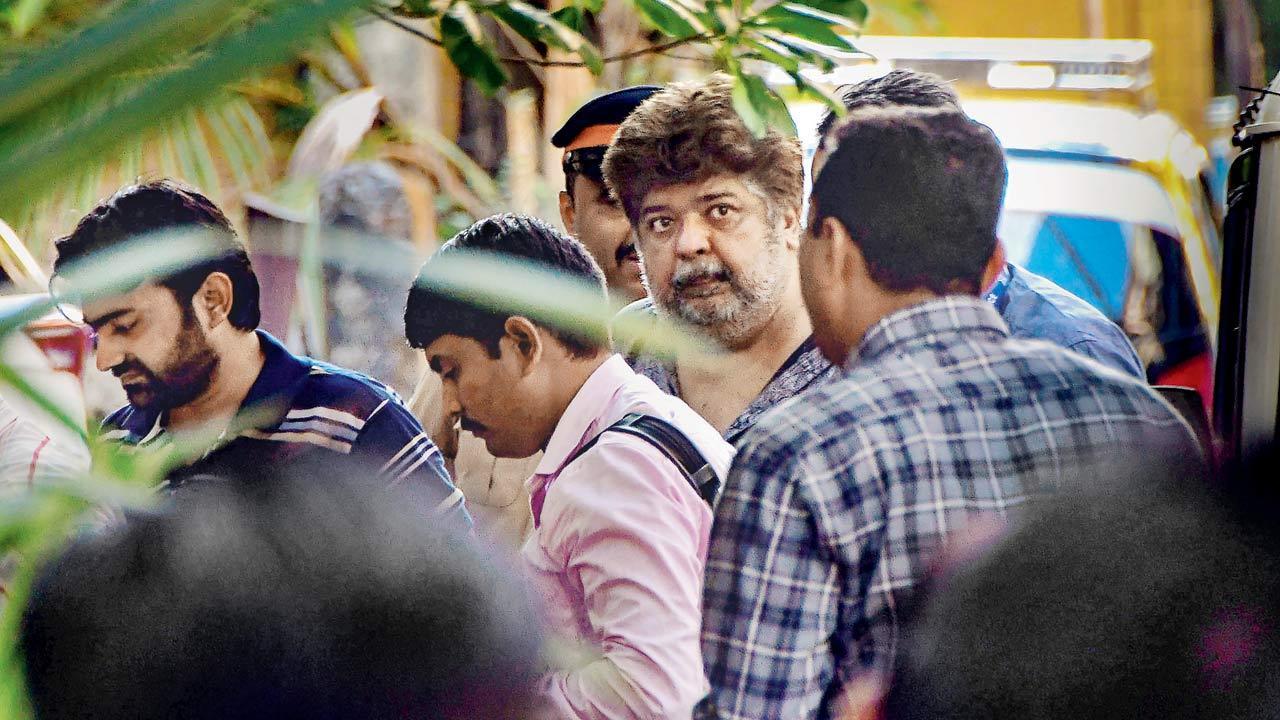 Alleged bookie Anil Jaisinghani (looking at the camera) being taken in custody on Tuesday. Pic/PTI
The police suspect that bookie Anil Jaisinghani and his daughter Aniksha had been planning to frame Amruta Fadnavis since 2021. She had allegedly offered R1 crore to the Deputy Chief Minister Devendra Fadnavis's wife to get her father's name removed from a case.
On Tuesday, Jaisinghani  and Aniksha were produced in the Sessions Court and remanded in police custody till March 27 and March 24 respectively. The police claimed that the father-daughter duo were in touch for the past 5-7 years only through internet calls.
ADVERTISEMENT
According to the FIR, Aniksha met Amruta in November 2021 at an event. Aniksha presented a necklace to Amruta Fadnavis and requested her to wear it at a programme but the latter refused. On January 27 this year, they met at a Pune event when Aniksha allegedly told Amruta Fadnavis that her father had been helping cops arrest bookies and that they could make some money out of it. The police said Amruta Fadnavis told her to get out of the car.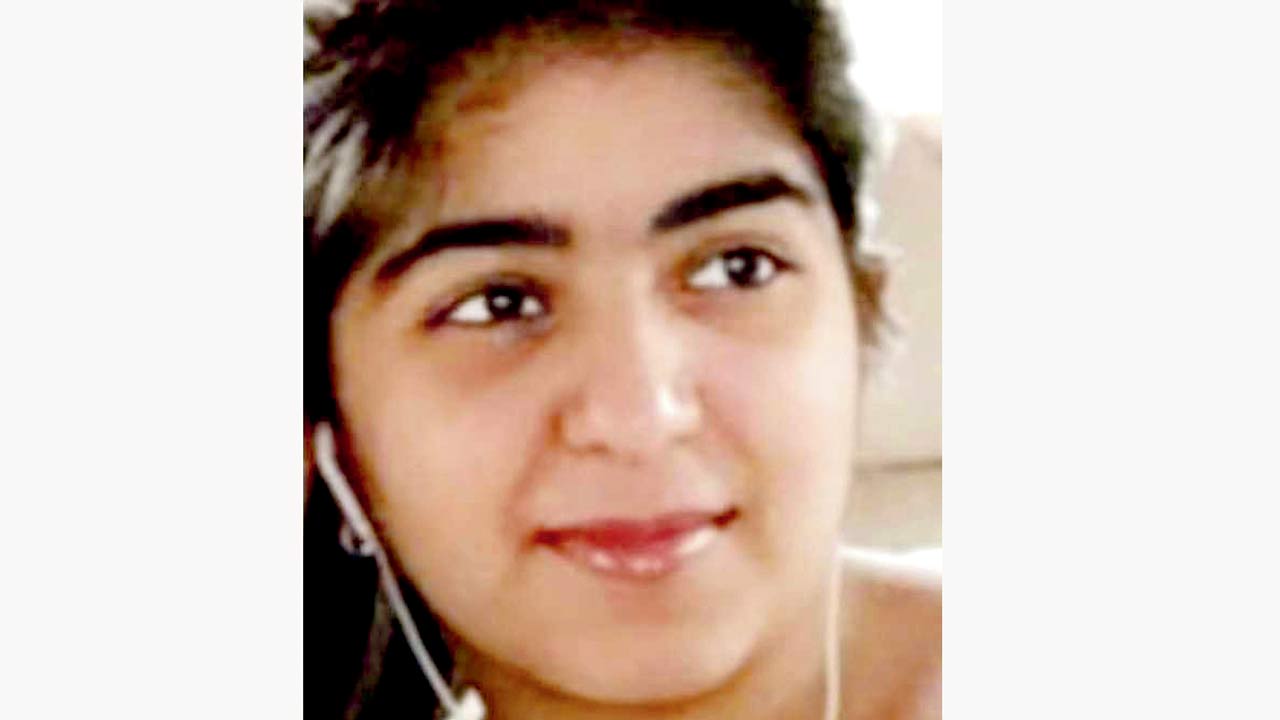 Aniksha Jaisinghani
On February 16, at 9.30 pm, Aniksha sent video clips to Amruta Fadnavis showing someone packing Rs 1 crore in a bag. Amruta Fadnavis immediately blocked her number. Between Feb 18 and 19, the police said Aniksha sent 22 video clips, three voice notes and many messages to Amruta Fadnavis's phone number. Amruta Fadnavis then registered an FIR with the Malabar police station and submitted all the videos and other evidence.
On March 16, the Mumbai crime branch raided Aniksha's residence at Ulhasnagar and arrested her and recovered two iPads, three mobile phones, one cheque book, seven mobile phone boxes, one dongle, one SIM card and a book she wrote called Reminiscence of Her.
Also read: Amruta Fadnavis threat case: 'Bookie' Anil Jaisinghani sent to police custody till March 27
'Not cooperating'
The police told the court that Aniksha was not cooperating with the investigation and had refused to share the password to her dongle. They are searching for the Rs 1 crore and bag seen in the video clips sent by her to Amruta Fadnavis.
During the investigation, the police also found that the video and messages were sent from Anil Jaisinghani's phone number; the phone has been recovered  by the cops.
The police told the court that it is suspected that as per a plan by the father-daughter duo around 2021, Aniksha would try to get close to Amruta Fadnavis and then get her to remove her father's name from the FIRs.
In the mobile phone, the police found that Aniksha had saved her father's mobile number as "PAPAYAA".
The police also found that Anil Jaisinghani  used 8-10 SIM cards in dongles to call people and his daughter. The police recovered a router, mobile phone, trolley bag from Jaisinghani  when he was arrested from Kalol toll naka in Gujarat.
In this case, the police have arrested a third accused late Monday identified a Nirmal Jaisinghani, a relative of Jaisinghani. Nirmal also travelling with Jaisinghani  in his car. Police have issued notice to Jaisinghani  and driver Pravin Parmar to remain present for interrogations but the latter has not been arrested.
Investigations are on to check if Aniksha is connected to a political leader  as she had also tried to offer Rs 1 crore bribe to Amruta Fadnavis and demanded R10 crore from her to not to make the video viral.
'Illegal arrest'
Jaisinghani's advocates Manan Sanghai and advocate Mrigendra Singh argued that the police violated rules and didn't produce him  in court within 24 hours of his arrest. The advocates also told court that DCP crime Balsing Rajput gave media bites about Jaisinghani's arrest from Gujarat on March 19, and he should be produced in a Gujarat court, but they produced him on March 21, 36 hours after his arrest and claimed that it was an illegal arrest.
Jaisinghani's advocates told court that Aniksha and her father's cases were not connected. Aniksha is in the second year of law and has missed her exams due to her arrest. The advocates also claimed that the police didn't take voice samples of Aniksha to match the voice notes sent to Amruta Fadnavis.