Eknath Shinde explains his 'anti-national' jibe as the Opposition demands a breach of privilege motion against him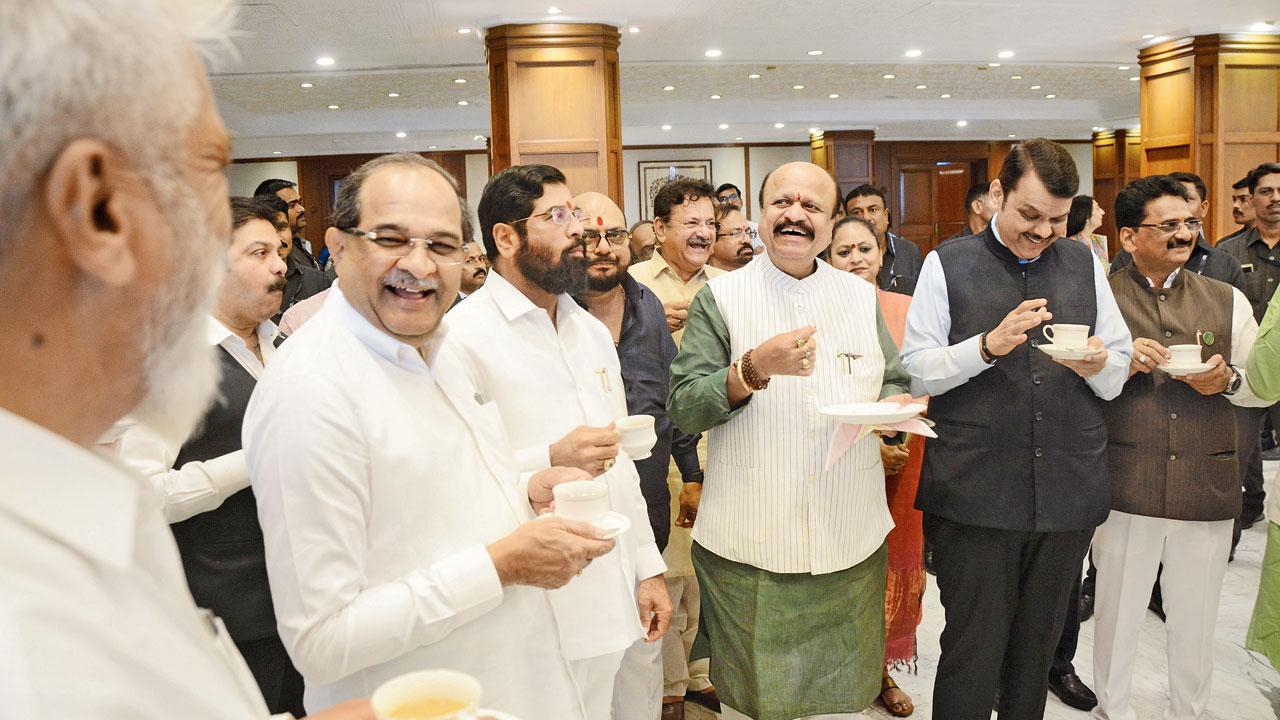 Chief Minister Eknath Shinde and Deputy CM Devendra Fadnavis with other leaders at the tea party on Sunday. Pic/Sayyeed Sameer Abedi
Accused of calling Opposition members 'deshdrohi' (anti-national), Chief Minister Eknath Shinde told the upper house on Thursday that he used the word against a Nationalist Congress Party legislator, Nawab Malik, who has been arrested for having links with anti-nationals like gangster Dawood Ibrahim and other convicts of the Mumbai serial blasts.
Shinde's explanation did not go well with Opposition leader Ambadas Danve, who insisted that the breach of privilege motion he has submitted against the CM be admitted and inquired into. Deputy chairperson Neelam Gorhe reserved the decision.
ADVERTISEMENT
Gorhe also withheld decision in a breach of privilege motion against Rajya Sabha MP Sanjay Raut, who is accused of calling the vidhimandal (legislature) "chormandal (a house of thieves)." Raut faces similar action in the lower house where a privilege committee was formed on Wednesday evening. Assembly speaker Rahul Narvekar will announce his decision on March 8 after receiving the committee's report.
Gorhe told the Council that in case of breach by a member of Parliament (here Raut), the report by the privilege committee was expected to be sent to the Lok Sabha Speaker or Rajya Sabha chairperson. She said she has asked Raut to submit his explanation to her within seven days. The upper house's committee is expected to be restructured soon because currently it does not have a chairman.
Also Read: Maharashtra Budget: CM Shinde assures govt support to farmers, says 2.38 lakh MT of onion procured so far
CM speak
Shinde justified his statement at a media conference held on the eve of the budget session on Sunday. "I will reiterate it 50 times ( if it is about the people who are anti-national)," he said. Shinde had made the remark in reaction to Opposition leader in the Assembly, Ajit Pawar, saying that attending the CM's customary tea party a day before the session's start, would be an act of Maharashtra droh (anti-Maharashtra move).
Shinde had responded saying the Opposition's boycott of his invitation had saved him from having tea with the rashtradohi. Shinde said his remarks were not for Pawar, Danve or any other member of the legislature, but specific in nature. When asked, Uddhav Thackeray wondered whether Malik, now in custody, was in a position to attend the CM's tea party and demanded to know whether the CM's explanation held any ground. Do you agree with the management`s decision of only letting devotees offer jal abhishek at Babulnath temple?