From broken tiles inflicting bruises and cuts on feet, to teeth-killing and skin-peeling levels of chlorine in water, city's public pools are a serious health hazard, say swimmers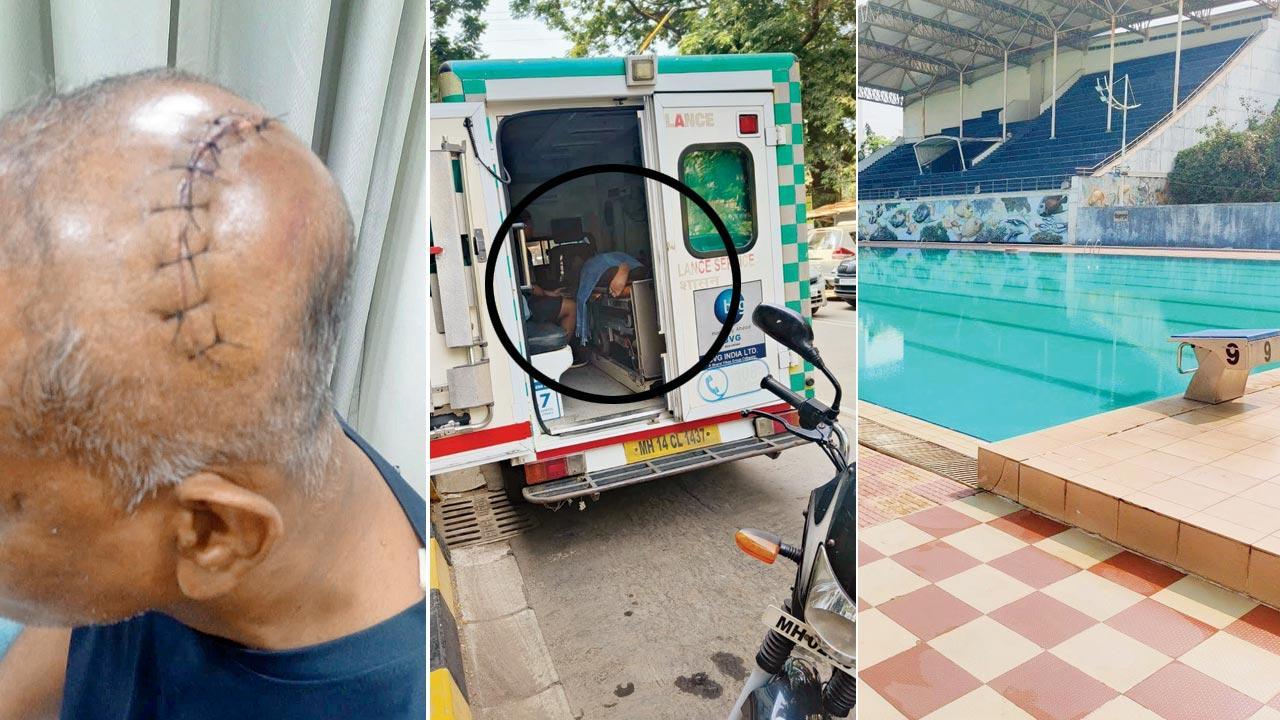 A M Shaikh received 26 stitches after an injury at the Chembur pool on February 26; The woman swimmer who was injured on Thursday at the Andheri pool awaits medical attention; and Dadar-based Mahatma Gandhi Memorial Olympic Swimming Pool has been giving members tooth trouble
By Anurag Kamble, Diwakar Sharma and Shirish Vaktania
The lamentable condition of civic-run swimming pools across the city has been jeopardising the health of members who have been thronging them for decades. This report, which concludes a series on safety measures—or lack thereof—at pools operated by the BMC, highlights the travails of swimmers who visit poorly maintained swimming facilities at Dadar, Andheri West, Dahisar East, Mulund and Chembur. Besides being plagued by infrastructure issues, the facilities frequently witness overcrowding and lack an adequate number of functional showers, causing members to queue up before plunging into the pool. 
ADVERTISEMENT
Jitendra Singh, 53, who has been visiting the Dadar-based Mahatma Gandhi Memorial Olympic Swimming Pool for over four decades, alleged, "After the facility was renovated, the BMC stopped testing the pool water. There is neither a plumber nor an electrician at this facility. A newly installed fan is also dysfunctional."
He added, "As the water quality isn't being checked, members are experiencing blackening and corrosion of teeth among other health issues, probably due to high chlorination."
Also Read: Mumbai: Throwing citizens in at the deep end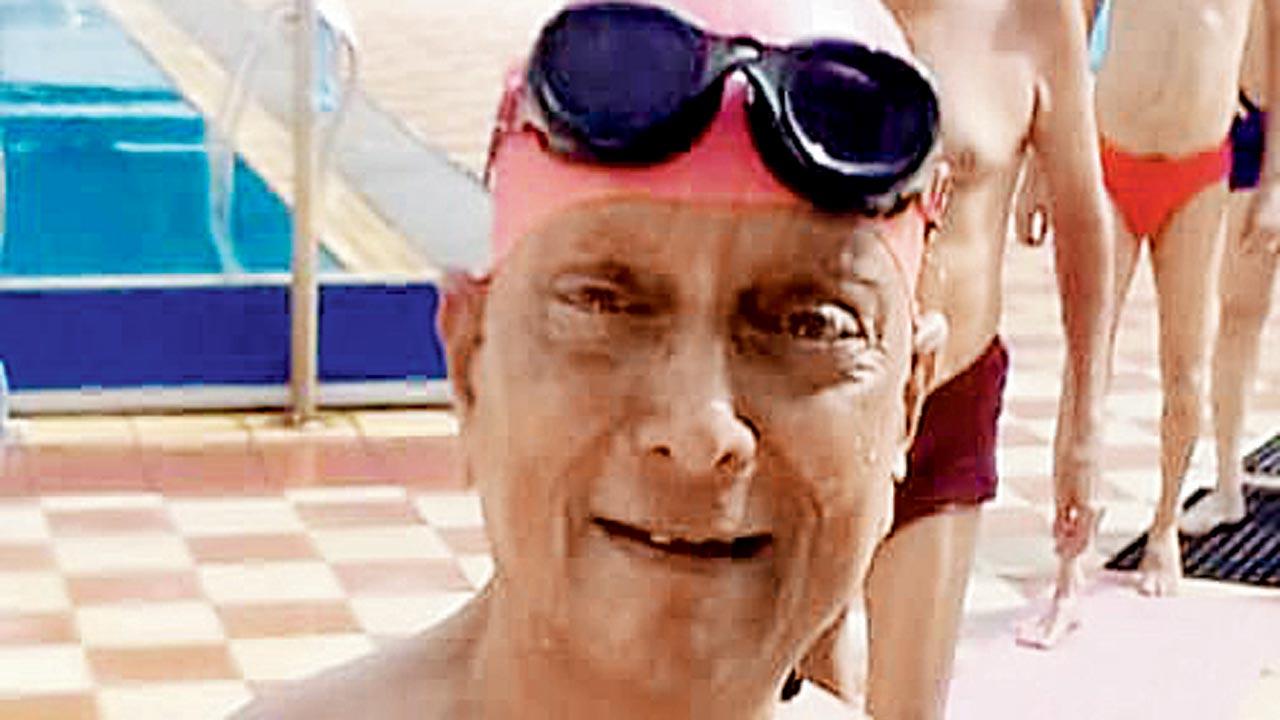 Vidyadhar Modak, 70-year-old swimming enthusiast
Singh stated that a professional swimmer is required to remain in the water for at least three to four hours a day. "But the water, which is not being tested as was the case prior to the renovation, is turning swimmers' white teeth brown," Singh added.
"The staining of teeth is very common among those who spend hours at the Dadar facility. This is alarming and civic body must look into the matter," he added.
Dental damage
Vidyadhar Shankar Modak, 70, who has been visiting the pool since 1963, alleged that its chlorine level is to blame for his dental woes. "I have severe experienced pain in the teeth. Initially, I did not understand the root cause of it, but my dentist and other members told me that the pool management might be using an inadequate amount of chlorine or other chemicals to keep the water clean," Modak said.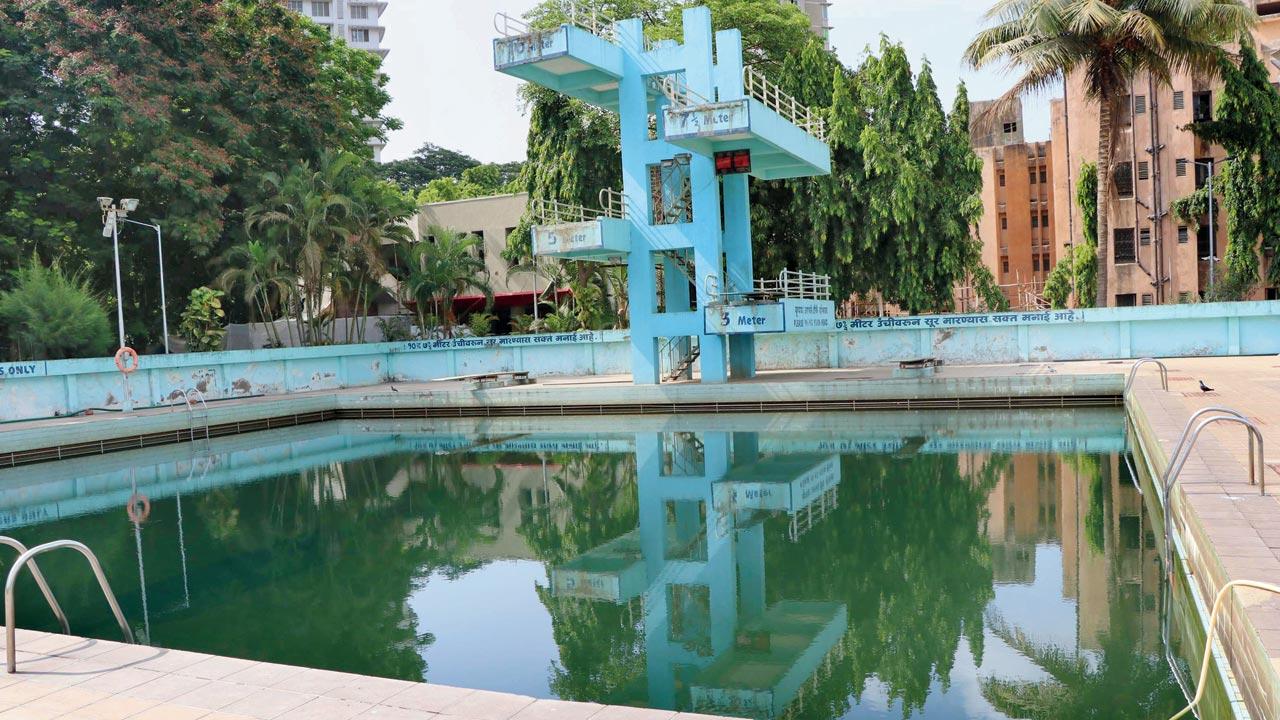 The Kalidas pool at Mulund West, which allegedly lacks a first aid kit, on Thursday. Pic/Rajesh Gupta
He added, "Though I had been complaining a lot to the management, they did not pay any attention. Later, many others started to complain of blackening and tooth sensitivity."
"I had been swimming at the facility since I was 10 and had never faced such issues. I have not swum there for the past six months as the water was deteriorating my gums and teeth. I don't have any toothaches now. I still visit the facility but only to do exercises and yoga and meet my old friends," Modak added.
The Andheri West
Other members stated that a 108 ambulance is stationed at the facility. "But if there is an emergency call, it is driven to the caller's location," said 
a member.
A source stated, "Should any emergency arise when the ambulance is away, the person will have to be carried on the shoulders of members or pool staff."
"A person has been given the contract for house-keeping, security and lifeguards. I had also filed an RTI regarding this but the civic officials did not respond to my queries," alleged Singh.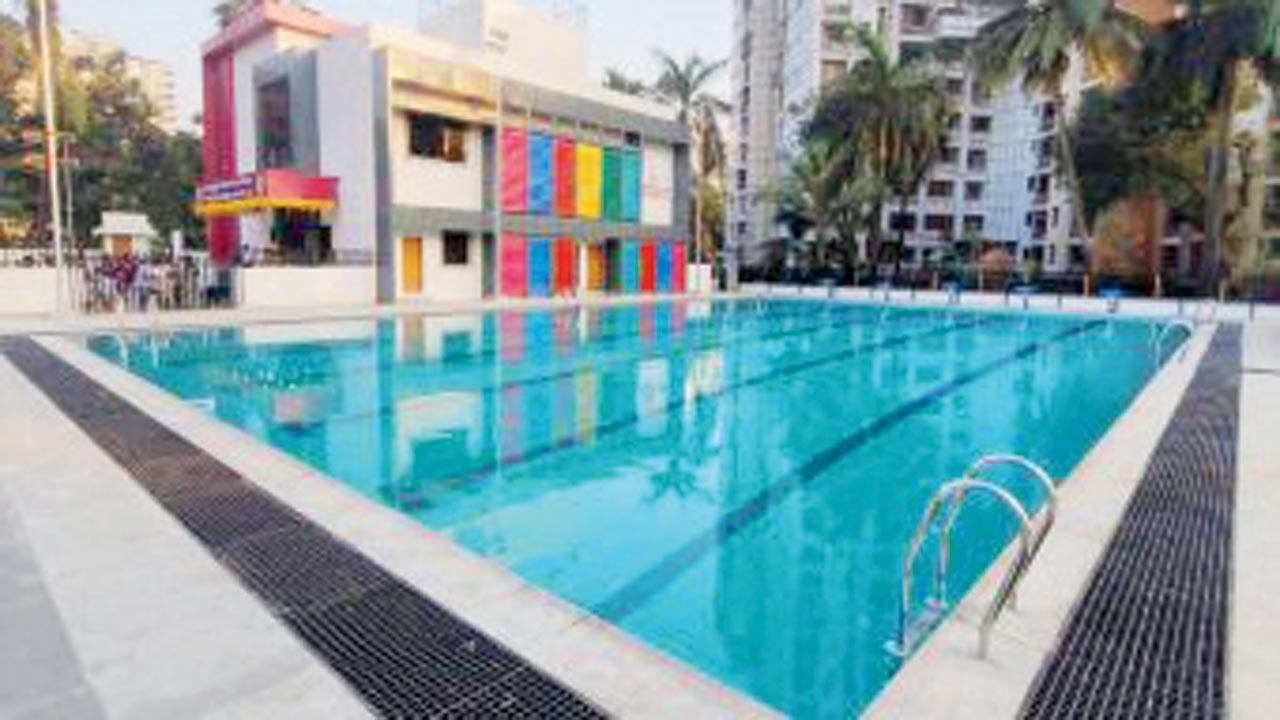 The Dahisar swimming facility, which has broken tiles
Other members told mid-day that there is an inadequate number of lifeguards at the facility. "At a time, there are only six to seven lifeguards. But the bills take into account the required number of lifeguards," said Singh.
Prashant Pradhan, 69, who has been going to the Dadar facility since 1969, injured his foot last Saturday at the pool. "In a span of nearly 10 months, I cut my foot at the same location twice while swimming. The facility has no first aid box. A staff member somehow stumbled upon a box but there was no cotton or medicine inside it," he alleged.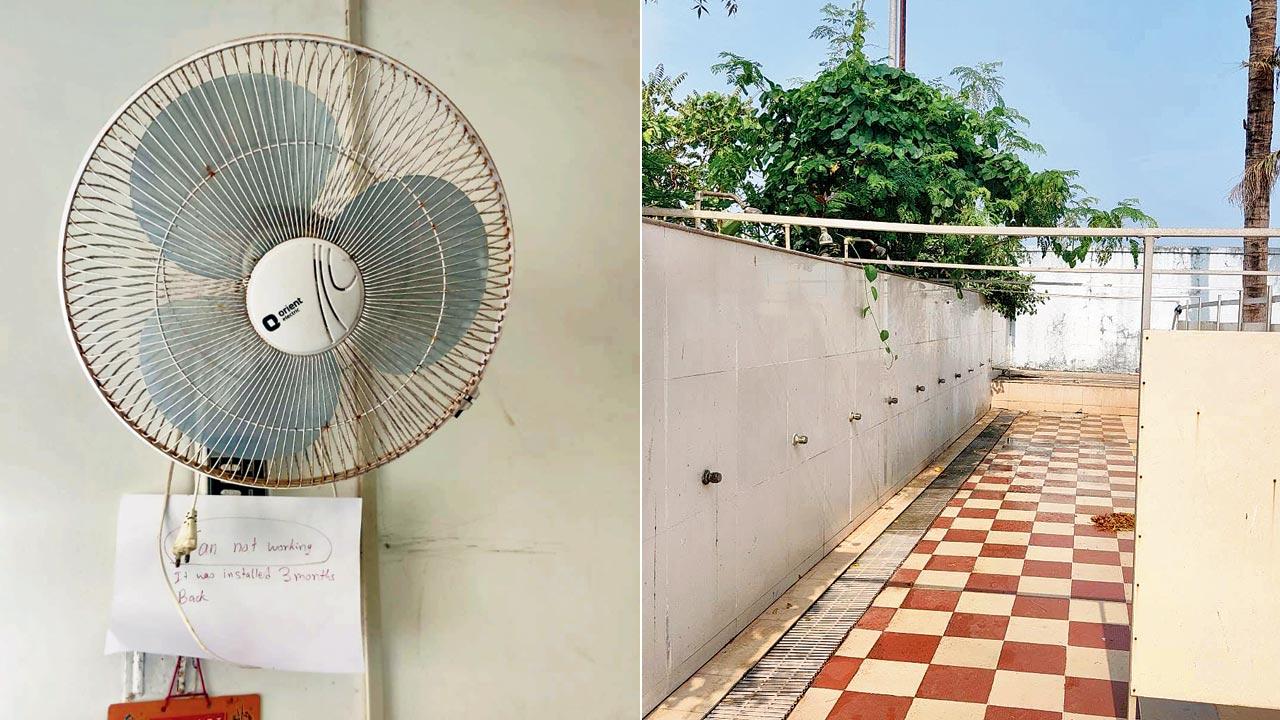 Dysfunctional fan and showers at the Dadar facility
"I am on a blood thinner and lost a lot of blood due to the delay. Meanwhile, the ambulance driver gave me a small piece of cotton but, again, there was no medicine," he added.
He stated, "I preferred to go to a nearby doctor. My foot was so badly injured that flesh had come out.  Now, I am on medication and healing at home."
Durven Naik, 17, a national-level swimmer and Santacruz resident who has made it to the Guinness Book of World Records, visits the Dadar pool every day. He said, "The arrangements are not up to the mark; there are no doctors on hand. The biggest issue is the chlorine level. It has taken a toll on my teeth. I have to spend more than Rs 3 lakh to treat the issue. I am sure many others are facing the same problem.
Accident in Andheri
The situation is no better at the Shahaji Raje Bhosale Kreeda Sankul pool at Andheri West. On Thursday, a swimmer experienced severe cramps after she allegedly took a plunge from a height at the facility.
The manager of the facility, Raju Vernodkar said, "A few days ago, we had displayed a notice requesting members, who are not eligible at present to dive into the pool from a height, not to climb atop the bridge. But the members started to create chaos and the incident occurred."
When mid-day visited the spot, the injured member was seen lying in an ambulance. A doctor arrived 30 minutes after the incident. "After inspection, she was rushed to RN Cooper hospital," Vernodkar said.
Asked why no one stopped the swimmer while she was climbing  the bridge, he said, "The members create chaos, stating that they are paying to use the facility."
Dahisar
The Andheri facility, however, is comparatively better than Shree Murbalidevi Swimming Pool at Dahisar East, which members said say lack 
ambulance services.
A source at the pool said that tiles need to be replaced at the facility. "Since it's peak season, the management has decided to replace them in June or July when there is comparatively less influx of members," he said. 
The facility's manager Sameer Patkar said, "We have received complaints from members about broken tiles. Earlier, the BMC installed baby pool tiles. Currently, it is not possible to change the tiles because the summer season has started. We will change it in June. The swimming pool is 25x15 feet in area. We have a first aid box, stretcher and six lifeguards. If we need an ambulance in an emergency, we dial 108."
Mulund
The Kalidas pool at Mulund West, which boasts more than 4,000 members, has been at the centre of controversy. Technically, there are two pools in the facility—a 25x25-m diving pool and a 25x50-meters pool—both of which need urgent attention, members stated. The tiles of the deck, they alleged, have not been cleaned while the filtration plant, which is about 37 years old, is causing a rise in the pH level of the water. Overcrowding is another issue. In 2019, the pool was shut for over a month for maintenance but members said it made no difference.
Vilas Singh Rajput, who has been visiting the facility for 20-plus years, said, "At a time, there are more than 100 swimmers in the pool, which can lead to accidents. Also, only six lifeguards are there. Most of them don't keep an eye on the pool. There is no ambulance, doctors or first aid kit. The water's chlorine content is always high, and its effects linger for a long time."
He added, "We have reached out to officials but they refuse to acknowledge the issue."
Vikram Samant, who enrolled last year, said, "The pool was very dirty.  The lifeguards were not watchful. There were other issues too that put me off. I stopped visiting the pool last month."
Chembur
The facility housing the General Arun Kumar Vaidya Olympic Swimming Pool at Chembur East also has a baby pool and diving area. The entire premises can accommodate 300 swimmers at a time. In March, a member collided with another in the diving area resulting in one sustaining near-fatal injuries. Earlier, a woman died of a heart attack while swimming.
Kailas Advade, a member, said, "There are broken tiles, which cause injuries. On Wednesday, a girl sustained an injury. There is a shortage of rubber mats, which forces us to walk very cautiously after coming out of the pool. The pool has a stretcher, a wheelchair and first aid kit."
He added, "There is an issue with the water. It causes eye irritation and blackening of the skin."
Akanksha Deshmukh, the pool manager, said, "We have increased vigilance and precaution after the unfortunate accidents. We have closed the 4th level of the diving area and have asked trainers to be extra vigilant as many amateurs are coming to the pool area. The pH level of the water gets checked every day but I will monitor the situation henceforth." 
BMC response
Deputy Municipal Commissioner Kishor Gandhi said, "It is true that members have raised teeth issue at the Shivaji Park (Dadar) facility. But they are only five per cent of the members and this issue was raised a couple of months back. We have to use an extra dose of chlorine after the pool is cleaned and its water is changed. We have suggested that the members use tooth caps."
He added, "It is not financially feasible to appoint doctors and nursing staff and station ambulances at each pool in Mumbai."
"The 108 ambulance service is provided by BMC but doctors are appointed by the state government. So, it won't be wise for us to comment on doctors. We are inspecting the pools to meet the demands for stretchers at the facilities," he stated.
Talking about the decaying tiles at Dahisar and other facilities, he said, "If the tiles need to be replaced, we will do so at the earliest 
after inspection."
Asked why legal action wasn't taken against the instructor or coach who gave the green signal to swimmer A M Shaikh, who received 26 stitches on his head after another member dived into him at the Chembur pool in February, Gandhi said, "I will conduct an internal enquiry."
Singh, the Dadar pool-goer, said, "The BMC is not a profit-making body. Its focus must be on the safety of Mumbaikars."
8
No. of pools run by BMC
1963
Year Modak first visited Dadar pool 
Advice from docs
Dr Uday Khopar, a dermatologist, said, "Chlorine is added to swimming pool water to avoid infections. Those with sensitive skin will definitely feel irritation if they stay in the water for a long time." He added that the pool water must be changed regularly and then chlorine should be added to avoid any untoward effects on the swimmer's body. "Persons with infections and injuries should not venture into swimming pools," he said.
Dr Dimple Padwe, dean, Government Dental College, said, "Chlorinated water has a pH that can cause dental erosion if a person swims for long periods. This erosion can cause sensitivity and staining of teeth. One has to avoid going to pools with high levels of chlorine and if possible carry pH strips before swimming."
"Exciting news! Mid-day is now on WhatsApp Channels

Subscribe today by clicking the link and stay updated with the latest news!"
Click here!