In view of the constant cutting of trees around the lake, Friends of the Environment urges the Wetland Committee to protect the waterbody by listing it under its wetland inventory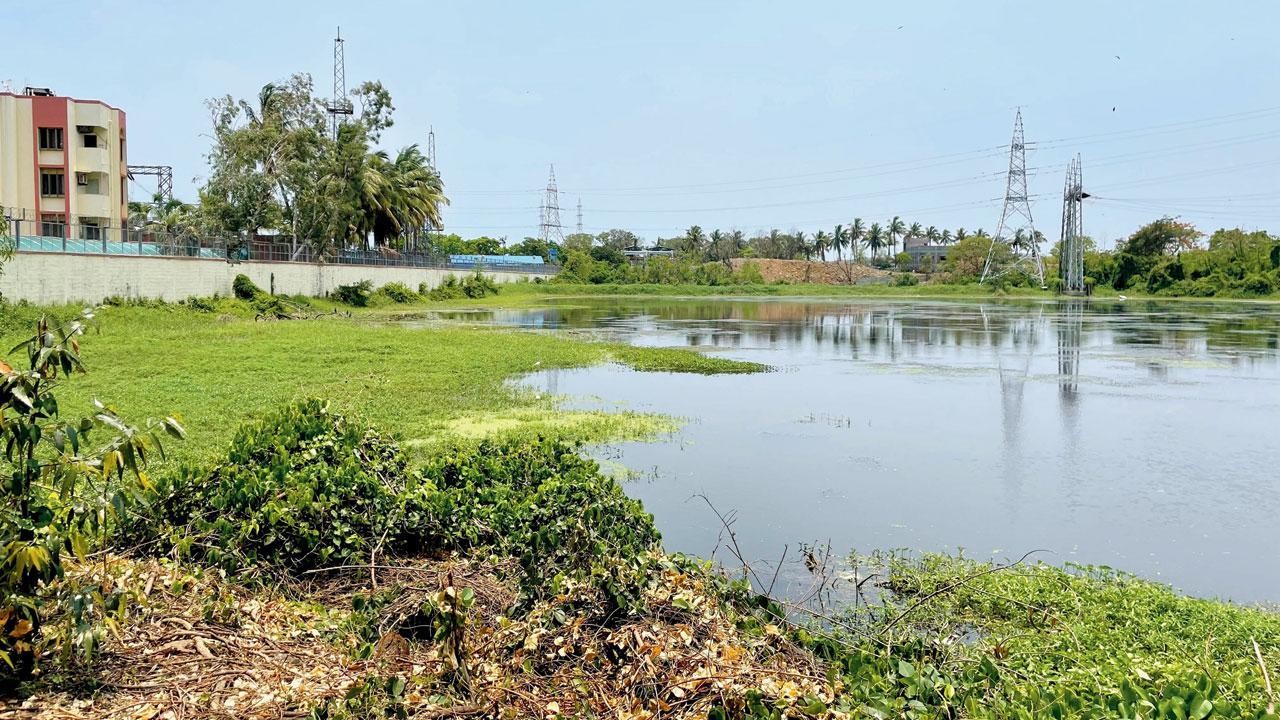 Lokhandwala lake
Repeated hacking of trees around the lake located at the Andheri-Lokhandwala backroad since Mayor Kishori Pednekar and members of a local environmental group —Friends of the Environment — visited the site on May 28, has once again become a threat to the waterbody's natural ecosystem. During the visit the group had discussed fencing of the exposed area as well as a clean-up drive. However, since then there have been two instances of trees being chopped at the lake.
Do it scientifically
On May 29, an NGO called ShivTej Foundation started "the process of cutting down and removing wild weeds and trees destroyed in the storm" at the lake. Sumesh Lekhi, founder, Friends of the Environment, wrote to the foundation pointing out that during the process they had — albeit unknowingly — damaged the lake's natural habitat.
"We are very sad to see the damage that you have done," he said. "The forest department's work of 10 years has been destroyed in one morning. We are very upset and disappointed." 
"The spot towards the left of the lake is a bird habitat, but in the name of cleanliness it has been destroyed. Hopefully it will recover. But next time, do not remove the aquatic plants that grow on the bottom of the lake, because this is what birds feed on. Your intentions maybe good, but it is important to do everything scientifically so that nature thrives," he added.
Also Read: Mumbai: Lokhandwala lake to be spruced up before monsoon
Following this, on June 1, the group wrote a letter to the members of the Wetland Committee, the Mumbai suburban collector and the Environment Department, urging them to grant Lokhandwala lake 'Wetland Status' by listing it under the wetland inventory. 
"The unique Lokhandwala Lake falls under the forest department's jurisdiction. Its addition to the wetland inventory will be another important step towards protecting it," read the letter. The group also outlined the various threats to the lake, which includes dumping of debris and pooja waste, fishing and poaching of aquatic birds and turtles, and more importantly, the "constant pressure of concretisation and beautification that include cutting down of vegetation."
Trees cut for plantation drive
Soon after, on June 3, more trees were cleared around the lake — this time by the Brihanmumbai Municipal Corporation (BMC) for a plantation drive. Around noon, the district collector, as well as a representative of the Mangrove Cell, along with civic officials and officers from the Versova police station, gathered at the lake for an inspection.
"The BMC has inadvertently cleared the shrubs and trees of the forest area of which the Lokhandwala lake is a part," said Vrusha Patel, a member of Friends of the Environment. "A complaint has been lodged with the Versova police regarding the same. The collector and other officials from the Mangrove Cell inspected the site since the mangroves and its allied species had been destroyed. A punchnama has been presented to the collector," she said.  She further added, "Unchecked human interference has led to the destruction of multiple trees and mangroves. The ecological balance of the lake is under threat because of unscientific clean-up and plantation drives. Over the past month, 113 species of birds have lost precious green cover as well as their source of food. Thus, it is important to include the lake in the wetland inventory."