These actresses believe in aligning the body with the mind and looking for calm in the bustling chaos of city life by practising yoga and meditation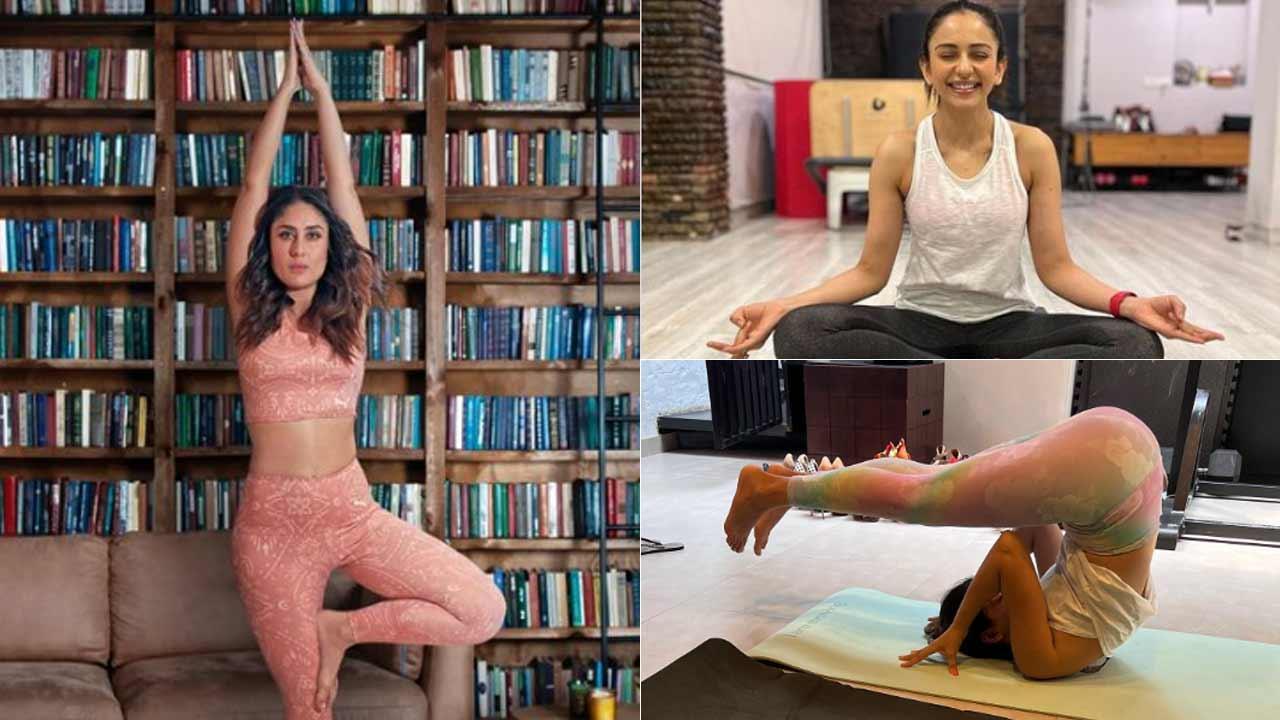 Kareena Kapoor Khan, Rakul Preet Singh, Mira Kapoor/picture courtesy: Official Instagram account
Known to soothe your mind and body, and feel all refreshed after a session with your friends or along, yoga has been accepted all across the globe for all the right reasons. As the world celebrates International Yoga Day on June 21, let's take a look at these top Bollywood actress who swears by yoga, to stay fit and healthy. And no matter what day it is, Kareena, Malaika, Shilpa, and a lot of other celebrities have kept up with the fitness streak.
Kareena Kapoor Khan
The actor who once had the reputation of doing 101 'Surya namaskars' every day continues to preach about yoga and its benefits. Kareen often posts pictures on her Instagram doing various yoga asanas, encouraging her followers to take up a healthy life.
Also Read: Mumbai: Yoga teacher held for sodomising 12-year-old student
Malaika Arora
Malaika often shares videos and pictures of her doing yoga on her social media to motivate fans to roll out their yoga mat. Malaika often impresses fans with her toned physique and fitness regimes and the actor gives full credit to Yoga for it! She is very passionate about preaching its benefits and her social media account is proof.
Sara Ali Khan
Like many other Bollywood celebrities, Sara also loves practising yoga. Sara has confessed time and again how used to weigh 96 kilos once, and suffered from PCOS. But ever since she started a healthy regime, Sara is often seen speaking about the benefits of yoga at a lot of places and continues to practice it regularly.
Rakul Preet Singh
The actress has confessed how she is obsessed with one special item which she always carries in her bag, that is, a weighing scale. Rakul Preet Singh, who is a proud owner of fitness gyms, loves food, as much as she loved yoga, but she has always put her fitness ahead of her food habits.
Also Read: BMC plans free yoga centres for Mumbaikars
Shilpa Shetty Kundra
A yoga aficionado, Shilpa Shetty Kundra keeps sharing her routine through videos on Instagram. Shilpa has also developed a holistic health application that offers healthy living without compromising on your food cravings.
Dia Mirza
Apart from being an advocate for sustainable living, Dia Mirza practices yoga regularly to maintain holistic wellness. Dia believes in aligning the body with the mind and looking for calm in the bustling chaos of city life by practising yoga and meditation.
Mira Kapoor
Known for giving one of the best tips on living healthy and adopting Ayurveda in daily life, Mira Kapoor swears by yoga to maintain fitness. She has, in the past, conducted virtual yoga workshops and continues to share tips and tricks to live a healthy life.
Also Read: Neha Dhupia attempts to strike 'fine balance' doing yoga with kids