You're in luck since we asked some of the best chefs from Accor Group hotels in India to share some of their favourite Christmas recipes. Let the mood of the season permeate your dinner table by attempting one or all of these dishes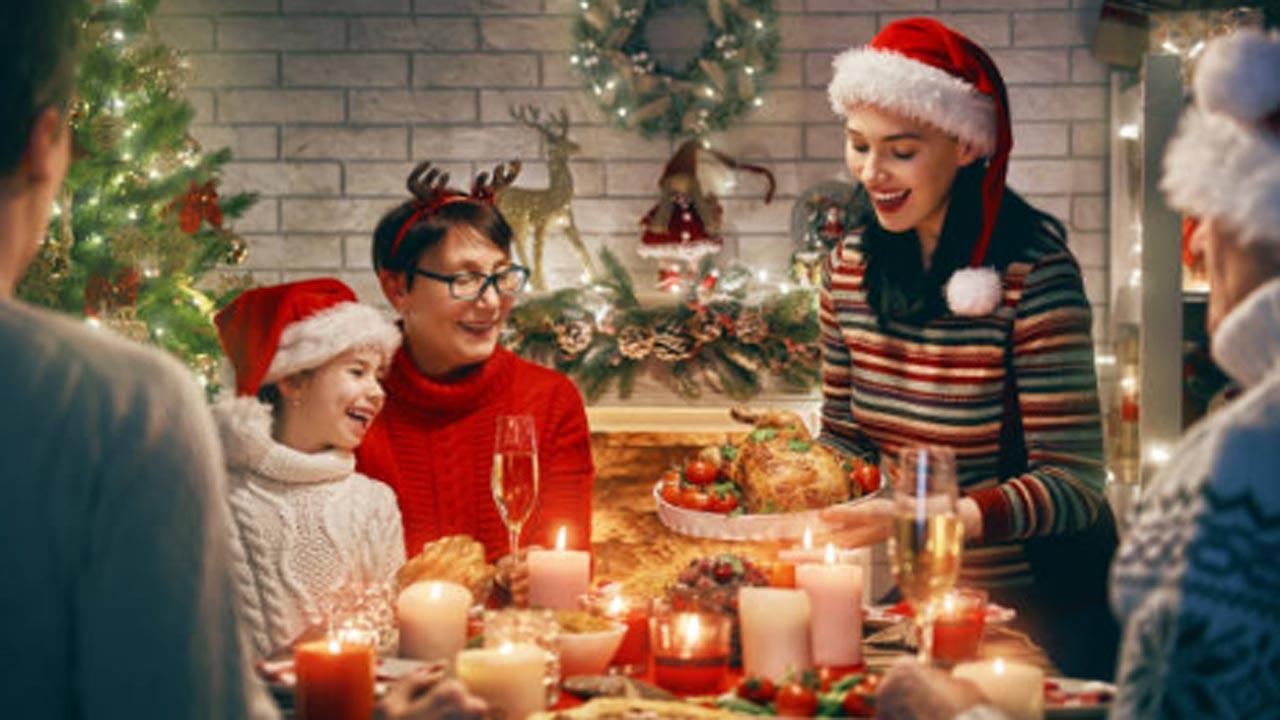 Image for representational purpose only. Photo courtesy: istock
Christmas brings with it a broad list of both traditional and contemporary cuisine. You're in luck since we asked some of the best chefs from Accor Group hotels in India to share some of their favourite Christmas recipes. Let the mood of the season permeate your dinner table by attempting one or all of these dishes.
Bread and Plum Pudding (by chef Sidney Dcunha, Novotel Pune, Nagar road)
ADVERTISEMENT
Ingredients:
Fresh White Breadcrumbs 125 gms
Butter 25 gms
Eggs 2 nos.
Flour 125 gms 
Brown Sugar 75 gms
Baking Powder 7 gms
Ground Cinnamon 2gms
Ground Nutmeg 2gms
Ground Cloves 2gms
Ground Ginger 2gms
Soaked nuts 100 gms
Lemon Zest and Lemon Juice from 1 lemon
Orange Juice from 1 orange
Dark Rum 35ml  
Method:
1 Cloves, Ginger, Nutmeg, Cinnamon, candied mixed fruit peels, and soaked nuts lemon zest, lemon juice, orange juice and Dark rum in a large bowl and mix well.
2 Beat butter and sugar in another bowl using electric hand blender. Add eggs and beat until smooth. Add flour and baking powder and mix thoroughly.
3 Add breadcrumbs and egg-flour mixture (prepared in step-2) in fruit mixture and stir to mix thoroughly.
4 Grease the pudding, pour prepared mixture in it and cover with double layer of greaseproof paper. Again, cover with a double layer of aluminum cooking foil and tightly tie string around its neck.
5 Place in the oven on double boiler with tray, for 160 degrees C for 25 min.
6 Let it cool for 4 to 5 hours in the refrigerator.
Roast Duck with Orange Glaze (By Chef Neelabh, Novotel Kolkata Hotels Residencies)
Ingredients:
One duck (approx 6 pounds)
Caraway seeds 1 teaspoon
Green pepper 1/2 medium sized, finely chopped
Onion 1 small, finely chopped
Celery rib 1 finely chopped
Olive oil 1 tablespoon
Chicken broth 1/2 cup
Sage 1/2 Tsp
Salt 1/2 teaspoon
Pepper 1/8 teaspoon
Dried thyme 1 pinch
Nutmeg 1 pinch ground
Crushed seasoned stuffing 4 cups
For Orange Glaze:
1/2 cup packed brown sugar
2 tablespoons plus 1-1/2 teaspoons sugar
2 tablespoons cornstarch
Pinch salt
1 cup orange juice
1 tablespoon grated orange zest
1 drop hot pepper sauce
Method of Preparation:
1 Preheat oven to 350 degrees C
2 Rub the inside of duck with caraway seeds; prick skin all over with a fork.
3 In a large skillet, saute vegetables in oil. Stir in broth, seasonings and stuffing.
4 Loosely stuff duck with stuffing mixture.
5 Skewer neck opening; tie drumsticks together with kitchen string.
6 Place breast side up on a rack in a large shallow roasting pan.
7 Bake, uncovered, until golden brown and a thermometer reads 170 degrees C for the duck and 165 degrees for the stuffing, 2-1/2 to 3-1/4 hours.
8 Drain fat from pan as it accumulates.
9 Cover loosely with foil if duck browns too quickly. Cover and let stand 20 minutes before removing stuffing and carving.
10 Meanwhile, for the glaze, combine sugars, corn starch and salt in a saucepan. Gradually stir in orange juice, zest and hot pepper sauce until blended.
11 Bring to a boil; cook and stir 2 minutes or until thickened.
12 Serve carved duck with prepared orange glaze.
Citrus-Marinated Roast Turkey (By Chef Sandeep Kalra, Director of Culinary, Pullman New Delhi Aerocity)
Ingredients for Brined Turkey:
1 gallon water
2 cups apple cider
2 cups kosher salt
2 cups sugar
One 15-pound fresh turkey (giblets and neck reserved)
Ingredients for Marinade:
10 roasted garlic cloves (see Note)
10 raw garlic cloves
1 3/4 cups canola oil
3/4 cup fresh orange juice
1/4 cup cider vinegar
1/4 cup kosher salt
3 tablespoons fresh lime juice
3 tablespoons dried oregano
3 chipotles in adobo
2 tablespoons annatto paste (see Note)
1 tablespoon ground cumin
1 teaspoon ground allspice
Ingredients for Gravy
9 cups chicken or turkey stock or low-sodium chicken broth
3 tablespoons canola oil
Reserved turkey giblets and neck (liver discarded)
3 shallots, coarsely chopped
2 carrots, coarsely chopped
2 celery ribs, coarsely chopped
1 onion, coarsely chopped
10 roasted garlic cloves (see Note)
8 black peppercorns
2 tablespoons unsalted butter
2 tablespoons all-purpose flour
Salt and freshly ground pepper
Method:
1 In a very large bowl, stir the water, apple cider, kosher salt and sugar until the salt and sugar are dissolved. Line a stock pot with a large, sturdy doubled plastic bag. Put the turkey in the bag, neck first.
2 Pour in the brine and seal the bag, pressing out as much air as possible. Brine the turkey in the refrigerator for 24 hours.
3 Remove the turkey from the brine and discard the brine. Pat the turkey dry and transfer to a large, rimmed baking sheet. In a blender, combine the roasted garlic with the 10 raw garlic cloves, the vegetable oil, orange juice, cider vinegar, kosher salt, lime juice, oregano, chipotles, annatto paste, cumin and allspice. Puree until smooth. Slather the turkey inside and out with the marinade, cover and refrigerate for 24 hours.
4 Preheat the oven to 325 degrees.
5 Lift the turkey out of the marinade and set on a rack in a roasting pan. Brush the breast with some of the marinade. Pour 1 1/2 cups of the stock into the bottom of the pan and cover the turkey very loosely with foil. Roast the turkey for 2 hours. Remove the foil and add another 1 1/2 cups of the stock to the pan. Continue roasting for about 2 1/2 hours longer, until an instant-read thermometer inserted in the thickest part of the thigh registers 175 degrees.
6 In a large saucepan, heat the canola oil. Add the giblets and neck and cook over moderate heat until browned.
7 Transfer to a plate. Add the shallots, carrots, celery and onion to the pan and cook, stirring occasionally, until softened, about 5 minutes. Return the turkey parts to the saucepan. Stir in the roasted garlic brine and seal the bag, pressing out as much air as possible. Brine the turkey in the refrigerator for 24 hours.
8 Transfer the turkey to a cutting board and remove the rack from the pan. Pour the pan juices into a bowl and skim off the fat, reserving 2 tablespoons. Transfer the reserved fat to a saucepan. Add the butter and flour and cook over high heat, whisking constantly, until golden brown, 2 minutes. Add the enriched stock and bring to a boil. Simmer over moderate heat until the gravy is reduced to 3 cups, about 10 minutes.
9 Place the roasting pan over one burner on high heat. Add the strained, defatted pan drippings (there should be 1 cup) and scrape up any bits stuck to the bottom of the pan. Strain the pan drippings into the gravy and season with salt and pepper; keep warm.
10 Carve the turkey and transfer the slices to a platter. Serve with gravy.
Rich Christmas Pudding (By Chef Sandeep Kalra, Director of Culinary, Pullman New Delhi Aerocity)
Ingredients:
225g/8oz golden caster sugar
225g/8oz vegetarian suet
340g/12oz sultanas
340g/12oz raisins
225g/8oz currants
110g/4oz candied peel, chopped
110g/4oz plain flour
110g/4oz fresh white breadcrumbs
55g/2oz flaked almonds
1 lemon, zest only
5 eggs, beaten
1 level tsp ground cinnamon
1 level tsp mixed spice
5g/1 level tsp freshly grated nutmeg pinch of salt
150ml/5fl oz. brandy or rum
Method of Preparation:
1 Lightly grease 4x600ml/1 pint or 2x1.2 liter/2 pint pudding basins.
2 Mix together all the dry ingredients.
3 Stir in the eggs and brandy and mix well.
4 Spoon the mix into basins. Put a circle of baking parchment and foil over the top of each basin and tie securely with string. Make a string handle from one side of the basin to the other so it is easier to pick the basin out of the pan after cooking.
5 Put the basins in a large steamer of boiling water and cover with a lid. Boil for 5-6 hours, topping the boiling water up from time to time, If necessary. If you do not have a steamer, put the basins in a large pan on inverted saucers on the base. Pour in boiling water to come a third of the way up the sides of the pudding bowls. Cover and steam as before.
6 Cool. Change the baking parchment and foil covers for fresh ones and tie up as before. Store in a cool cupboard until Christmas Day.
7 To serve, steam for 2 hours and serve with brandy butter, rum sauce, cream or homemade custard.
Turkey Roulade with Sage and Onion Stuffing (By Chef Sandeep Kalra, Director of Culinary, Pullman New Delhi Aerocity)
Ingredients:
Turkey breast 200 gm
Sage 1 tsp
Saute chopped onion 60 gm
Chopped chicken sausage 2
Fresh breadcrumbs 30gm
Butter 20gm
For sauce:
Chicken or turkey stock 150ml
Butter 20gm
Refined flour 20gm
Dry white wine 150 ml
Roughly chopped onion, garlic, carrot, celery 150gm
Accompaniment:
Broccoli 40 gm
Carrots 40gm
Zucchini 40gm
Potato wedges 90 gm
Cherry tomato 40 gm
Seasoning to taste
Method:
1 Take turkey breast and flatten with mallet or rolling pin, seasoned with salt and pepper.
2 In a bowl mix fresh breadcrumbs, sage, sausage, onion and seasoning.
3 Place flattened turkey on cling film or aluminum foil, stuffed with sage mix roll tightly with covering all sides by scallops. Place roll in fridge for 40 to 60 minutes to hold its shape.
4 For healthy cooking it can be steamed in steamer for 17 to 20 min.
5 For baking, preheat oven at 180 degrees C, roast roulade on a bed of roughly cut vegetable for 17 to 20 minutes.
6 For sauce: In a pan heat fat add cut vegetable toss with seasoning glazed with maple syrup. In another pan add fat and refined flour mix well for a while add white wine cook for 2 minutes then add stock and juice from the cooking tray cook for 6 to 7 minutes sauce is ready.
7 Serve succulent turkey roulade with fried potato wedges and maple glazed toss vegetable.
Read More: Christmas 2022: Your guide to the best festive menus in Mumbai
This story has been sourced from a third party syndicated feed, agencies. Mid-day accepts no responsibility or liability for its dependability, trustworthiness, reliability and data of the text. Mid-day management/mid-day.com reserves the sole right to alter, delete or remove (without notice) the content in its absolute discretion for any reason whatsoever