A confectionery kitchen is offering a quintet of freshly baked, hand-crafted Mediterranean-style baklava varieties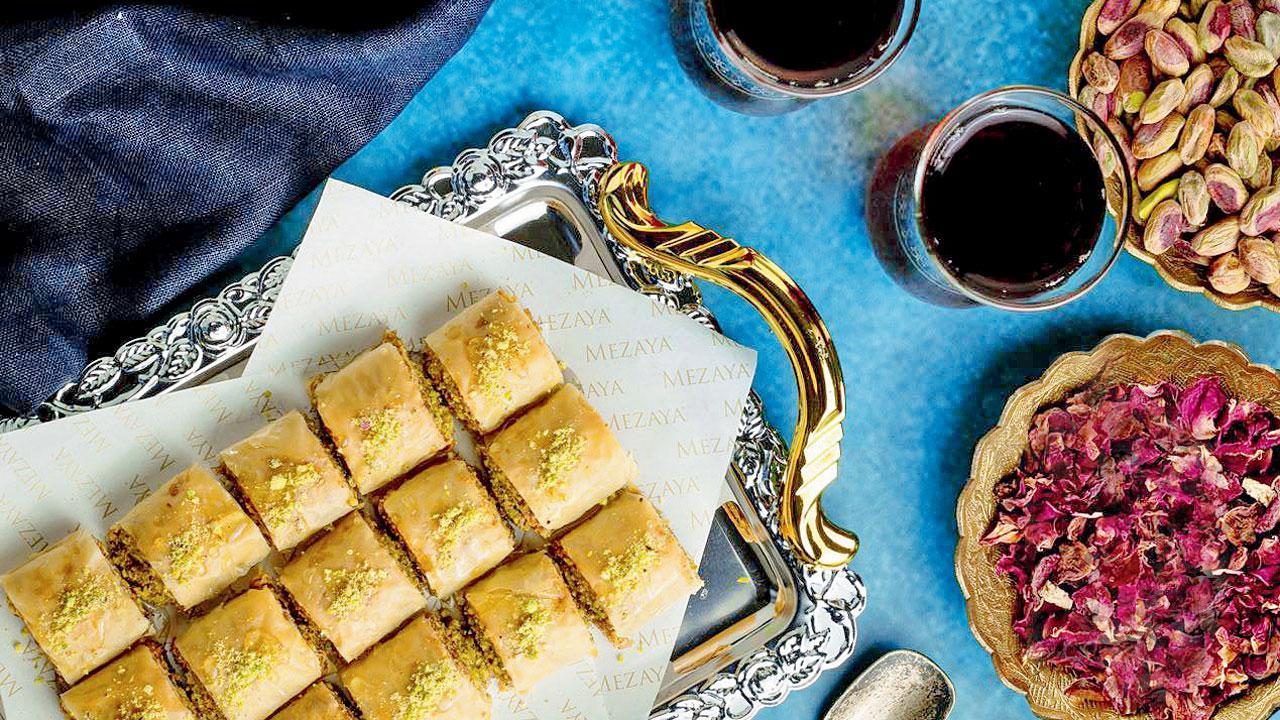 Mezaya does a Mediterranean version of the baklava, which is less sweet than the Middle Eastern one
Operating out of five delivery outlets in Andheri, Bandra, Prabhadevi, Mahalaxmi and Kalyan, Mezaya calls itself a Mediterranean-style baklava purveyor. For those of us who may not know it, this style of baklava is a lot less sweet than, and not as rich as its Middle Eastern counterpart.
Offering just five varieties of baklava — that incidentally, all have the letters 'MEZ' at the beginning of their names — Mezaya prefers to keep its menu succinct. We first try a box of the delicious Mezwa (6/12 pieces for '550/1,100) that are square-shaped sheets of phyllo pastry holding forth chopped walnuts, and drizzled with a blonde caramel syrup.
Our Assorted box (6/12 pieces for '500/1,000) contains four pieces each of the lightly perfumed pistachio and rose Mezrooma and Mezca that has a chopped cashew-almond filling and classic syrup. The box is finished off with a serving of Mezbaat with its pistachio-almond filling, drizzled with orange bloom syrup.
However, we've got to hand it to the divine Meza (6/12 pieces for '500/1,000) for being unequivocally the best of the lot. Here, chopped hazelnuts, chocolate ganache and caramel syrup are piped into rosettes and filled into tiny, delicate phyllo cups that melt in the mouth.
Time: 9 am to 8 pm
Call: 9152105433
Log on to: mezaya.in and @mezaya.confectionery on Instagram
Rating: 3/4
Platter to not deceive
A Lebanese and Middle Eastern food delivery service gets it right with mezze party platters, though its baklavas fare worse than its competitor
With fresh vegetables, unprocessed high protein pulses and legumes like the beloved chickpea forming the core of Middle Eastern cuisine, it is no surprise that the Mediterranean diet is known as the secret to a healthy life. Keeping this in mind is the recently launched, all-vegetarian, Andheri East-based Yemmek. It's a Middle Eastern food delivery service that specialises in a variety of baklava and all-inclusive mezze platters.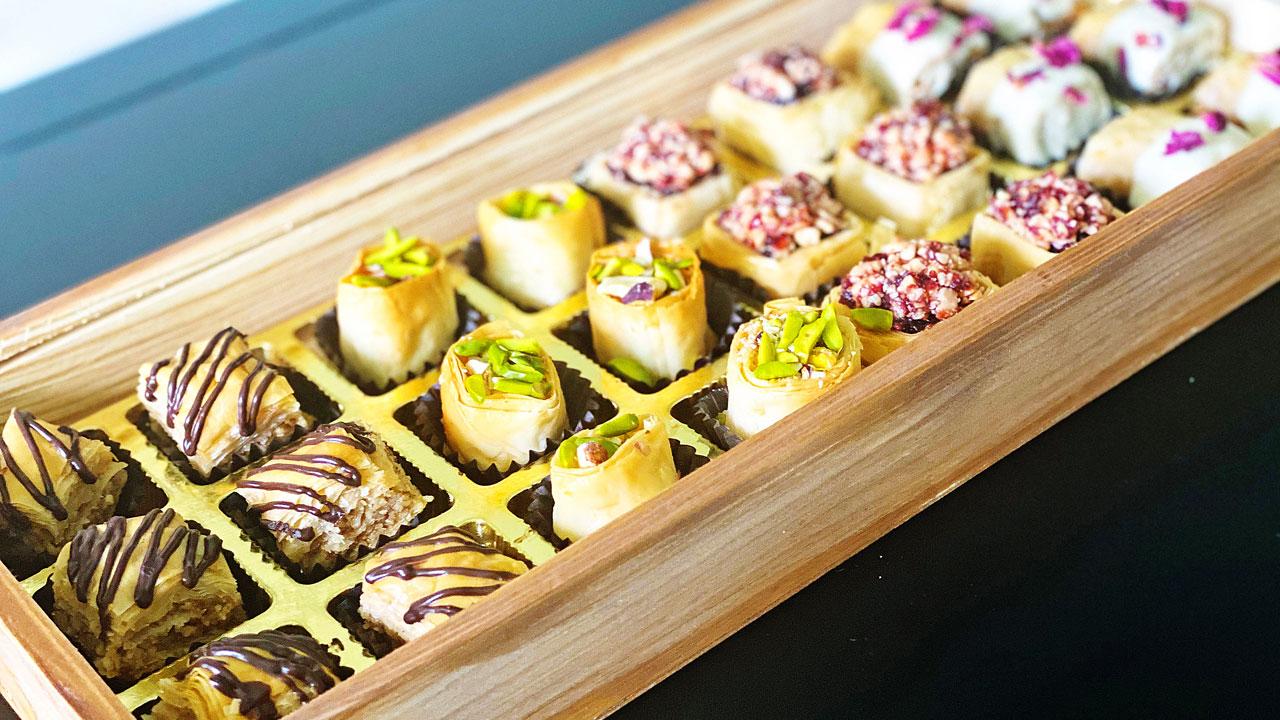 An assortment of baklavas
Our signature baklava box (12/24 pieces for Rs 1,100/1,950) is an ornate one that entails an assortment of fresh-tasting baklava, all made with crunchy phyllo, flavoured with orange blossom syrup and brushed with French butter for a golden, crunchy finish. These come in four traditional flavours (pistachio diamonds, almond solitaires, cashew white chocolate gems and walnut studs) and a variety of signature creations (cranberry, chocolate, and nutty delights).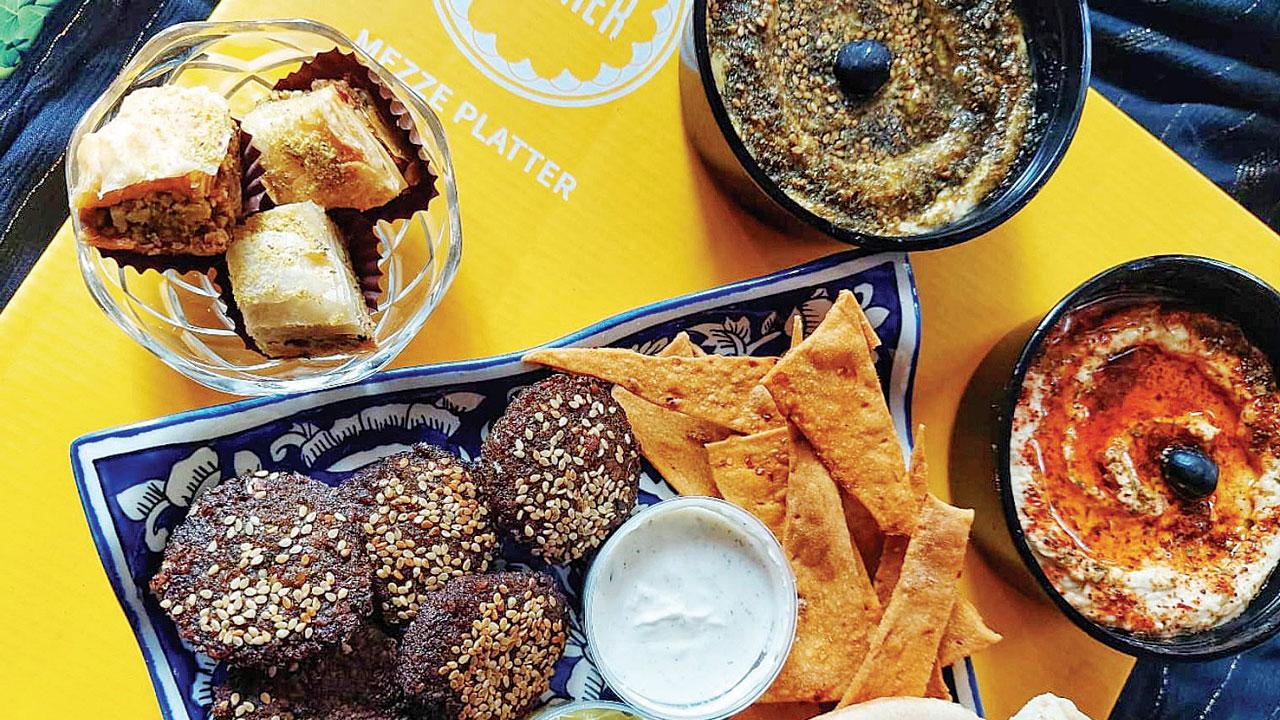 A mezze party platter
Enough to feed three to five people as a snack and two to three as a main meal, our mezze party platter (Rs 2,260) comes in well-sealed bright yellow square boxes. Here, one can pick any two hummus tubs and so we go for the classic one and a smoky-n-spicy peri peri hummus that are both perfectly made. One also gets to pick a salad (we plumb for a fattoush salad), four fluffy falafels and four cheese and spinach-stuffed baked fatayer triangles that are criminally more-ish.
The rest of our platter is made up of four large, pillow-y soft whole-wheat pita breads, two za'atar and cheese pitas, and a portion of sesame lavash. The box also comes with Arabic pickles (called torshi), black and green olives and an assortment of dips like tzatziki and a spicy walnut-based muhamarra that hits the spot the hardest.
Time: 9 am to 6 pm
Call: 9321518522
Log on to: @yemmekindia on Instagram
Rating: 2/4