From ice-cream to baklava, the traditional combination of sesame and jaggery is being re-interpreted in new ways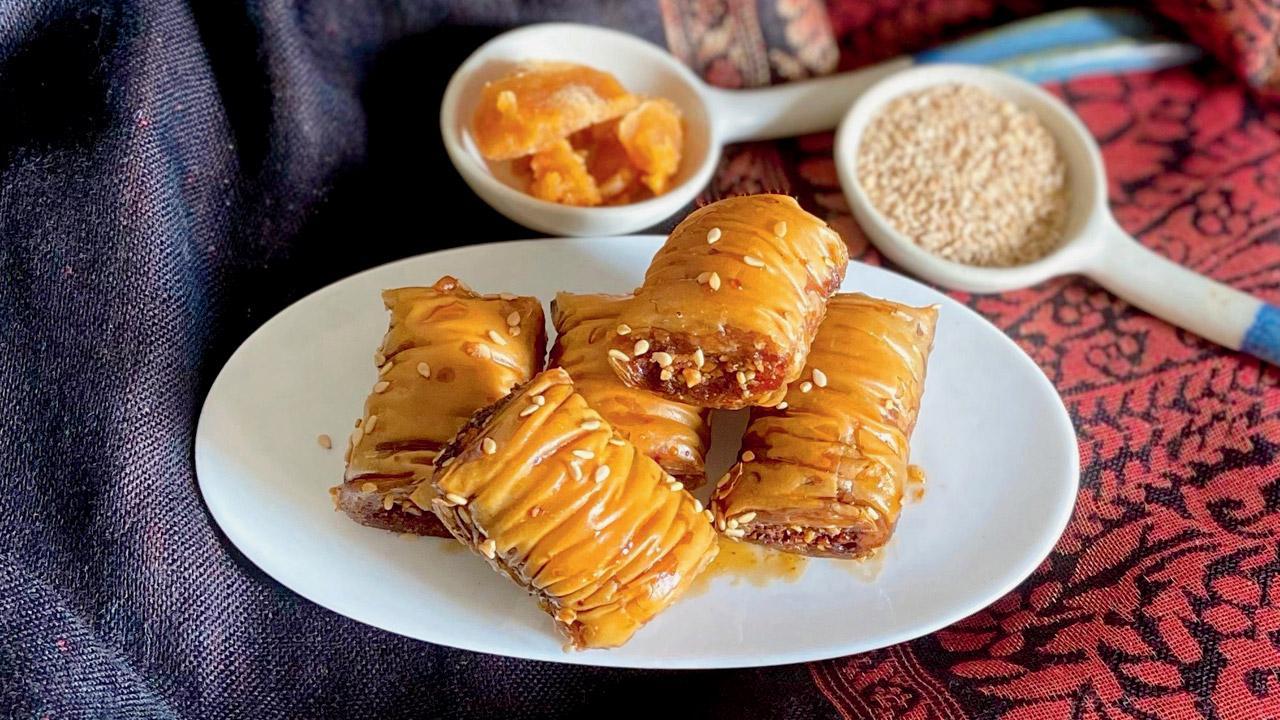 Desi baklava
Desi baklava
The slight nip in the air every winter is a reminder to soak in the sun and for "tilgul ghya, goad goad bola". The sweet, nutty aroma of roasted sesame seeds wafts in the air, as tilgul ladoos and tilachi vadis are doled out with love in kitchens across Maharashtra. Last year, while whipping up tilachi vadis — a sablé-like confection of jaggery, sesame and peanuts — ahead of Makar Sankranti, Navi Mumbai-based home baker Medha Inamdar had set aside some of the basic mixture. "I always have a huge stock of phyllo dough as I bake. So, I thought, 'Why not use the tilachi vadi mix in the phyllo and see if it works?' I made 20-odd pieces, and sent them out to a close friend, who posted a picture of the baklava online and I was flooded with calls," recalls the founder of PieceO'Cake about how she made tilgul baklava on a whim.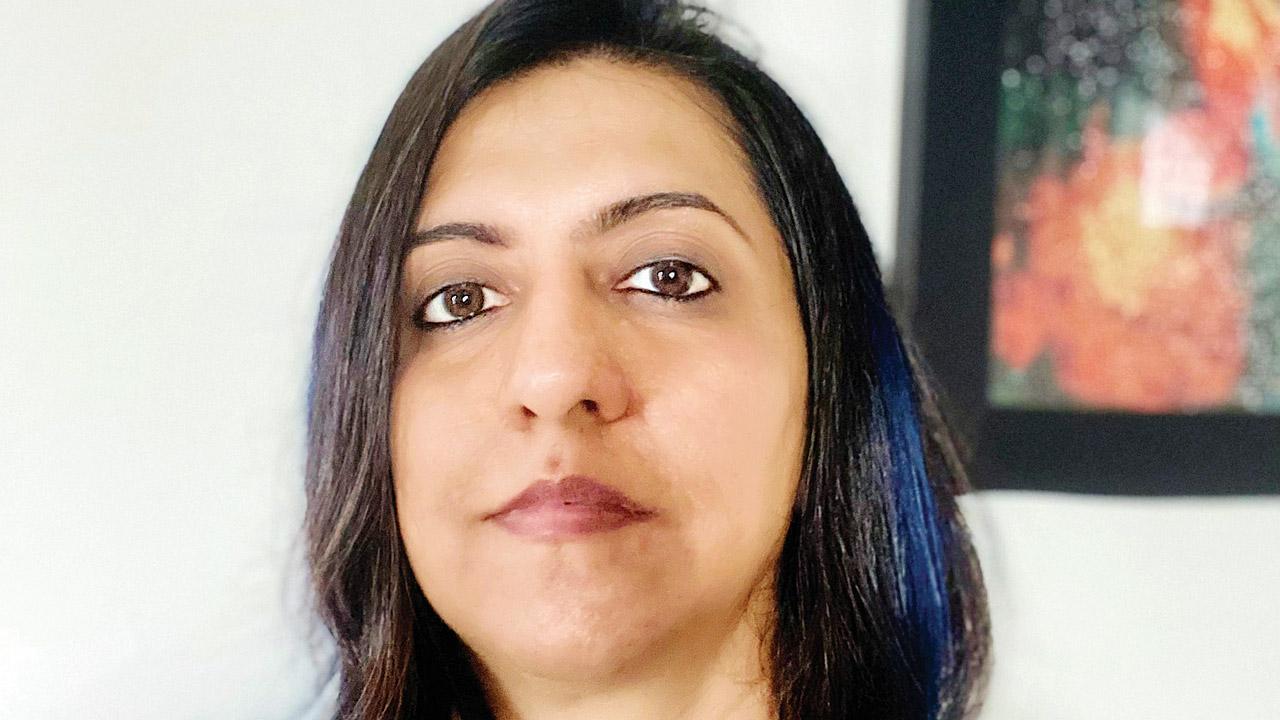 Medha Inamdar
The baklava — a mix of the familiar and new — comprise organic jaggery, peanuts, sesame seeds, cardamom and cow ghee. "What makes the combination a cracker is that it's a very Indian tradition in the winters, and also helps you recuperate. Indians have grown a taste for baklava in the recent past, and the tigul baklava is the best of both worlds." Her pro tip: blend the leftovers of tilgul baklava; add milk and you have a healthy brekkie.
Log on to: @mipieceocake on Instagram 
Call: 9833710760 to place orders in advance (available till mid-February)
Cost: Rs 2,500/kg (approx 40 to 42 pieces); Rs 1,250 for 500 gm; Rs 625 for 250 gm (plus delivery)
What's in the dabbi?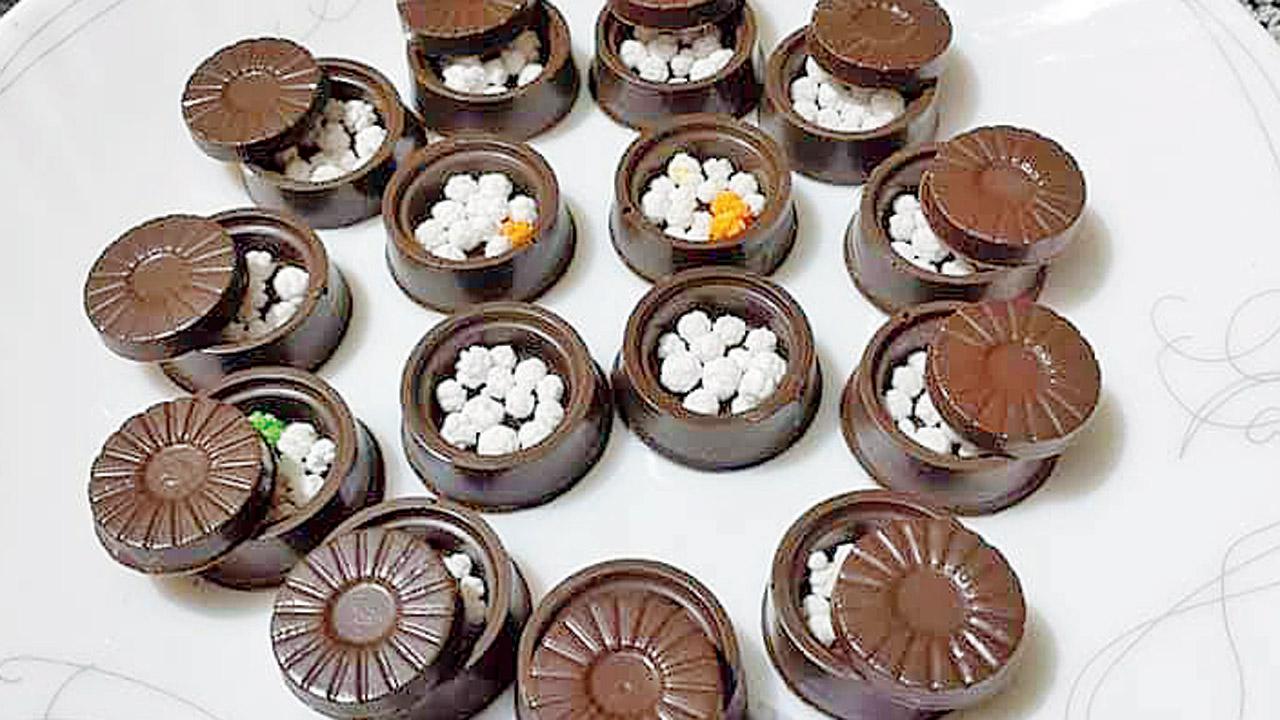 Sometimes, it can be difficult to get kids to eat tilgul. Pune-based chocolatier Darshana Ranpura found a sweet fix when she came up with bite-sized tilgul chocolate dabbis that are packed with tilguls. Ranpura, who likes playing around with chocolates and Indian mithai flavours, shares, "A lot of children don't like tilgul, so I fused it with chocolate. It makes for a different gift. You can eat the whole thing — the dabbi and the tilgul." Ranpura assures us that the dabbis travel well, and she sends them out to Mumbai and Kolkata, among other cities.
Log on to: @chocotwisters on Facebook
Call: 9850640316 
Cost: Rs 12 per dabbi including tilgul (courier charges extra)
Winter scoop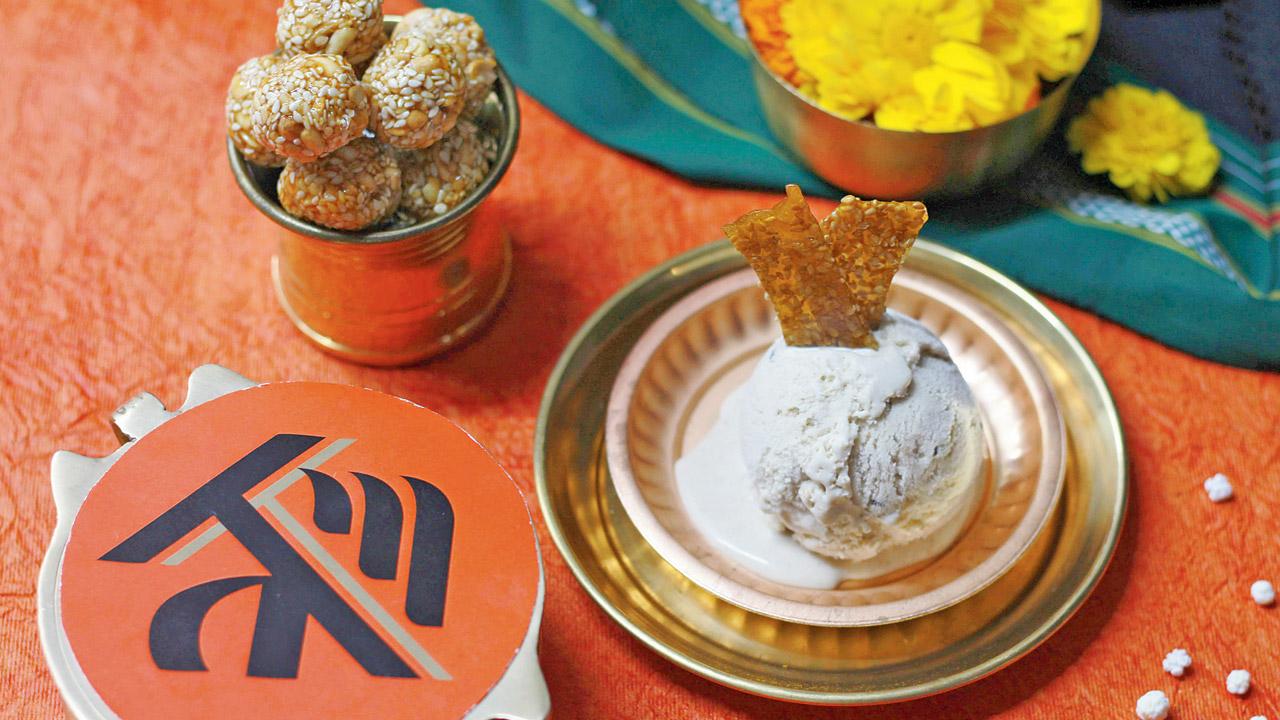 If there's an Indian mithai in season, the folks at Trayog will find a way to capture the flavour in their ice-creams. Their tilgul ice-cream — a nutty blend of roasted sesame and jaggery — is perfect for those who would like a cold dessert to match the wintry atmosphere.   
Log on to: Swiggy
Call: 9324590822
Cost: Rs 399 for 500 ml tub; Rs 149 for 150 ml cup
Bark away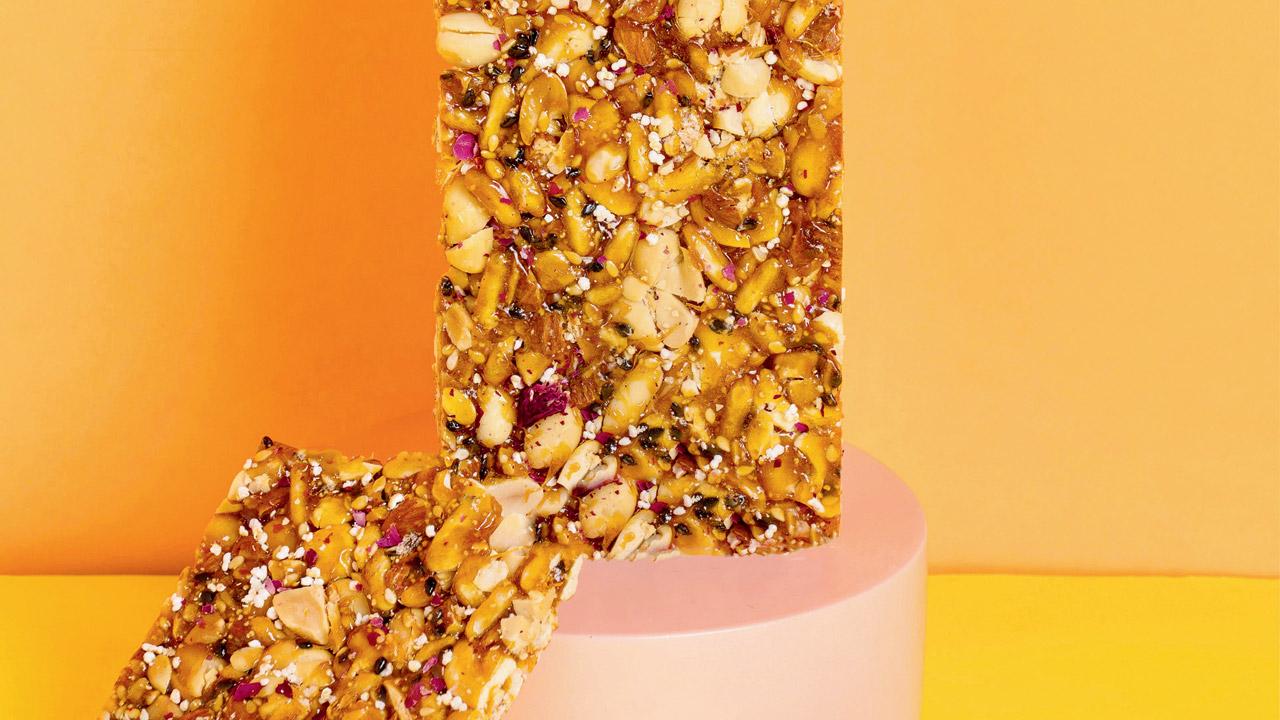 Consuming tilgul or tilgur, be it in the form of ladoos, vadis, gajaks or chikkis, during the harvest season is a cultural tradition, points out Girish Nayak, chief mithaiwala at Bombay Sweet Shop. The sesame keeps one warm during the winter, while the jaggery symbolises a sweet start. "It's an iconic combination because it is a mix of mild, sweet and nutty flavours, with a satisfying crunch from til that blends with the fresh sweetness of jaggery," he explains.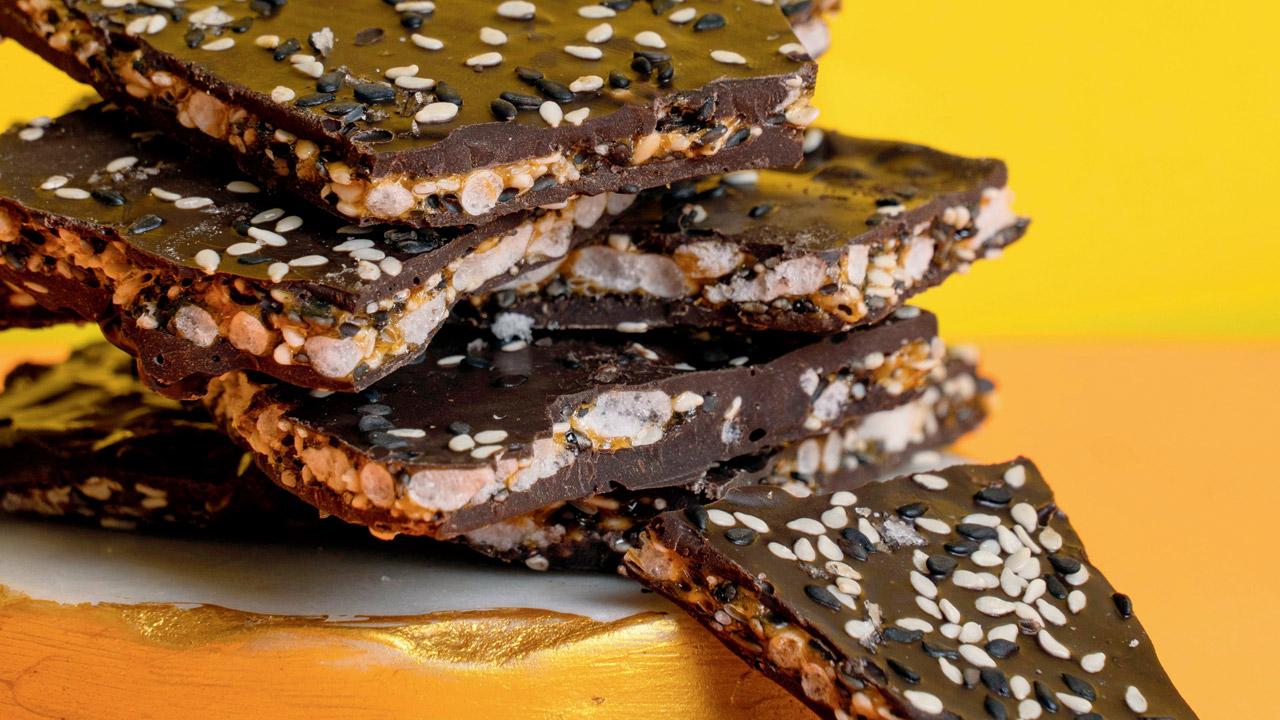 After churning out gajak-inspired black sesame soft-serves last year, the shop has curated til gur choco barks, as an ode to the childhood nostalgia of munching on tilgul. The barks comprise two layers of dark chocolate sandwiched with jaggery, coated with white and black sesame, murmura and sea salt flakes. Also on offer is the super crunch chikki bar that's loaded with roasted nuts, seeds and rose petals.
At: Bombay Sweet Shop, Byculla
Log on to: bombaysweetshop.com 
Call: 9136192636
Cost: Rs 400 for til gur choco barks; Rs 180 for super crunch chikki bar