Commuters allege that the openings of the flyover at Chheda Nagar and the elevated portion of the bridge on SCLR are being deliberately delayed; metropolitan commissioner refutes allegation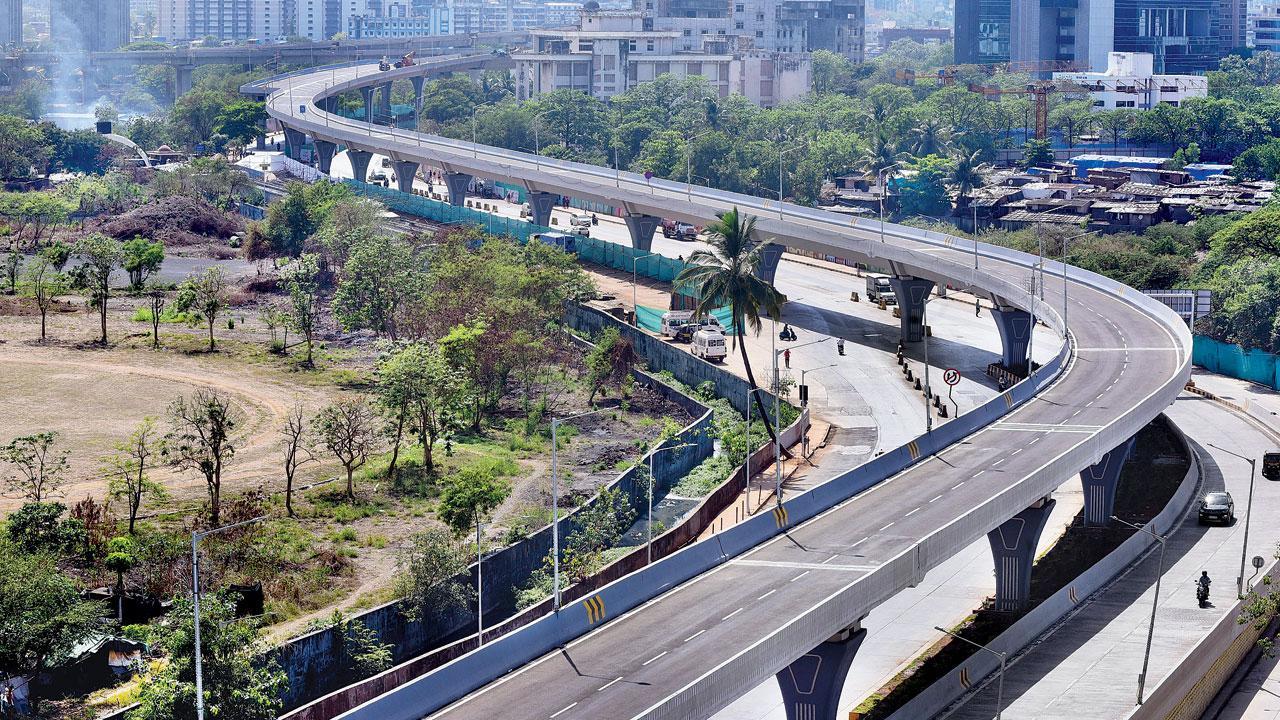 The newly constructed Santacruz-Chembur Link Road flyover. Pic/Shadab Khan
Motorists using the Santacruz-Chembur Link Road (SCLR) and Eastern Express Highway (EEH) have alleged that the openings of the flyover at Chheda Nagar on the EEH and the elevated portion of the bridge on SCLR are deliberately being delayed by the Mumbai Metropolitan Region Development Authority (MMRDA), though the work is complete.
Some have even alleged that MMRDA is holding off the openings because they are waiting for time from ministers in the state government. Commuters claimed that the bridge portion that will assist drivers in getting around the traffic jam at the Bandra Kurla Complex (BKC) intersection is ready and should be opened as soon as possible.
ADVERTISEMENT
A local from Santacruz said, "The elevated stretch from Kapadia Nagar going to forensic lab and back is ready. Also the Mankhurd-Thane flyover near Chheda Nagar is ready. There were discussions in our local political group that both will be opened on gudi padwa, but this has been delayed as the MMRDA wants the chief minister and deputy chief minister to inaugurate them, but as they have prior programme appointments, the openings were delayed."
Also Read: Mumbai: Himalaya FOB reopened without fanfare after 4 years
Official Speak
When told about the allegations by commuters that both the elevated road and the flyover were not opened despite the fact that the work was complete, Metropolitan Commissioner S V R Srinivas said, "The information is not correct. The slip road work is pending and the finishing works including electrical lines, etc. are being completed on a war footing."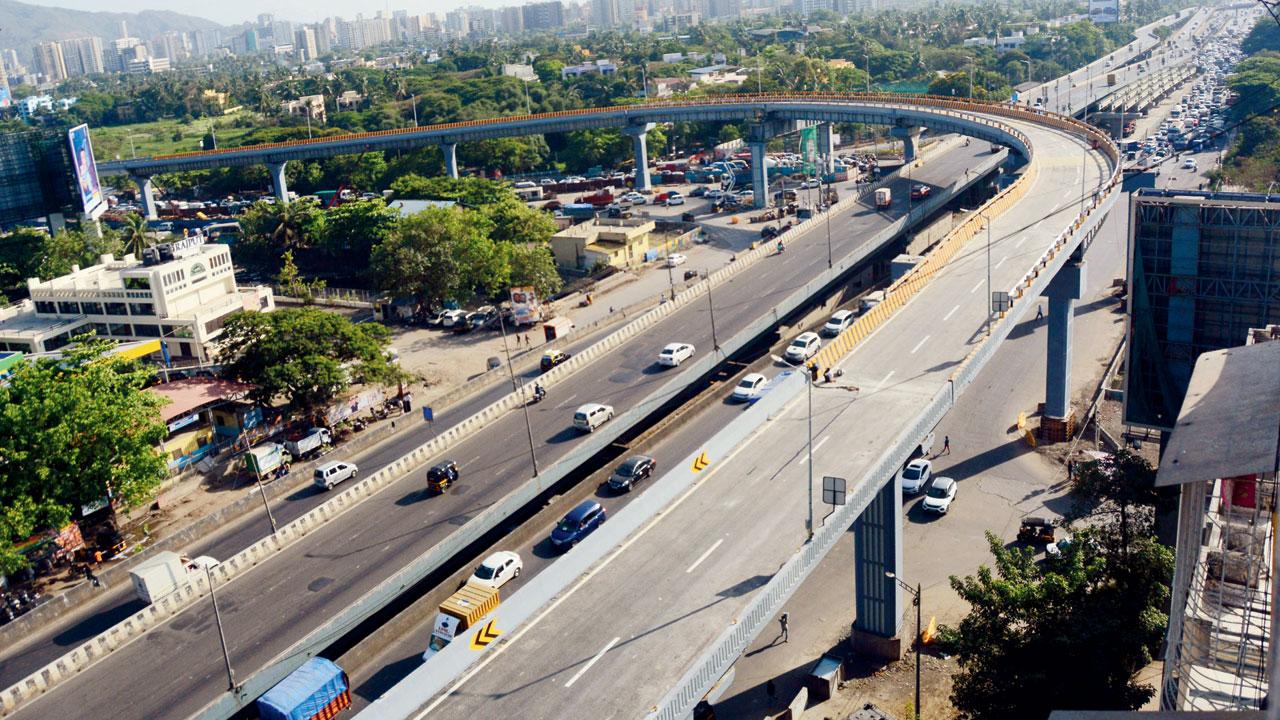 The new flyover at Chheda Nagar on the EEH. Pic/Sayyed Sameer Abedi
He added, "Small works on the SCLR elevated stretch of Kapadia Nagar to forensic laboratory and onwards to Vakola nullah are nearing completion. Similarly, the work on the Mankhurd to Thane flyover at Chheda Nagar junction on EEH is also nearing completion. In two weeks, both the projects will be ready for inauguration." A mid-day photographer clicked the picture of the Mankhurd-Thane flyover at Chheda Nagar a few days back and the top angle shows that the bridge is ready for inauguration.
The 1,235-metre long and 8.5-metre wide, two-lane bridge will help motorists avoid the traffic jam at Chheda Nagar. The Kapadia Nagar to forensic laboratory elevated road on SCLR is 1.906-km long with four lanes and the forensic laboratory to Vakola nullah elevated road is 1.125-km long with two lanes. Once operational, this road will help resolve traffic congestion at BKC, CST Road and Hansbhugra Road. It will also help improve connectivity from the Eastern to the Western Express Highway and will not just help save fuel but reduce travel time by 45 minutes.
Commuters Speak
A daily commuter, Nitin Saxena tweeted, "Dear Sir's @CMOMaharashtra @Dev_Fadnavis – The SCLR bridge has been ready for >2 months, but is not operational since some one needs to inaugurate it. Kindly look into this, it's a nightmare near Kapadia Nagar due to the traffic, which can easily be eased pls." (SIC)
Another motorist, Mohit Parekh tweeted, "Can you please open the bridge right after SCLR ends in Mumbai. It's been ready for two weeks lekin tumlog ribbon cut karne aate nahi." (SIC)
Another commuter, Abu Talha tweeted, " @MTPHereToHelp When will BKC bridge (SCLR) open for vehicles. Also Chedda Nagar Signal (Chembur) Bridge work completion deadline? As a daily travelling from these route faced a very huge traffic. Kindly suggest some alternate route for BKC from Eastern Express Highway. ThankYou. (SIC)"