A senior gynaecologist at a municipal hospital writes to the CMO alleging its medical superintendent favours certain medicos; the official refutes her allegations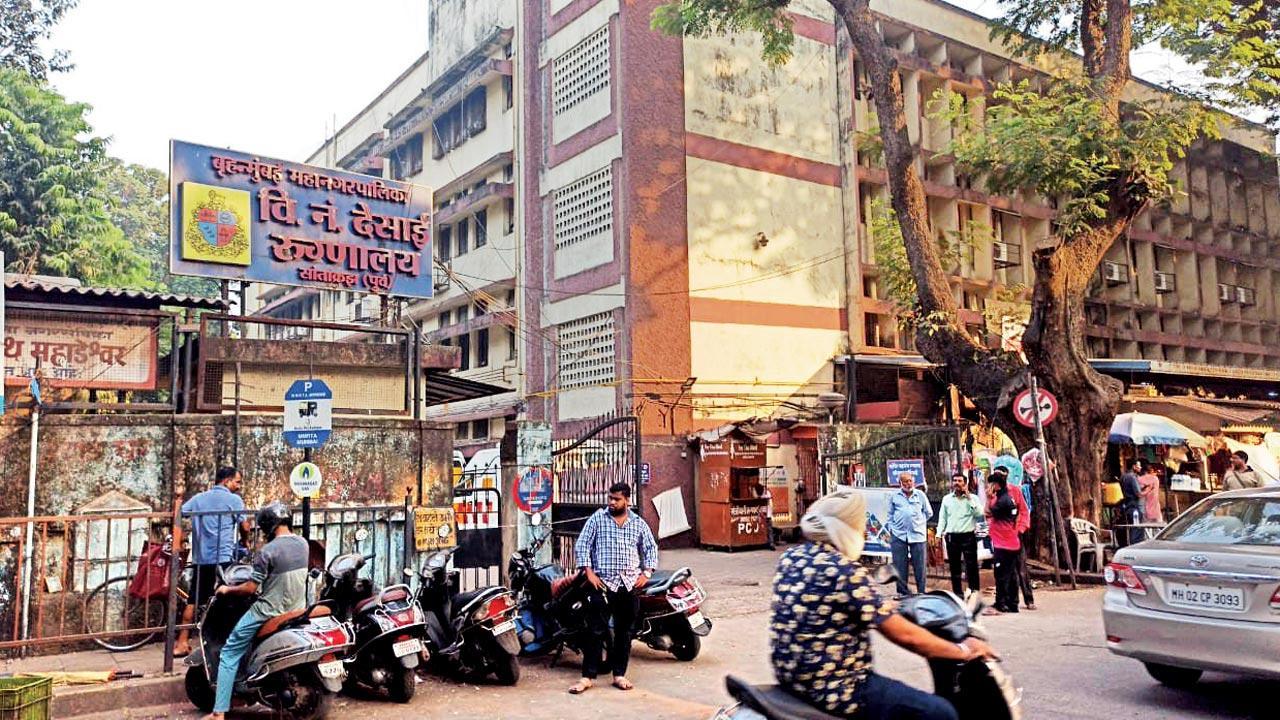 VN Desai Hospital in Santacruz has DNB courses in orthopaedics, pediatrics, and obstetrics and gynaecology to provide better services
A senior gynaecologist at V N Desai Hospital claimed that its medical superintendent and head of the obstetrics unit are playing political games with doctors, while critical obstetrics care is severely impacted. She has also alleged gross negligence in a recent maternal mortality reported at BYL Nair Hospital transferred from VN Desai, in a mail to the chief minister's office. She has requested immediate intervention by authorities to protect the lives of mothers and children at the hospital. The medical superintendent of VN Desai Hospital, however, claimed that while there is a rift between doctors, her other claims are false.
To lower the burden on tertiary care hospitals, the Brihanmumbai Municipal Corporation (BMC)  started Diplomate National Board (DNB) courses to strengthen its peripheral hospitals. The BMC hired multiple specialist teachers - doctors to teach DNB students and treat patients with severe illnesses. VN Desai in Santacruz is one of the peripheral hospitals which has the DNB courses in orthopaedics, pediatrics, and obstetrics and gynaecology to provide better services.
The allegations
Dr Meenal Kamble, a Grade 1 teacher at VN Desai, has written a mail to the CMO on November 24 complaining about the alleged negligence in patient care by the few doctors in the hospital. She said though she complained to the Medical Superintendent and Chief Medical Superintendent about the lapses on part of the doctors, nothing was done.
Also read: Shraddha Walkar murder case: Aftab used Chinese chopper, reveals narco test
In her letter to the CM's office, she alleged, "V N Desai Hospital, Santacruz east has been in constant news for complications and lack of doctors, which is paralysing the medical services, and inconveniencing patients. The reason for this is Medical Superintendent Dr Prashant More and his mismanagement with preferred doctors. There have been multiple deaths of newborns and recently, a patient Durgeshwari, died because of negligence."
The letter further reads, "Multiple deaths and complications are happening because of negligence by doctors who are being wrongly and illegally protected by the administration. Because of the continuous harassment of new doctors, they are not ready to join this hospital. Because of the purposeful ignorance of Dr Vidya Thakur to protect her preferred doctors, patients are losing lives and facing multiple complications." (SIC) 
The case
Speaking to mid-day, Dr Kamble said, "A patient named Durgeshwari Farooq Sheikh, 20, a resident of Bandra East, delivered a baby through caesarean section. She was discharged but on October 22 she came back with complications. The doctor refused to admit her till October 24. It was a case of intestinal obstruction. On October 26 she was operated on for the same, but her condition worsened. On October 28 I asked the Assistant Medical Officer to transfer her to Nair Hospital as the speciality she required was not available in VN Desai. I was ignored for two days and on October 31 she was transferred to Nair hospital. She died on November 7. The doctors at the hospital delayed her treatment due to which her condition worsened."
"I informed Superintendent Dr Prashant More but instead of listening to me, he protected some doctors. He is also not providing doctors for my unit. There have to be four doctors in my unit but I work with one doctor even in emergencies. He also shouted at me. On my OPD days, other doctors have been told to be on duty without written orders. Because of this patients are suffering. The BMC must investigate the matter," she added.
Doctor replies
Dr More said, "Her claims are false. According to DNB norms, we have 70 beds in obstetrics and gynaecology. There were two units before and in September one more unit was created for Dr Kamble as per her demand. I am not favouring anyone but there is a rift between doctors. I will see that the issue gets resolved." Will Raj Thackeray`s MNS join hands with BJP ahead of BMC elections?