Matunga in Mumbai is popularly known as the mecca of South Indian food. Here are top four Idli haunts from Matunga that specialize in authentic South Indian cuisine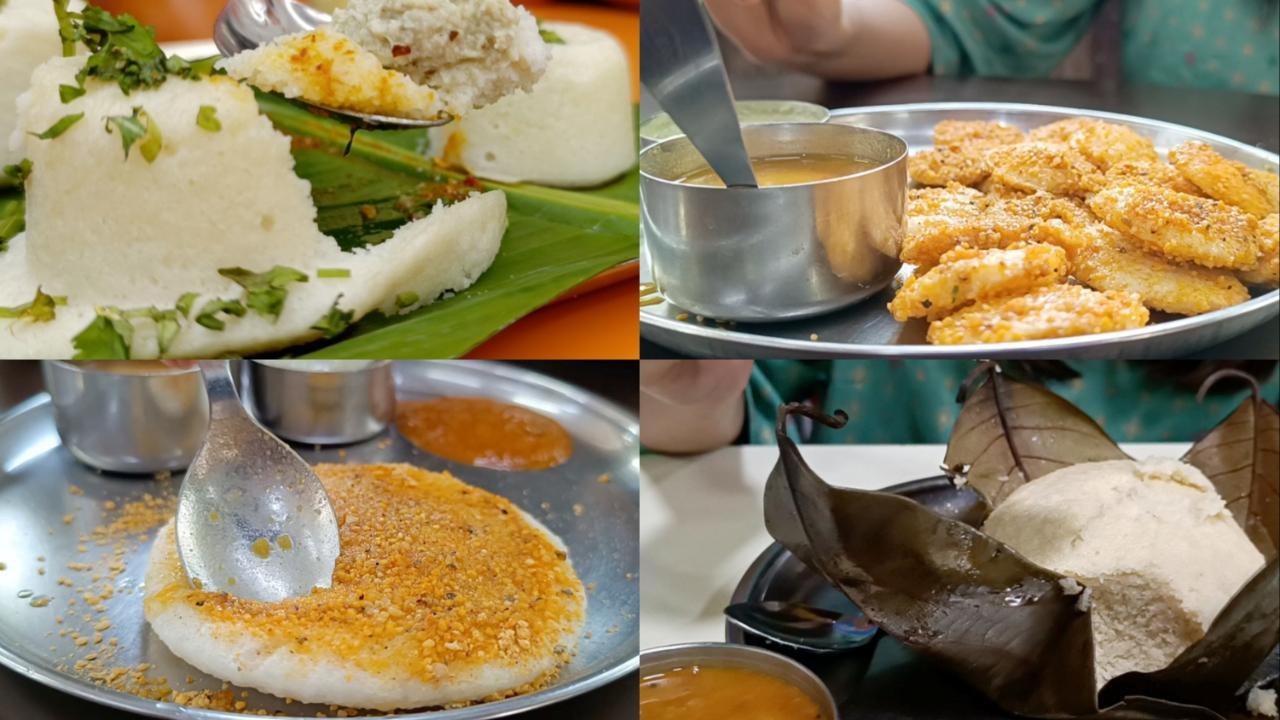 World Idli Day is celebrated on March 30 to mark 1328 varieties of Idli made by the Idli caterer Eniyavan from Chennai. Photo Courtesy: Katyayani Kapoor
You know when you order for idlis, you are signing up for a healthy, wholesome, nutritious and yet a yummy meal. This fluffy South Indian dish is a savoury rice cake that is served with sambhar and coconut chutney to create a burst of flavours in your mouth.
Mumbai boasts of a vibrant gastronomic culture that is extended by diverse communities living in the island city. When it comes to South Indian food in Mumbai, Matunga is rightfully referred to as the Mecca. Just as you hop out of the Matunga station, you can spot legendary South Indian food joints just a stone's throw away.
ADVERTISEMENT
On World Idli Day 2023, we strolled through the streets of Matunga in Mumbai to find the best idli haunts that are sure to stimulate your taste buds.
Arya Bhavan
This eatery is known for its authentic Tamilian-Brahmin South Indian flavours. Their extensive menu comes with elaborate meals at reasonable prices. When you head there, make sure to order in a plate of their signature steamy hot Brahmin Idli which comes with sambhar, coconut chutney, Idli podi and ghee. The idlis are conical shaped, utterly soft Idlis, not steamed in regular idli moulds but in conical vessels. You can experience multiple flavours by dipping the idli in either sambhar, chutney, ghee podi or a more wholesome dip combining all the ingredients.
Sharda Bhawan
This next stop is just a minute away from Arya Bhawan. It is one of the oldest outlets in Matunga. This is a no-frills Udipi-style South Indian eatery with its heart in its authenticity. Expect no fancy setting or elaborate menu but this age-old place promises traditional South Indian flavours which will last with you for a long time. Make sure to order their plain steamed Idlis that are fluffy, soft and are sure to melt in your mouth.
Cafe Mysore
Situated at Matunga circle, this place not only has authentic varieties to offer but is accommodates vegans and Jains too. A must try here is Khotto Idli which has subtle flavours of jackfruit leaves in which it is wrapped and steamed. Next up is their Idli Gadbad, which produced a variety of flavours all at once in the mouth. Topped with sev, onions, curd and dunked in veg korma, this idli variation is a gadbad you would love to relish.

Ayyapan Idli
What began as a small stall on the streets on Mumbai is now a thriving south Indian joint with a regular fanbase. They have several varieties of idlis that will spoil you for choices. Some of their unique preparations include Coin Butter Podi Idli and Thatte Idli. Coin butter podi idlis are bite-sized idlis smeared in spicy podi with crispy texture on the outside and soft on the inside. Thatte Idli, on the other hand, is a bigger and thicker idli than the regular ones, smeared with ghee podi on the top side
Also Read: World Idli Day 2023: Mumbaikars on why they love the South Indian dish