Mother remembers murdered Khar student Jhanvi Kukreja on what would have been her 20th birthday, while questioning the statements of those who were present at the ill-fated New Year's Eve party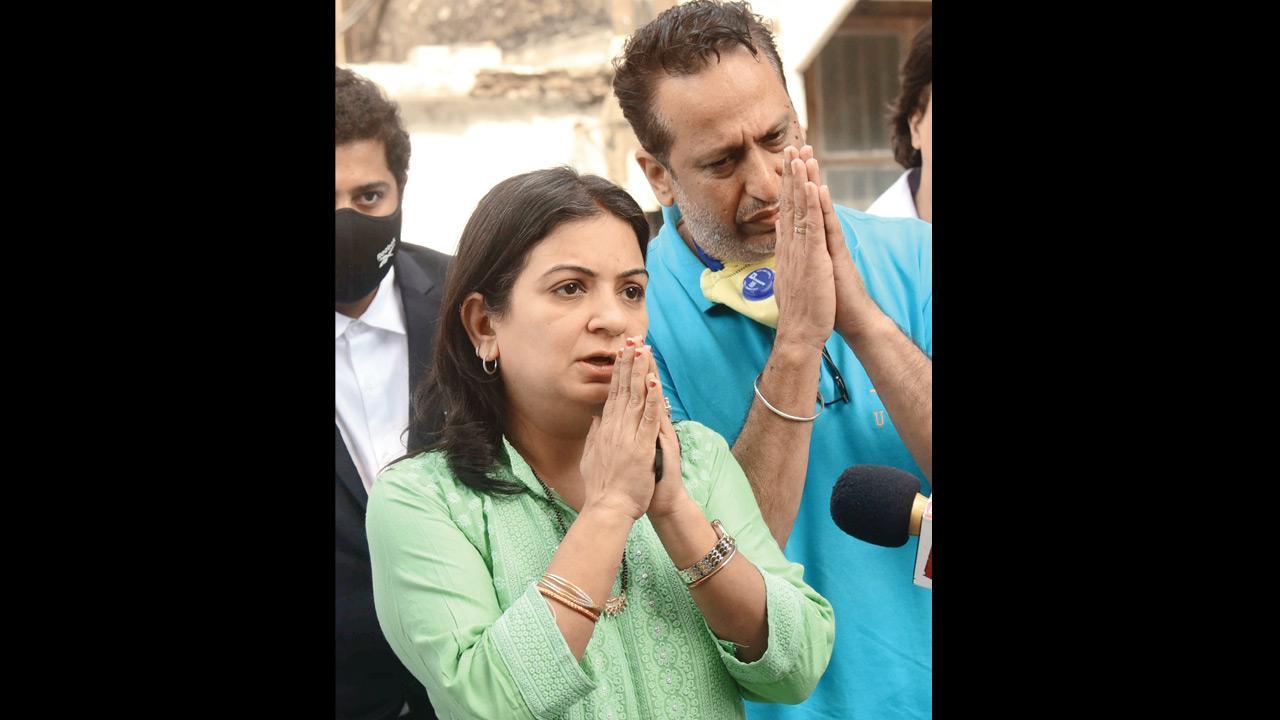 Diya Padalkar, was present; Niddhi and Prakash Kukreja, Jhanvi's parents. File pic
Remembering Jhanvi on her 20th birthday on Sunday, her mother Niddhi Kukreja said she will fight for justice till her last breath, and justice will be the best gift for her. Jhanvi was allegedly murdered during a New Year's Eve party in a building in Khar. "I think of her every moment. I post memories about her on social media to let those parents, who are completely mum on my daughter's murder, know. Five girls who attended the party live in the same building but don't have the courage to talk to us. They just see us and run away. Why?" she asked.

A picture of a previous birthday of Jhanvi where an accused in her murder
If they have not done anything then why do they run away? In their statements to police they said they have not seen anything. I am sure they are lying and hiding something that's why they don't have the courage to face us," Kukreja told mid-day.
Kukreja said many of Jhanvi's school friends came home on her birthday though she asked them not to come. "They still came and the friends who live in the same building and were at the party can't face us. All of them have spent more time at my place with Jhanvi than at their own house. It breaks my heart whenever I see them and how they lead normal lives. Nobody cares that an innocent girl has died," she said.
Also read: Khar murder case: Out on bail, Diya accused of influencing Jhanavi's parents

'Help those in need'
She urged people to come forward when they see someone in need." My daughter would have been alive today  if her friends had helped her while she was lying in a pool of blood. If anyone had informed us in time or would have taken her to the hospital, things could have been different today. I always urge people to help if they see anyone like that. You never know your small effort can save somebody's life," she said. On Diya Padalkar's bail, Kukreja said, "Despite violating her bail conditions she is here. Is this what we call justice?"

Niddhi Kukreja said many of Jhanvi's school friends came home on her birthday though she asked them not to, and the five friends who stay in the same building and were at the ill-fated party, keep running away from them
She said, "Now my only aim is to get justice for my daughter and I will fight for it till the end." She wrote the same on her daughter's Facebook account, "Happy birthday to our first born, apple of our eye...could never imagine you would not be with us this birthday. You were bout to start your life with great future and career ahead, this was your milestone year..I promise you my child on your birthday shall get u justice and culprits punished severly...wish could get you bk sunshine miss you every moment (SIC)."