Admitting that she found her life purposeless after husband Rishi's demise, Neetu discusses how she rebuilt herself with JugJugg Jeeyo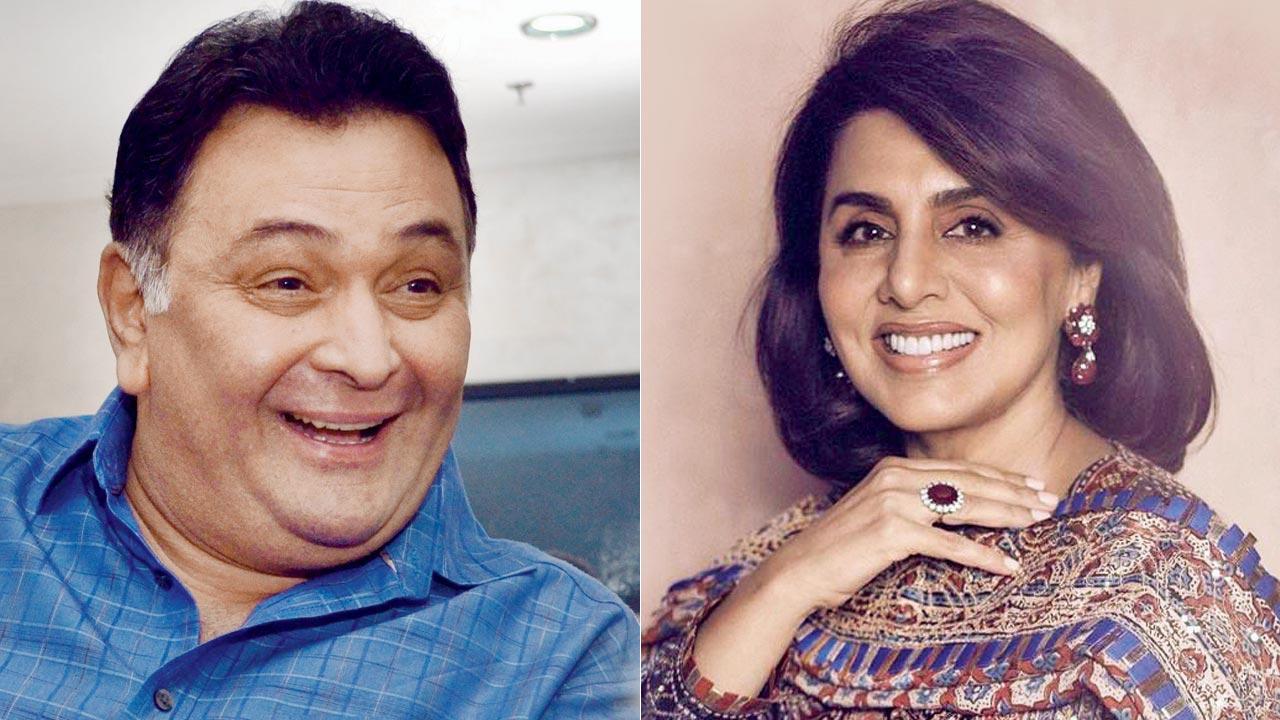 The late Rishi Kapoor and Neetu Kapoor. Pics/Instagram
We have seen Neetu Kapoor in bit roles over the years, be it Do Dooni Chaar (2010), Jab Tak Hai Jaan (2012) or Besharam (2013). "I did Do Dooni for Rishi-ji. I did Besharam for Ranbir. JTHJ I did for Aditya (Chopra) because the role was a negative role and they needed a positive personality to reflect the part with empathy. But it's only this film that I am doing for myself," she says, referring to her next release, JugJugg Jeeyo.
Karan Johar's production sees her take centre-stage with co-stars Anil Kapoor, Varun Dhawan and Kiara Advani. The senior actor admits she signed the movie to overcome her grief, after losing husband Rishi Kapoor in 2020. "I want to be happy. Losing a partner who you met when you were in your teens, shakes you up. I have been with him since I was 15. I was alone for the first time in a long time. I am turning 64 next month. It's a friendship of that long - from teenage years to now. I don't want to stress out my children, so working is my way of making sure they know that I am alright. Seeing me enjoy work, chatting with the paps, and promoting the film relaxes them a fair bit."
ADVERTISEMENT
Also Read: Kiara Advani: Such on-screen depiction of marriages is rare
Neetu Kapoor with the cast of JugJugg Jeeyo
The journey of moving away from her own grief hasn't been an easy one, Kapoor notes. As a primary caregiver to her husband - late Rishi Kapoor, who battled cancer, weighed her down emotionally. The actress admits that after his death, she felt her life had no purpose. "I don't think anyone who hasn't been in the shoes of a caregiver can even fathom what  I have gone through emotionally. I was down and gone. We had a dinner party at home and Karan (Johar, producer) was at the dinner. He insisted that he wants to narrate the film. I was at such a low point that I would've said no. But the script convinced me. One I said yes, mentally I started preparing for the character. One day at a time, I stopped thinking about what I have lost. It is true that an idle mind is a devil's workshop. The thoughts of what I went through stopped coming back. My life and routine was around Rishi-ji - holidays, lunches, weekends. I didn't have the one constant person I would turn to. So I became independent in some ways. The film came at a time when I needed it the most. It also gave me the confidence that I can do more of this."
Also Read: Jugjugg Jeeyo team set to have fun on the grand finale of The Kapil Sharma Show
Showing up on the film's set on day one made her extremely jittery. "It was horrible. I was shaking at the thought of this film. When your partner has left you, you are not strong. I wasn't healed when I started working on this. But everything worked out for the best for this movie. The good thing about me is that I have an immense amount of patience. I don't get tired easily. I have been acting since I was a child. Usually the camera is the problem, but that's not what was the case with me. I have done some 80 odd films. Camera and sets are like a second home. But emoting requires fine tuning and it needs confidence. This film has been able to fix my faith in myself."
Also Read: Varun Dhawan: Our commercial fare needs an upgrade
The year 2022 has brought much joy to the Kapoor family as her son Ranbir tied the knot with Alia Bhatt in April. There's a renewed sense of stability in her professional and personal life, says the senior actor. "Work came pouring in once I signed this movie. Some I have said yes to and will start this year. But my life doesn't depend on work. I am going to do one project and then take a vacation. I am looking for impactful roles and not the usual mother-trope fare. On the home front, I am so happy to see Ranbir and Alia married. I wanted Ranbir to be married before I go. It was a wish to see the person my son will spend his life with. Alia is such a lovely person. Alia and I have a great connection; we give each other space but are always in touch. Riddhima and I have the ritual of having breakfast together on video chat every morning no matter where we are."
Also Read: JugJugg can't chug on to its release?