The Indian filmmaker speaking at an early session on the third day of the Jaipur Literature Festival 2023 spoke about his recent exclusion at the Bhopal Literary Festival, challenges of making a film on the community and representation in films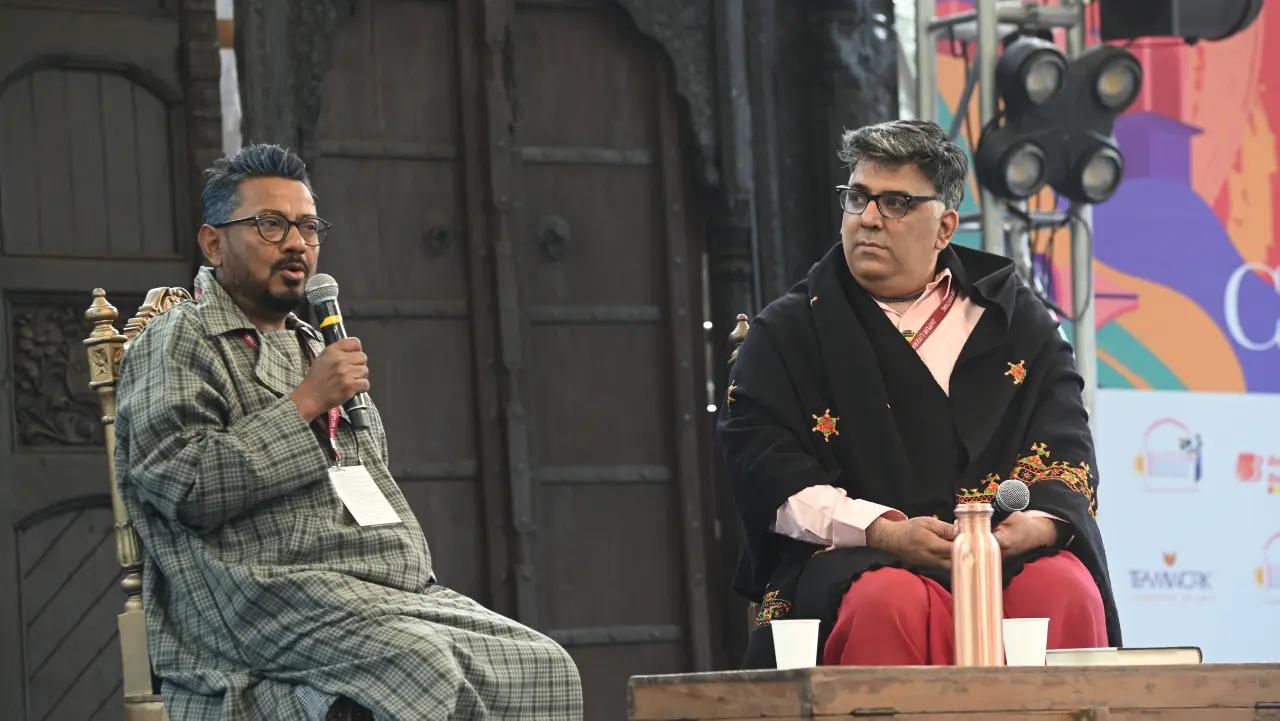 Onir in a session 'I am Onir' with Vivek Tejuja about his latest book 'I am Onir and I am Gay'. Photo Courtesy: Jaipur Literature Festival 2023
"I still haven't been told who these people are," says Indian filmmaker Onir, continuing, "If as a person, I have been threatened with violence, I have the right to know who these people are who want to attack me and why." A week after his session at the Bhopal Literature Festival was cancelled, Indian filmmaker Onir came to the Jaipur Literature Festival 2023 to talk about gender, sexuality and the many challenges faced by the LGBTQIA+ community in India.

The Indian filmmaker known for 'My Brother... Nikhil', in a session 'I Am Onir' at the festival held annually in the Pink City, revealed his disappointment about the incident and with the organisers for not sharing more details. "I was supposed to be at the Bhopal Literary Festival and was on the way to the airport when I was told that there were certain protests by certain groups and the police cannot guarantee my security, so I was dropped," he narrates. He expressed sadness especially because he had spent considerable time in the city shooting a film right after the 2018 Supreme Court reading down of Section 377. It was one that not only celebrated the verdict but also recreated the Pride March in it and participated in the Pride March in Bhopal. The reasons given to him are that his social media accounts are being scrutinised and he was not the right candidate either. However, he has moved on because soon after he visited the Calcutta Literature Festival and has now made his way to Jaipur.

LGBTQIA+ community and films
It is not only culturally but also in entertainment that Onir has seen a reluctance, and not only at the filmmaker level but also with the ministry. While the filmmaker believed that things would open up for the community especially after the verdict in 2018, he was met with a recent disappointment. "In 2005, when I made 'My Brother... Nikhil', it got a U certificate without cuts and in 2022, when I was trying to make a film, which was inspired by an ex-army man about him being gay, the script got banned by the Ministry of Defense. So, forget about making the film, it was even before that," he reveals. "I was not creating something fictitious, and I meant no disrespect for them," he adds.  The Indian filmmaker said nobody wanted to engage in a dialogue with him about why it was not approved, even after he suggested it and was open to discussion. "The Secretary of Defense said it is derogatory for the army and a threat to national security. I've been thinking that I have been doing workshops with the army in Kashmir, so, in a way I was working for the army."
While approvals are now a hurdle, even if that goes through, he still believes a lot more needs to be done with respect to representation of the community in films, not only for lesbians and gays but also for the trans community. He shares, "I feel that the trans community has been most misrepresented in cinema, even more than gays and lesbians." He also dwells on the fact that whenever he sends a queer narrative for approval there is always a hurdle. "I am very often told, 'we are taking baby steps, this is a little too much'." It is not only the approvals but also when his colleagues tell him they are making 'his' kind of films that he finds very troublesome because he asks, "What is 'your' kind of film?" When I make a film about heterosexual characters, I don't go out telling people I am making your kind of film." It is not the only issue as he also said that Indian films are currently in the phase of being made with a lens that shows the acceptance of the LGBTQIA+ community in society, even though it has come a long way from 'My Brother... Nikhil', there is still more work to be done.
ADVERTISEMENT
Read More: How Sudha Murty aced engineering to show people girls are better than boys