While many people use mangoes to make desserts, there are many communities in India that use the fruit abundantly as a part of their savoury dishes. From adding flavour to a simple salad to making curries stand out, chefs across India share easy Indian and global recipes that people can follow to make and enjoy the fruit this season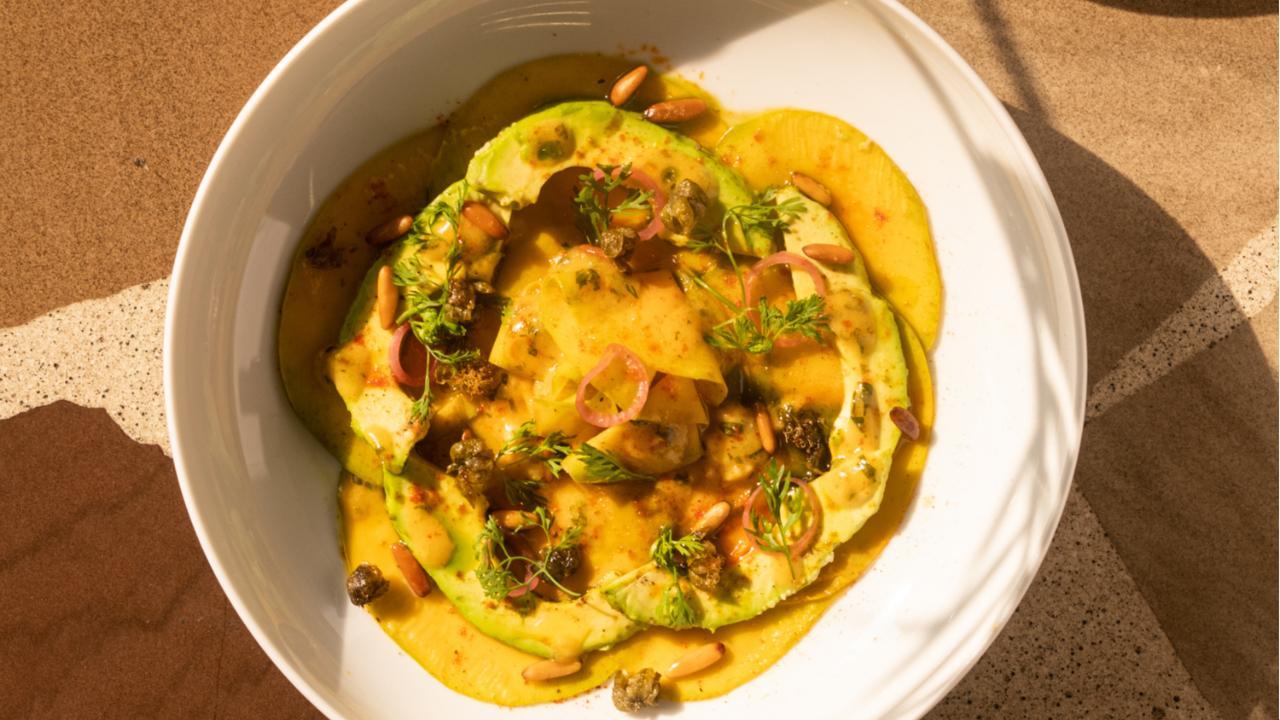 At Seesaw, chef Umesh Pawar was inspired to create a Raw Mango Carpaccio after he saw a version of it during one of his travels to Israel. Photo: Seesaw
Now that mangoes are in season, it would be a shame to make only desserts with them. The 'King of Fruits' is more versatile than we know, and is something that different Indian communities boast of and chefs keeping reminding us about. While a delicious aamras, payasam or cheesecake seems like the ideal sweet dish to enjoy during this time of the year, one look towards the many dishes that are made in Indian homes is testament of the versatility of the fruit to make savoury dishes, with pickles being one of the most common by-products, a summer ritual taken on by grandmothers annually and are enjoyed by the entire family throughout the year.
With raw mangoes already available in abundance and ripe mangoes making an appearance in pockets of the city, there is so much that one can explore with the fruit. Mid-day Online reached out to chefs in the city and neighbouring states to share innovative savoury recipes that people can follow to make the most of the mango season. While some of them use the fruit in different versions of salad, there are others who celebrate India's curries and take it up a notch to make specials that may often be difficult to imagine but helps bring out a unique flavour in the dish. 
ADVERTISEMENT
Raw Mango Salad by Harish Singh, chef, Thai Naam by Ananda, Andheri East
Making a salad out of mangoes is the easiest way to work with the fruit and chef Harish Singh at Thai Naam by Ananda, says you can start by making a Raw Mango Salad this summer. With a mix of raw mango strips, jaggery powder, spring onions and water chestnuts, it simply promises to produce a burst of flavours that can add value, if it is one of those days when you don't really like your meal. 
Ingredients: 
Green unripe raw mango 1 no
Jaggery powder 1/2 tsp
Lemon 1 no
A pinch of salt 
Sugar 1 tsp
Soya sauce 1 tsp
Spring onion/ scallions 2 stalks
Water chestnut, cut into pieces 5-6 nos
Method: 
1. Wash and peel off the green skin of the mango, using a julienne peeler shred the mango into strips. 
2. Mix together all the salad dressing which includes lemon, salt, sugar, jaggery and soya sauce in a bowl or cup. The dressing should be a mingling of sweet, sour, spicy, and salty, but more sweet than sour. Set aside.
3. In a large mixing bowl, add your shredded mango with the salad dressing and water chestnut. Mix it well, if you prefer your salad a little sweeter you can add more sugar. If you prefer more spice, add chilli flakes and if it's too salty or sweet, add more lime juice. 
4. Place it on a serving platter and garnish it with finely chopped spring onion. Enjoy your summer salad.
Mango Curd Rice by Chef Akhil Multani, founder, The Ghost Chef, Worli
If you are looking to make comfort food with mangoes, then there is no better amalgamation that combining it with curd rice, according to chef Akhil Multani, founder of city-based delivery kitchen, The Ghost Chef. The sweetness in a traditional curd rice makes all the difference to the otherwise plain dish, enjoyed by one and all.  
Ingredients:
Mango 1 nos 
Curd 70 gm 
Mustard seeds 1 gm 
Curry leaves 1 gm 
Ginger, chopped 5 gm 
Boiled rice 200 gm 
Oil 10 ml 
Green chillies, chopped 4 gm 
Roasted sunflower seeds 10 gm 
Salt to taste 
 
Method:
1. Peel the mango and divide the pulp into two equal halves. 
2. Blend one half in a mixer grinder, till a smooth paste is formed. 
3. Cut the second half into small dices. 
4. Mix the curd, rice, boiled rice, mango puree, chopped mango in a bowl till all ingredients are well amalgamated. 
5. In a small tempering vessel, heat the vessel till nice and hot. Add in the oil, mustard seeds, ginger, green chilies and curry leaves and cook for a minute on low heat. 
6. Pour the tempered mix on the mango mixture in the bowl. Add salt to taste and mix thoroughly. 
7. Place in the refrigerator and serve chilled. Garnish with roasted sunflower seeds.
Goan fish curry with raw mango by Alex Dias, chef, Novotel Goa, Candolim
If you love Goan food, it is the best time to experiment with delicious dishes by making a traditional Goan fish curry with raw mango, according to chef Alex Dias at Novotel Goa. While tamarind is usually used as a souring agent in fish curries and other dishes, he says, with the season comes a change. "Since it's mango season, the souring agent is essentially raw mango, and their tanginess and freshness is really different." It is also the reason why he recommends that for those visiting Goa right now, it is important to relish the curries being made during this time of the year but if not, the recipe shared by him is definitely comforting. 
Ingredients
Local Goan Mussori chillies 6 nos (If Kashmiri chillies 10 nos)
Scraped Coconut 1/2 coconut
Piece of Ginger 5mm 
Garlic 4 flakes
Cumin seeds 1 tsp
Coriander seeds 3 tbsp
Haldi powder 1 tsp
Green chillies, slit 1 tsp
Salt to taste
Sliced onion 100 gm
Kingfish 4 slices
Raw Mango 3 slices
Oil 50 ml
Method:
1. Grind the masala ingredients mentioned above, in a mixer with a little water to fine paste.
2. Heat the pan, add little oil, sauté some sliced chopped onions, then add masala to it and cook for 1 minute.
3. Add water to this fish curry, to make it consistency of creamy curry, You can then add some salt and slit green chillies, as per spice requirement.
4. Once the entire mixture reaches a boil, you can add the fish to the curry.
5. Along with the fish, add the cut pieces of raw mango, to give it that nice tangy flavour that it has. See that the mangoes are not overcooked. 
6. Boil till the fish is cooked and serve with Goan red rice.
Raw Mango Moringa Salad by Haresh, wellbeing chef, Woods At Sasan, Sasan, Gujarat
A raw mango salad is a classic approach to include the fruit in your food but now without a little addition of moringa leaves, says chef Haresh, who is the wellbeing chef at Woods At Sasan. He explains, "Raw mangoes are an excellent addition to any dish that requires a tangy, acidic flavor. Their firm texture and sour taste make them perfect for pickling, chutneys, or as a topping for salads and sandwiches. Raw mangoes also add a refreshing element to curries and stews. Just be sure to balance their tartness with other sweet or savory ingredients to create a well-rounded dish."
Ingredients:
Raw mango, julienned 250 gm
French beans, julienned 50 gm 
Fresh tomato, julienned 3 no
Fresh moringa leaves 15-20pcs
Peanuts, toasted and crushed 15 gm
Fresh Brahmi 10 leaves
For dressing:
Garlic, cloves 3-4 pods
Lime juice from 1 medium size lime
Fresh red Bhavnagari chili 1 no
Organic jaggery: 3 tbsp
Rock salt to taste
Method:
1. Julienne the raw mango, beans, tomato & fresh moringa & Brahmi and keep them aside in an ice water bowl.
2. Using a mortar pestle, pound together garlic, lime juice, red chilies, rock salt, jaggery,
3. Gently mix with juliennes raw mango, beans, tomato with dressing and serve immediately. Garnish with crushed peanuts, fresh Moringa and Brahmi. 
Raw Mango Carpaccio by Umesh Pawar, chef, Seesaw, Bandra Kurla Complex, Bandra East 
At Seesaw, chef Umesh Pawar was inspired to create a Raw Mango Carpaccio after he saw a version of it during one of his travels to Israel, so it is no surprise when he says people can definitely innovate with mangoes to make a carpaccio out of it. He explains, "While the restaurant was serving slices of raw mango with local spices and a tangy dressing, our version puts a twist on the spices and gives it a nutty, creamy texture by infusing it with pine nuts, paprika seasoning and avocado."
Ingredients:
Raw mangoes 3 nos
Garlic, minced 5 gm
Smoked paprika powder 5 tsp
Coriander, chopped 20 gm
Hass avocado, cubed and tossed in olive oil, a splash of vinegar, and some salt 30 gm
Pickled onion 5 gm
Pine nuts, toasted 4 gm
Chimichurri sauce 3 gm
Capers 3 gm
Caster sugar 80 gm
Lemon juice 10 ml 
Salt and pepper to taste
Method:
1. Make the marinade: mix the garlic, lemon juice, smoked paprika powder and caster sugar with salt and pepper to taste, in a pan over low heat. Reduce the mixture on a very slow flame to infuse all the flavours.
2. Remove from heat and cool, then stir in the coriander.
3. Meanwhile, thinly slice the raw mangoes using a mandolin. Leave the mango slices to infuse in the marinade for 24 hours.
4. To serve, arrange the sliced mangoes on a plate – around 15-20 slices.
5. Drizzle with the smoked paprika marinade and top with the diced avocado. 
6. Top with dollops of chimichurri, pickled onions, toasted pine nuts, and capers; garnish with a few coriander sprigs and drizzle with a bit of good extra virgin olive oil. 
Thai Prawn and Mango Salad by Mukesh Sharma, executive chef, The Westin Mumbai Powai Lake, Powai
Why settle for a regular raw mango salad when you can make an exquisite Thai prawn and mango salad? Mukesh Sharma, executive chef at The Westin Mumbai Powai Lake in the city says the dish is a signature at their restaurant during this season. While other dishes make use of raw mangoes, this is made with the ripened one coupled with tangy flavours, fresh ingredients and exotic aromas that can be enjoyed throughout the season. 
Ingredients:
Prawns 100 gm
Ripe mango, cubes 1 no
Onions, diced 20 gm
Tomatoes, diced 20 gm
Coriander, chopped 1 Tbsp
Green chillies, chopped 1 tsp
For dressing:
Sweet chilli sauce 4 tbsp
Sweet soya sauce 1 tsp
Chilli Sauce- 1 tsp
Galangal half inch
Kaffir Lime zest 1/2 tsp
Coriander stem- 1 tsp
Bird eye chilli 1 no
Lemon juice 1 tbsp
Sushi vinegar 1 tbsp
Lemon grass one inch
Method:
1. Start by making the dressing
2. Blend together sweet chilli sauce, sweet soya sauce, chilli sauce, galangal, kaffir lime zest, coriander stems, Lemon juice, sushi vinegar and lemongrass
3. In a bowl add prawns, ripe mango, onions, tomatoes, chopped coriander and chopped green chillies.
4. Toss in the salad dressing and serve it on a bed of mixed lettuce, 

Also Read: Mango payasam? Mumbai chefs share recipes for innovative desserts to make with the fruit this summer