Soups are lighter but if you want to make a meal out of it, then adding seasonal or easily available ingredients will turn it into a one-bowl meal. As it gets colder than usual, Mumbai chefs suggest how you can turn your favourite soup into a meal to comfort you on a cold winter day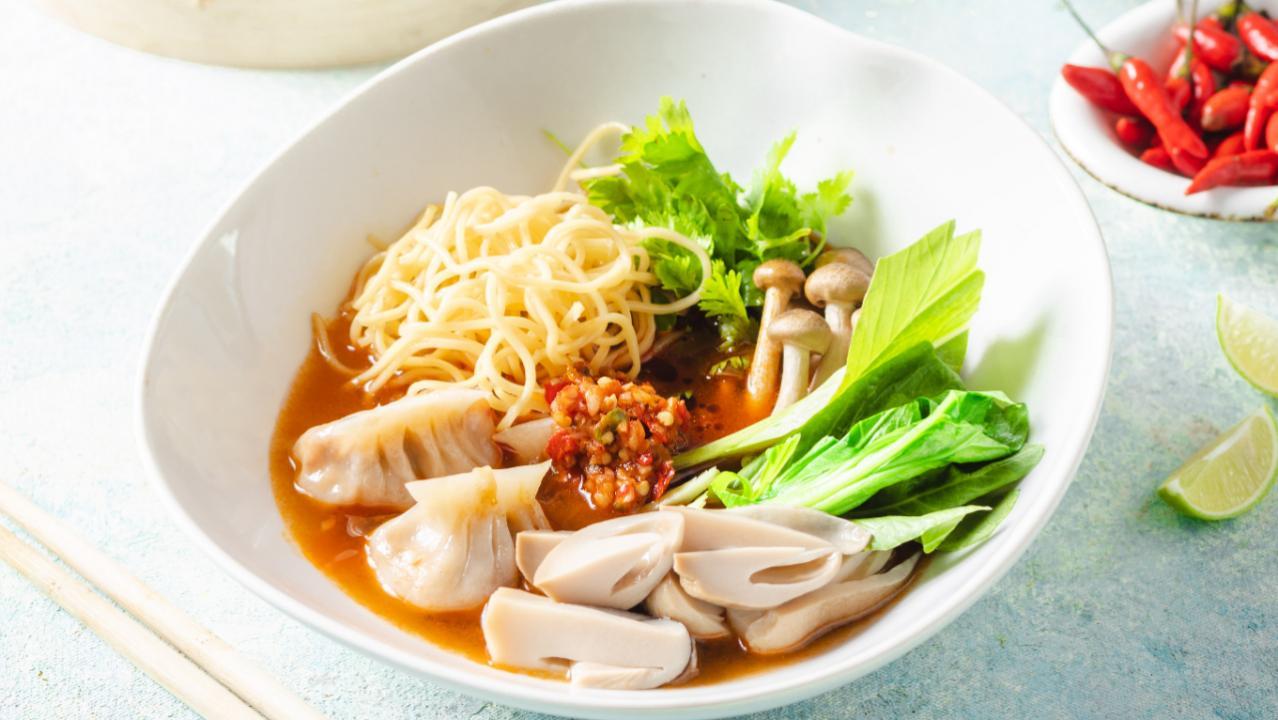 With the temperatures dipping, chef Paul Kinny of St Regis Mumbai says one could make a deliciously filling bowl of Assamese Thukpah for a meal. Photo Courtesy: St Regis Mumbai
New Year's eve may have been cold but it only seems to get colder in Mumbai by the day, and all one wants is to be surrounded by warmth. It could be a warm cup of coffee or hot chocolate in the evenings but that may just not be enough to enjoy the weather to the fullest. While lunchtime is usually spent in the office as most people have returned to their offices, dinner is more of an intimate affair that one either enjoys alone or with the family. This weather makes it a perfect time to enjoy a delicious one-bowl meal over a traditional plate of rice or rotis with curry, sabzi and other sides, especially if you like to experiment. 
One-bowl meals allow you to put whatever you feel like into a single bowl and enjoy a soupy treat that cannot only include vegetables but also meat and other options to satiate your hunger. Luckily, this isn't limited to Indian cuisine but is also known in global flavours because it can be adapted into many different combinations as long as you get the desired taste. 
Mid-day Online reached out to Mumbai chefs to share recipes for one-bowl meals that people can enjoy during the winter season. Their recipes are not only simple but also include ingredients that are easily available in the city or online. 
Assamese Thukpa by chef Paul Kinny, St Regis Mumbai, Lower Parel 
If you are looking for a one-bowl meal that is familiar and comforting, then the thukpa is a favourite because it is not only in one bowl but also very filling. It can be a saviour when you can't decide on what to make and eat. In fact, served at Seven Kitchens in St Regis Mumbai, chef Paul Kinny, who is also the culinary director at the five-star property, is one who vouches for the Assamese thukpa. He explains, "Most soups contain hot broth rich in vitamins, nutrient-rich veggies, and provide a light meal without taxing the body. The Assamese thukpa has an inherent quality of providing comfort with respect to its mild flavour and usage of simple ingredients. It is packed with proteins, with the wholesome goodness of vegetables and flavourful herbs, striking as a perfect one-bowl-meal to cosy up in the winters." 
Ingredients  
Step 1 
Sunflower oil 40 ml 
Onion 20 gm 
Tomato 80 gm 
Garlic 5 gm 
Ginger 5 gm 
Green chilli 6 gm 
Tomato 80 gm 
Garlic 5 gm 
Ginger 5 gm 
Coriander root 8 gm 
Salt to taste 
Juice of lemon 1 no 
Water 250 ml 

Step 2 
Bok choy 20 gm 
Mushrooms 15 gm 
Noodles 75 gm 
Bean sprouts 12 gm 
Spring onion 2 gm 
Coriander  2 gm 
Momos 50 gm 
Method: 
1. For step 1, saute all the ingredients together and make a fine smooth paste and finish with seasonings. 
2. For step 2, bring it to boil the ground paste and add the mentioned vegetables, noodles, momos and the seasonings. 
3. Garnish with green onions, coriander and serve hot. 
Chicken Soup with Dumplings by chef Rohit Chadha, JW Marriott Mumbai Juhu, Juhu 
While an Assamese thukpah is certainly enticing, many may find it to be heavier than other options. So, one mustn't hesitate to go back to basics. At JW Marriott Mumbai Juhu, chef Rohit Chadha, who is also the executive sous chef at the suburban property, says one can simply make a chicken soup and add dumplings to it. Interestingly, his version has a unique twist. He shares, "The key to a great chicken soup is the stock and its flavouring in any form of herb. The standard herbs include bay leaf, parsley and thyme, but I have also added fresh lemongrass flavoured stock which is a refreshing twist to the original chicken soup." 
Ingredients: 
Chicken bones 500 gm 
Lemon grass 2 nos 
Kaffir lime leaf 1 no 
Thai red chilli 1 no 
Bok choy 1 no 
Chicken mince 100 gm 
Oyster sauce 10 gm 
Salt 2 gm 
Pepper 1 gm 
Soy 3 ml 
Ginger 5 gm 
Kikkoman soya 2 ml 
Cornflour 10 gm 
Refined flour 50 gm 
Lotus flour 50 gm 
Method: 
1. Roast the chicken cones on low heat and make sure it's browned evenly. 
2. Immerse the bones in water and let it simmer on low heat. 
3. Skim the chicken stock to a pale amber colour stock rich with chicken flavour. 
4. Take it off the flame and while it is still warm add in the lemon grass and kaffir lime leaf to the stock. 
5. Let it infuse for a few hours and strain the stock. 
For the dumpling: 
1. Knead together the refined flour and lotus flour to form a smooth dough adding water occasionally. 
2. Mix together the oyster sauce, salt, pepper, soy, ginger, kikkoman soya and cornflour with the chicken mince. 
3. Massage the mixture so that it is devoid of any moisture. 
4. Portion out the dough into 5 gm portions. 
5. Roll the dough into thin sheets with the help of a dim sum rolling pin. 
6. Stuff the dough with the chicken mince mixture and poach it in the chicken stock made earlier. 
7. Add salt and pepper to taste. 
8. Add bok choy leaves and other vegetables as per choice. 
One Pot Chicken Soup by Mahesh Sakedkar, Taki Taki, Lower Parel 
If you love chicken soup but want to try out a variation, then chef Mahesh Sakedkar, sous chef at city restaurant Taki Taki has a recipe for one pot chicken soup without the dumplings, that you will love. He explains, "The name one pot is a flavourful soup that is processed into a single pot and enjoyed with a lot more flavour. It is suitable for the winter as it's a warm and light soup packed with protein and nutrients." Sakedkar even shares a tip. He says if you don't want to have it with chicken, it could always be replaced with vegetables or seafood with the same recipe.  

Ingredients: 
Chicken breast 10 gm 
Asparagus 3 gm 
Bell peppers 3 gm 
Carrots 3 gm 
Bok choy 3gm 
Tofu 3 gm (optional) 
Garlic 2 gm 
Spring onion 2 gm 
Chicken stock 300 gm 
Sesame oil 5 ml 
Oil 5 ml 
Salt 2 gm 
White pepper 2 gm 
Method: 
1. Cut all the above vegetables into small dice. 
2. In a saucepan, add oil, saute garlic and chicken breast on a slow flame. 
3. Add chicken stock and let it simmer for 2 minutes. 
4. Add your diced vegetables to it and simmer it for another 2 minutes. 
5. Season your soup with salt and white pepper. 
6. Pour the soup into a bowl and add sesame oil on top, garnish with spring onion and serve. 
Winter Veggie Pozole by chef Urvika Kanoi, Cafe Duco, Khar West 
If you love Mexican food, then move over your regular soup and make something that is perfect for the season. Chef Urvika Kanoi, who is also the founder of Café Duco says one should make a delicious winter veggie pozole. The traditional vegetarian Mexican soup is filling and full of vegetables, spice and everything nice in a bowl. 
Ingredients: 
Red carrots, chopped 2 nos 
Corn, blanched 1/2 cup 
White beans, soaked and boiled 1/2 cup  
Onion 1/2 cup + 2 tbsp finely chopped 
Red pepper, roasted, deseeded 1 cup (roughly 1.5) 
Garlic, finely chopped 6-8 cloves  
Olive oil 1-2 tbsp 
Fresh tomato puree 1 cup 
Veg stock 2 cups 
Green tomatoes, roasted 1/2 cup 
Cumin  1 tsp 
Bay leaf 1 no 
Dried ancho chili/swap with regular dried chili 2 pcs 
Oregano 1 tsp 
Black beans, soaked and boiled 1/2 cup  
Cilantro stems 2 tbsp 
Celery 2 tbsp 
Coriander leaves 1 tbsp 
Green chili 1 no 
Salt and pepper to taste 
Jalapenos, chopped 1 tbsp   
To top: 
Avocado 4 tbsp 
Tortilla chips 8 nos 
Tomato, deseeded and chopped finely 1/2 no  
Green chili, deseeded and sliced 1 no  
Lemon 1/2 no  
Method: 
1. In a pan add the oil and onion, and saute till translucent. Add garlic, chopped dried chili, bay leaf and cumin. 
2. Once fragrant, add jalapenos and carrots. 
3. The carrot will start to soften; once done, add roasted pepper, roasted tomato and tomato puree. 
4. Add the coriander stems, celery, salt, and pepper. 
5. Once cooked out, blend this mix (discard the bay leaf). 
6. Once blended, pour the mix into a pan, add stock, beans and corn, oregano and a slit green chili (optional). 
7. Taste and season and let it simmer. It will become thick. 
8. Make a quick pico with salt, tomato, onion, coriander leaves, green chili and lemon. 
9. Once the soup is ready, ladle it into bowls. 
10. Top with avocado, tortilla and pico. 
Healthy Ramen Bowl by chef Rattan Kumar BC, You-MEE, Andheri East 
When one talks about winter, it is impossible to miss out on enjoying a delicious bowl of ramen. Being a part of the menu at city-based Asian restaurant You-MEE, chef Ratan Kumar BC recommends making a healthy ramen bowl. The Japanese special has a mix of bok choy, snow peas, edamame, corn, broccoli, mushrooms and red cabbage too. 
Ingredients for broth: 
Refined oil 1 tsp 
Garlic, chopped 2 tsp 
Water 250 ml 
Shiro miso paste 2 tbsp 
Kikkoman soya sauce 1 tsp 
Sake 1 tbsp 
Cooking merin 1 tbsp 
Salt to taste                
Sesame oil 1 tsp 

Ingredients for topping: 
Edamame 30 gm 
Broccoli 30 gm 
Bok choy 30 gm 
Red cabbage 15 gm 
Snow peas 15 gm 
Sweet corn 30 gm 
Refined oil 1 tsp 
Fresh white mushrooms 15 gm 
Salt to taste  
Kikkoman soya sauce 1/2 tsp 
White pepper powder a pinch  
Method: 
1. First, fry garlic in refined oil, add water and above-mentioned ingredients together. 
2. Then stir often, until broth begins to boil for approximately 3 minutes. 
3. Boil water in a separate pot to cook noodles. 
4. Cook noodles for 4 minutes in boiling water to make sure the noodles loosen. 
5. Wash noodles in cold water for 30 seconds to achieve texture and drain excess water. 
5. Heat the pan for the topping, add vegetable and sauce to stir fry for around 3 minutes. 
6. Place washed noodles in a separate bowl and stir fry vegetables and toppings. 
7. Pour hot soup into a bowl and enjoy.

Also Read: Veganuary: All you need to know about tofu Do you usually prefer eating one-bowl meals?